Provided are contact details for the new practical driving test centre in Cambridge, Cambridge Brookmount Court Driving Test Centre. Read on for contact details, test route tips, test booking information and help passing the driving test.
TEST CENTRE CONTACT DETAILS
Practical Driving Test Centre Address
Unit A
Brookmount Court
Kirkwood Road
Cambridge
CB4 2QH
Test Centre Details:  The new test centre on Brookmount Court replaces Chesterton and Cowley Road test centres and offers easier accessibility and parking facilities for candidates. Cambridge Brookmount Court Driving Test Centre is located just off Kings Hedges Road and is in close proximity to the A14.
Test Centre Provides Tests For: Car, Motorcycle Module 1, Motorcycle Module 2, Approved driving instructor – part two, Approved driving instructor – part three
DRIVING TEST Tips IN Cambridge
Starting from Brookmount Court and onto Kings Hedges Road, the 40 minute driving test in Cambridge will take place over almost all road types. The A14 dual carriageway will feature in most tests – challenging areas of note are the roundabouts, in particular the A14 / Milton roundabout which is challenging due to the many enter / exit points and multiple lanes.
The Milton, Histon and Stow Cum Quy roundabouts are often used as part of the test routes. These three roundabouts often take you off the A14 and into villages and rural country road driving.
Driving in Cambridge itself, you can expect many mini roundabouts in urban areas, along with traffic light  junctions and crossroads. Traffic lights located on Arbury Road can be of particular challenge to learners who are unfamiliar with them.
Other difficult routes can be located around Chesterton, where very narrow roads and closed / blind junctions are used. Be aware of the speed limits in Cambridge which fluctuate between 20, 30 and 40 mph. A good knowledge of all driving test manoeuvres and the emergency stop is essential.
BOOK A DRIVING TEST Cambridge Brookmount Court DRIVING TEST CENTRE
Cambridge is particularity busy around 9 am and 4 pm to 5 pm. As a result, it may be beneficial to book your test outside of these busy times. Alternatively, some test centres offer Saturday bookings if there is sufficient demand and this may vary throughout the year. There is a higher booking fee for weekend tests. To book a driving test, there are two options; by phone or online.
Book a driving test by telephone
A practical test can be booked at Cambridge Brookmount Court via telephone. The book a driving test section contains the DVSA telephone numbers for booking a practical driving test. This telephone number directs you to an automated test booking line, although if you listen to the options, you can talk to a assistant.
Book your driving test online
Online is usually the easiest method as free slots are displayed for candidates to choose. To book your driving test online for Cambridge Brookmount Court, see the book a driving test section for all DVSA online test booking information.
Rescheduling or cancelling the driving test
If you would like a full refund, three working days notice is required to cancel the driving test at Cambridge Brookmount Court. The same conditions apply if you wish to reschedule. Cancellations and rescheduling can be done via the contact details above.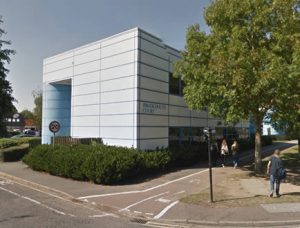 Cambridge Brookmount Court DRIVING TEST CENTRE PASS RATES
Driving test pass rates vary considerably depending on which test centre your practical is taken at, though Cambridge pass rates are generally quite good. Browse the driving test pass rates section for information on your UK DVSA test centre pass rates.
Cambridge Brookmount Court TEST CENTRE TELEPHONE NUMBER
Test centres should only be contacted directly if you wish to speak to the manager regarding specific issues with the test, for example if it is going ahead due to bad weather. See driving tests in bad weather for further information. Test booking or cancellations should be dealt with by contacting the DVSA (contact details found via booking pages above). Test centre contact details may or may not be published, see driving test centre contact numbers section.
PRACTICAL DRIVING TEST CENTRE REVIEWS
In order to help others that are taking their driving test, or to simply tell us whether you passed or failed your driving test, write a review of Cambridge Brookmount Court Driving Test Centre. Rate this driving test centre based on your experience using them, what was your examiner like (please don't name individuals) and how difficult were the test routes? It's quick and simple – no signup necessary and only your nickname will be displayed.
Average rating:
7 reviews
Jun 15, 2022
why there is no booking available? any one know the reason please?
Hi Sujit,The DVSA release available test slots in batches. Keep checking back for newly released slots.
Apr 18, 2022
Dont bother. My instructor said 'oh no, he has never passed anyone'. Even the instructors know not to bother at this centre. Serious waste of time and effort and money. 44% pass rate is not a reflection of driving instructors skill and ability to judge when a person is ready to be passed.
Oct 5, 2021
Poor examiners both times. Extreme lack of professionalism.
Jan 19, 2021
Had a female instructor who made me nervous from the start with her sarcastic demands. Told me to move on when I suggested I would complain. I asked for her name which she replied "I gave you that at the beginning " but I forgot it, so sorry for wasting your time. Next time I get her I'll secretly record it and put in on social media for all to listen.
Oct 19, 2020
The examiner (Simon i think) demanded windows were open almost all the way through out the test duration, this including while driving on the A14 at 70MPH??? While this is NOT in the regulations for talking a test during covid. I couldn't concentrate at all due to the white bin bag flapping around that was loosely draped over the seat in the extreme wind, and the buffering wind on my face which lead to a silly mistake that wouldn't have happened had i had the windows down like im allowed to do.... what a waste of 62 quid plus the cost of my instructors car