This page details the official Driver and Vehicle Standards Agency (DVSA) top 10 practical driving test failures.
The statistics below are a combination of all UK practical driving test centres and typically is comprised of data obtained from year beginning April through to March the following year.
Data is taken back from 2006 through to the most current statistics in 2019. Other information provided is the overall pass rate of all test centres based on each year and the the total amount of tests passed with zero faults occurring.
As can be seen from the statistics, junctions (observation) represents the top number 1 test failure throughout the years, plus very similar failures are repeated year on year. Hopefully if you're taking your driving test soon, you'll be one of the successful statistics for the driving test pass rates.
TOP 10 TEST FAILURES YEAR 2018 / 2019
Pass rate 45.8%
Tests passed with 0 faults: 18,922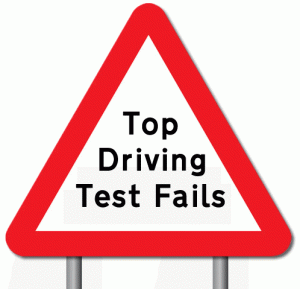 TOP TEN REASONS FOR FAILING
Junctions (observation)
Mirrors (change direction)
Control (steering)
Junctions (turning right)
Move off (safely)
Response to signals (traffic lights)
Move off (control)
Positioning (normal driving)
Response to signals (road markings)
Reverse park (control)
TOP 10 TEST FAILURES YEAR 2017 / 2018
Pass rate 46.3%
Tests passed with 0 faults: 18,410
TOP TEN REASONS FOR FAILING
Junctions (observation)
Mirrors (change direction)
Control (steering)
Junctions (turning right)
Move off (safely)
Move off (control)
Response to signals (traffic lights)
Positioning (normal driving)
Reverse park (control)
Response to signals (road markings)
TOP 10 TEST FAILURES YEAR 2016 / 2017
Pass rate 47.1%
Tests passed with 0 faults: 17,950
TOP TEN REASONS FOR FAILING
Junctions (observation)
Mirrors (change direction)
Control (steering)
Junctions (turning right)
Move off (safely)
Positioning (normal driving)
Move off (control)
Response to signals (traffic lights)
Reverse park (control)
Response to signals (Traffic Signs)
TOP 10 TEST FAILURES YEAR 2015 / 2016
Pass rate: 47%
Tests passed with 0 faults: 14,634
TOP TEN REASONS FOR FAILING
Junctions (observation)
Use of mirrors – (change direction)
Control (steering)
Junctions (turning right)
Positioning (normal driving)
Move off (safely)
Move off (control)
Response to signals (traffic lights)
Reverse park (control)
Response to signals (road markings)
Top 10 Test Failures Year 2014 / 2015
Pass rate: 46.9%
Tests passed with 0 faults: 13,852
Top ten reasons for failing
Junctions (observation)
Use of mirrors – (change direction)
Control (steering)
Junctions (turning right)
Response to signals (traffic lights)
Move off (control)
Positioning (normal driving)
Move off (safety)
Reverse park (control)
Response to signals (road markings)
TOP 10 TEST FAILURES YEAR 2013 / 2014
Pass rate: 47.1%
Tests passed with 0 faults: 11,984
TOP TEN REASONS FOR FAILING
Junctions (observation)
Use of mirrors – (change direction)
Control (steering)
Junctions (turning right)
Response to signals (traffic lights)
Move off (safety)
Move off (control)
Positioning (normal driving)
Reverse park (control)
Response to signals (road markings)
TOP 10 TEST FAILURES YEAR 2012 / 2013
Pass rate: 47.1%
Tests passed with 0 faults: 10,380
TOP TEN REASONS FOR FAILING
Junctions (observation)
Use of mirrors – (change direction)
Junctions (turning right)
Control (steering)
Response to signals (traffic lights)
Move off (safety)
Positioning (normal driving)
Move off (control)
Reverse park (control)
Response to signals (road markings)
TOP 10 TEST FAILURES YEAR 2011 / 2012
Pass rate: 46.9%
Tests passed with 0 faults: 10,328
TOP TEN REASONS FOR FAILING
Junctions (observation)
Use of mirrors – (change direction)
Junctions (turning right)
Control (steering)
Move off (safety)
Response to signals (traffic lights)
Positioning (normal driving)
Move off (control)
Reverse park (control)
Response to signals (road markings)
TOP 10 TEST FAILURES YEAR 2010 / 2011
Pass rate: 46.3%
Tests passed with 0 faults: 8,189
TOP TEN REASONS FOR FAILING
Junctions (observation)
Use of mirrors – (change direction)
Junctions (turning right)
Move off (safety)
Control (steering)
Reverse park (control)
Reverse /left reverse (control)
Positioning (normal driving)
Response to signals (traffic lights)
Move off (control)
TOP 10 TEST FAILURES YEAR 2009 / 2010
Pass rate: 45.9%
Tests passed with 0 faults: 6,032
TOP TEN REASONS FOR FAILING
Junctions (observation)
Use of mirrors – (change direction)
Reverse /left reverse (control)
Reverse park (control)
Move off (safety)
Control (steering)
Junctions (turning right)
Positioning (normal driving)
Move off (control)
Response to signals (traffic lights)
TOP 10 TEST FAILURES YEAR 2008 / 2009
Pass rate: 45.3%
Tests passed with 0 faults: 5,294
TOP TEN REASONS FOR FAILING
Junctions (observation)
Use of mirrors – (change direction)
Reverse /left reverse (control)
Reverse park (control)
Move off (safety)
Control (steering)
Junctions (turning right)
Positioning (normal driving)
Move off (control)
Response to signals (traffic lights)
TOP 10 TEST FAILURES YEAR 2007 / 2008
Pass rate: 44.2%
Tests passed with 0 faults: 4,107
TOP TEN REASONS FOR FAILING
Junctions (observation)
Reverse /left reverse (control)
Use of mirrors – (change direction)
Reverse park (control)
Control (steering)
Move off (safety)
Junctions (turning right)
Positioning (normal driving)
Move off (control)
Progress (appropriate speed)
TOP 10 TEST FAILURES YEAR 2006 / 2007
Pass rate: 43.3%
Tests passed with 0 faults: 3,329
TOP TEN REASONS FOR FAILING
Junctions (observation)
Reverse /left reverse (control)
Reverse park (control)
Use of mirrors – (change direction)
Move off (safety)
Control (steering)
Junctions (turning right)
Positioning (normal driving)
Move off (control)
Progress (appropriate speed)