Provided are contact details for Eastbourne Driving Test Centre, test route tips, test booking information and help passing the driving test in East Sussex.
TEST CENTRE CONTACT DETAILS
Practical Driving Test Centre Address
1 Coastguard Cottages
84 Wartling Road
Eastbourne
East Sussex
BN22 7PT
Test Centre Details:  Two steps are required to access Eastbourne driving test centre. Special arrangements will be made for candidates with mobility impairment. 8 car parking spaces are available on the opposite side of the road. Male and female toilets available.
Test Centre Provides Tests For: Car, Taxi, Motorcycle module 2, Approved driving instructor – part two, Approved driving instructor – part three
THE DRIVING TEST IN Eastbourne
The practical driving test at Eastbourne Driving Test Centre is situated around various road types, all of which are used on the test routes. The test examiner will require you to demonstrate a good knowledge of these road types, as well as various traffic systems such as roundabouts, both normal and mini roundabouts, large and small junctions and crossroads.
Rural roads are a likely feature. More information can be obtained about rural roads from the country road driving guide. High speed dual carriageway roads such as the A22 are also often taken on the test.
A minimum of one driving test manoeuvre will be required and a 1 in 3 chance of the emergency stop. By browsing the Eastbourne driving test routes section, you will gain a good understanding on the various road types and traffic systems that the examiner will take you on.
BOOKING A DRIVING TEST AT Eastbourne DRIVING TEST CENTRE
Certain driving test centre are open at weekends and offer Saturday tests although this is for a higher fee. The benefit of taking a driving test on Saturday is that often the traffic is less dense and can be easier. Viewing the Eastbourne driving test routes (see above) will allow you to understand the various road types the examiner will be requesting.
Focusing on the more difficult areas such as busy roundabouts, junctions and dual carriageways will provide most benefit. There are two options for booking your practical test, by telephone or via the internet.
Book a driving test by phone
The book a driving test section contains the DVSA telephone numbers for booking a practical driving test at Eastbourne driving test centres by phone. This telephone number directs you to an automated test booking line, although if you browse the option you can talk to a assistant.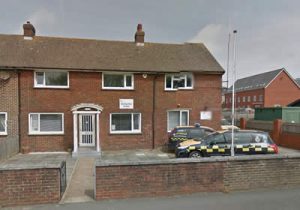 Book your driving test online
To book your driving test online for Eastbourne Driving Test Centre, see the book a driving test section for all DVSA online test booking information.
Rescheduling or cancelling the driving test
3 working days notice is required to cancel the driving test at Eastbourne if you require a full refund. The same conditions apply if you wish to reschedule. Cancellations and rescheduling can be done via the contact details above.
Eastbourne DRIVING TEST CENTRE PASS RATES
Driving test pass rate statistics vary considerably depending on which test centre your practical is taken at. Browse the driving test pass rates section for information on your UK DVSA test centre pass rates.
Eastbourne TEST CENTRE TELEPHONE NUMBER
You can call a practical driving test centre to inform them that you may be late. An examiner will typically wait for around 5 minutes for you to arrive before cancelling the test. Or the test centre manager can be contacted to see if a test is still going ahead, usually due to bad weather.  See driving tests in bad weather for further information. Test centres cannot be contacted directly to book or amend tests however, and this must be done via the DVSA (as above). Eastbourne Driving Test Centre may be listed in the driving test centre contact numbers section.
PRACTICAL DRIVING TEST CENTRE REVIEWS
We all like reviews these days. Reviews provide an invaluable insight into a product or service. Write a Eastbourne Driving Test Centre review to tell everyone what your experience was like at this test centre, whether you passed or failed your test, what the test routes were like and what your examiner was like. It's quick and simple – no signup necessary and only your nickname will be displayed. To ensure your review meets our guidelines, please read our Terms and Conditions prior to submission.
Average rating:
3 reviews
Apr 29, 2022
This centre is full of nasty old examiners who like to fail people on minor manoeuvres. my boyfriend who is an excellent driver who desperately needed his driving licence for his work. they failed him over a minor fault but according to them it was a major. which when checked the government website should have been marked minor
Apr 16, 2022
Disappointed for my daughter and the examiner who decided to fail her on a last maneuver. She was in control of the car and knew what she was doing but he decided that she was going to crush!!! No logic as she drove him safely for 40 minutes beforehand. Needless to say that it seems that failing is a good way for the test centre to.brung in some extra revenue! Shame on you
Apr 13, 2018
Really disappointed with my examiner .she obviously didn't want me to pass and could quite easily have given me the benefit of the doubt.It seems to me that there is a big disparity between examiners and really does depend on how they are feeling on any particular day.It was a good solid confident test.No consistency between examiners but she'd obviously made her mind up. Many thanks