Provided are contact details for Farnborough Driving Test Centre, test route tips, test booking information and help passing the driving test in Hampshire.
TEST CENTRE CONTACT DETAILS
Practical Driving Test Centre Address
35 Hercules Way
Aerospace Boulevard, Unit C1, Cirrus
Farnborough
Hampshire
GU14 6UU
Test Centre Details:  Car parking is available approximately 100m on the right, before Farnborough driving test centre. Disabled parking spaces are available outside main entrance to the test centre. Male and female toilets available.
Test Centre Provides Tests For: Car, Taxi, Motorcycle Module 1, Motorcycle Module 2
THE DRIVING TEST IN Farnborough
Farnborough Driving Test Centre is to incorporate a diverse selection of road types. Rural roads can be part of the practical test and can be challenging. See the country road driving tutorial for help and tips on using rural roads.
High speed 'A' roads such as the A325 and A327 are likely. Dual carriageway systems such as the A331 also feature often during the test from Farnborough Driving Test Centre. The examiner will be testing your ability at busy roads systems such as crossroads, roundabouts and various junction types.
Both mini and large multi lane roundabouts frequently feature from the test centre in Farnborough. A minimum of one driving test manoeuvre will be requested with a possible emergency stop.
The driving test from Farnborough Driving Test Centre features challenging roads, many junctions and fast paced multi lane roundabouts. To gain an advantage, viewing the Farnborough Driving Test Routes will provide you with an understanding of the various roads that are likely to be taken from Farnborough Driving Test Centre.
BOOKING A DRIVING TEST AT Farnborough DRIVING TEST CENTRE
Rush hour often means a significant increase in road traffic. Booking your driving test at Farnborough Driving Test Routes between the hours of 10AM and 3PM should provide slightly quieter roads. Driving tests cannot be booked through the test centres directly. To book a driving test, there are 2 options; by phone or online.
Book a driving test by phone
To book a practical driving test at the Farnborough driving test centres by phone, visit the book a driving test section for DVSA (previously called the DSA) telephone booking numbers. The DVSA telephone booking line is automated although a customer service representative can be reached if needed.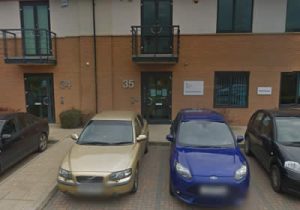 Book your driving test online
To book your driving test online for Farnborough Driving Test Centre, see the book a driving test section for all DVSA contact information and details on booking a driving test online.
Cancel or changing your test date
You may cancel (and receive a full refund) or change your driving test date providing you allow three working days' notice.
Farnborough DRIVING TEST CENTRE PASS RATES
Driving test pass rate statistics vary considerably depending on which test centre your practical is taken at. Browse the driving test pass rates section for information on your UK DVSA test centre pass rates.
Farnborough TEST CENTRE TELEPHONE NUMBER
You can call a practical driving test centre to inform them that you may be late. An examiner will typically wait for around 5 minutes for you to arrive before cancelling the test. Or the test centre manager can be contacted to see if a test is still going ahead, usually due to bad weather.  See driving tests in bad weather for further information.
Farnborough test centre telephone number may be located via the driving test centre contact numbers section. Practical tests cannot be booked via these numbers and should only be used to contact the test centre manager for any concerns or issues you may have regarding your test.
PRACTICAL DRIVING TEST CENTRE REVIEWS
We all like reviews these days. Reviews provide an invaluable insight into a product or service. Write a Farnborough Driving Test Centre review to tell everyone what your experience was like at this test centre, whether you passed or failed your test, what the test routes were like and what your examiner was like. It's quick and simple – no signup necessary and only your nickname will be displayed. To ensure your review meets our guidelines, please read our Terms and Conditions prior to submission.
Average rating:
12 reviews
Apr 6, 2022
My daughter took her test today and I knew before they even left the room that he's was going to fail her because I spoke up about the website (he also made a comment to her about me when he asked her if she wanted me to come along and she said no- she didn't want the extra stress "still says stay in your vehicle and your examiner will come to you". He instantly didn't like me so failed my daughter who is a better driver than a lot of adults I know that have been driving for years. She's very sensible and competent in the road. Also the new (give way to pedestrians crossing at junctions is NOT clear enough about where you should and shouldn't do so and she got marked down for letting some girls cross). Also instruction of "take the second exit" at a roundabout that includes a left only lane into a business estate - after departing the roundabout) does anyone EVER include that left lane as part of the roundabout ??? I dii on but know anyone that does - especially since it's then a BusOnly lane AND same roundabout markings have got arrows on the road to go straight on in BOTH lanes, therefore she didn't take the wrong lane anyway - very unfair to pick this particular roundabout. All very wrong in my opinion. Also, gave her a minor for something to do with the car but didn't explain what that was? We had the whole car checked the day before - got new brakes and tyres too.
Aug 17, 2020
My daughter took her test today and is an extremely safe, competent and confident driver. As soon as we saw Gordon, I knew he would fail her. He failed to smile, greet her politely and didn't even look her in the eye. This was in stark contrast to the other 2 examiners who were the exact opposite - it was obvious then that my daughter had drawn the short, 'unlucky' straw! Everything about him was unprofessional in every way and this lack of professionalism and inconsistency between examiners is wrong. She did fail, the reason given makes no sense and she even disputes this and Gordon needs to be retrained with greater monitoring and accountability.
Apr 30, 2019
Taken a while but it's finally sunk in that I can drive! Thank you Helen. I ranted about the sat nav and said some very rude words. She was amazing. I say again Thank You Helen ! X
Apr 11, 2019
At the start of my test i was met by Gordon Farquart, i thought driving examiners should be friendly and making there students feel at ease but this man was rude and made me feel nervous straight away. Due to where he was sat he was in the way for me to be able to change gears easily, I failed with a parking major which i do believe was wrong. I was told i did not check behind me when i'm 99% sure i did check as i have no reason to have not done that as always do and i am confident with my driving. I was very disappointed having spent £120 on my test day just to fail and have an examiner with such a bad attitude.
Mar 11, 2019
My son failed his test today and wasn't clear why. He was told he was in the wrong lane on a roundabout When he was going straight on, although the lane was clearly marked as one that he could be in to go straight on. More disappointingly the examiner, Gordon Farquhar, was unfriendly and made no attempt to put my son at ease. I believe that they are supposed to make some effort to be be welcoming, in recognition of the fact that the driver will probably be quite nervous. The examiner's attitude was unnecessarily rude made my son feel very uncomfortable being in the car with him.