Provided are contact details for Garretts Green Driving Test Centre, test route tips, test booking information and help passing the driving test in Birmingham.
TEST CENTRE CONTACT DETAILS
Practical Driving Test Centre Address
Granby Avenue
Garretts Green 
Birmingham
West Midlands
B33 0SD
Test Centre Details:  Male and female toilets are available at this test centre. Car parking facilities available.
Test Centre Provides Tests For: Car, Motorcycle Module 1, Motorcycle Module 2, Lorries, large vehicles and buses, Car and trailers
THE DRIVING TEST at Garretts Green
Garretts Green Driving Test Centre provides tests for lorries (LGV), bus and cars. The test starts off at an industrial area and will extend into various other routes. Expect the examiner to take you along a wide variety of roads, from busy town driving, high speed 'A' roads, dual carriageways and the possibility of rural type roads.
Rural roads often have a national speed limit (60mph) and when combined with harsh bends, can represent a challenge. The country road driving tutorial offers guidance on how to use such roads. During town driving, the test routes are designed to take you through as many traffic systems as possible.
Tutorials for such systems include crossroads, junctions and roundabouts (including mini roundabouts) of all types and sizes. Independent driving utilises basic maps and directions from the examiner and takes around 10 minutes of the test.
Expect the test to include one of the possible four test manoeuvres along with the emergency stop. The Garretts Green driving test routes may alter slightly during the practical but will generally detail the various routes that the examiner will take you on.
BOOKING A DRIVING TEST AT
Garretts Green

 DRIVING TEST CENTRE

The majority of busy areas generally suffer from traffic congestion at peak rush hour times. Whilst booking your practical test, avoid if possible these peak traffic times to allow for a less stressful test. To book your practical test, you have two available options.

Book a driving test by phone
The book a driving test section contains the DVSA telephone numbers for booking a practical driving test at Garretts Green Driving Test Centre by phone. This telephone number directs you to an automated test booking line, although if you browse the option you can talk to a assistant.

Book your driving test online
Often the preferable method to book a driving test at Garretts Green Driving Test Centre is via the internet. This option displays to you all the available test slots allowing you to choose a time and day that is suitable for you.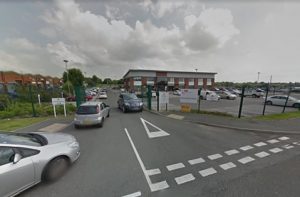 Rescheduling or cancelling the driving test
3 working days notice is required to cancel the driving test at Garretts Green if you require a full refund. The same conditions apply if you wish to reschedule. Cancellations and rescheduling can be done via the contact details above.
Garretts Green

 DRIVING TEST CENTRE PASS RATES

The pass rates vary depending on which driving test centre that you take your practical test with. Once you have found a test centre closest to you, the driving test pass rates section will provide you with an indication of the statistics for that test centre.
Garretts Green

 TEST CENTRE TELEPHONE NUMBER

If you wish to book or amend a practical driving test time or date, please follow the instructions above as this cannot be done via test centres directly. You may contact Garretts Green Driving Test Centre, or any driving test centre to inform the manager that you may be late, or to enquire whether a test is still going ahead due to bad weather. See driving tests in bad weather for further information. You may find your test centre telephone contact number in the driving test centre contact numbers section.
PRACTICAL DRIVING TEST CENTRE REVIEWS
Reviews help us to decide on services and products and what best to look out for. Write a review of Garretts Green Driving Test Centre and let others taking their test at this centre what it was like. Tell us what the test routes were like, easy or hard, whether you passed or failed, what the test examiner was like. It's quick and simple – no signup necessary and only your nickname will be displayed. To ensure your review meets our guidelines, please read our Terms and Conditions prior to submission.
Average rating:
67 reviews
Jul 15, 2022
Would just share my experience at Garrettes green
DVSA what a nice bunch of people I passed my motorcycle test just over a week ago now the Professional staff help stable my nerves and restored my confidence. Big thank you to simon test examiner I wish all centres could offer the same Customer service values as they do at garretts green !
May 19, 2022
If you have Tracey, please know you have absolutely high chance of passing if you know what you are doing. She is an amazing examiner, very friendly and objective. Keep it up!!!
May 17, 2022
I passed my driving exam 6 months ago, left a review on Google with a big thank you to my examiner CARL and driving centre on Garretts Green. Sometimes still read new reviews. I'm just shocked that one person left a such a rude and disgusting review about Carl... He failed because on his own fault and tried to blame an examiner. Carl is an amazing examiner, he made me feel so comfortable on exam, gave me clear instructions, I didn't have to ask him twice. I made 5 minor mistakes, which I absolutely agree. I failed twice before on the same test centre, just because I couldn't overcome my nerves and was so stressed. Carl was lovely, it's didn't feel like exam, just like driving with my instructor. He is such a credit for Garretts Green driving test centre. And if you have him on your test and failed it's just your own fault! Just except it and for a next test come well prepared.
Nov 4, 2021
The reason why I'm writing this review is to say thank you to my examiner CARL, very professional, with years of experience but at the same time very nice person. He helped me to overcome my stress and made me feel comfortable from the beginning of exam till the end. I went on exam well prepared by my instructor, the rest was just stay calm and use the knowledge I've been given and I did it, I passed!
Great experience, recommend this test centre!
Sep 28, 2021
I just passed my test with Mark,I can say he is a very good examiner,I am very anxious as person but he made me feel very comfortable,been so nice and talked so nice with me. I hope everyone to have someone like him for their test.