Detailed below provide the Gloucester Pearson Professional Theory Test Centre contact address details, services offered and advice for booking and taking your theory test.
Driving Theory Test Centre Address
Eastgate House
121-131 Eastgate Street
Gloucester
GL1 1PX
Toilets: Yes
Disabled access:
Translator Booth: No
Welsh Online: No
FINDING Gloucester THEORY TEST CENTRE
Theory test centres are typically located close to train stations often requiring a short walk only.
Gloucester Railway Station
Bruton Way
Gloucester
Gloucestershire
GL1 1DE
Station telephone number: 0845 7000125. Train station is approximately 0.3 miles (7 minute walk) from Gloucester Theory Test Centre.
Arriving by car: Pay-and-display on-street parking is available on Eastgate Street directly outside the theory test centre.
BOOK A THEORY TEST AT Gloucester THEORY TEST CENTRE
Booking a theory test at Gloucester Theory Test Centre is easily completed via one of two methods detailed below. Before making a booking, ensure you have your driving licence at hand as you'll need some information from this. The DVSA (Driving and Vehicle Standards Agency) manage all UK theory test bookings. Telephone and e-mail contact details of Pearson Professional who conduct the theory tests can be found within the booking section.
Book a theory test by telephone
One of the theory test booking methods is by telephone. An automated telephone service is provided for theory test booking in Gloucester. To book your theory test, please see the book a driving theory test section for telephone details. Though this number is automated, you can be put through to a member of the DVSA staff if you have any queries.
Book a theory test online
Due to vacant theory test slots being displayed online, internet theory test booking is a popular option. To book your theory test in Gloucester, see the book a driving theory test section for all DVSA theory test booking information.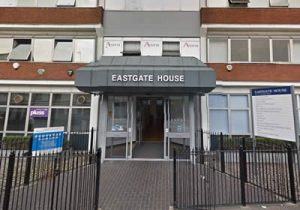 CANCELLING AND RESCHEDULING THE THEORY TEST
If you are unable to attend the theory test for the arranged booking time, you may reschedule providing you allow a minimum of three working days notice. The same notice applies if you wish to cancel the test in order to receive a full refund.
AFTER YOU HAVE BOOKED YOUR TEST
Ensure you provide the correct e-mail address whilst making your booking as the DVSA will send you an e-mail once you have completed the theory test booking. In case you can't find it, check your junk folder. The e-mail will confirm the test booking time, date, address and provide you with a reference number. Although not essential to take to the theory test centre, it's advisable to print this e-mail to show to the centre staff if any problems arise.
ATTENDING YOUR THEORY TEST
Allow yourself plenty of time to arrive at Gloucester Theory Test Centre as the centres operate strict allotted time slots meaning tests cannot overlap each other. Turning up late may see you refused entry and you'll lose the test booking fee. Your provisional driving licence photocard must be taken with you to Gloucester Theory Test Centre on the day of your test.
If you retain the old style licence, a valid UK passport must be taken with your driving licence to provide adequate forms of identification. Failure to provide such items will prevent you from sitting the theory test and also lose the theory test fee. If you have misplaced your licence, contact the DVLA who will send you a replacement. See the learning to drive section for information on obtaining a new licence.
REVIEW THE THEORY TEST CENTRE IN Gloucester
Reviews provide an excellent indication of what to expect from a product or service. Write a short review of Gloucester Theory Test Centre so that others have an idea of how easy it was to find the test centre, were the test centre staff professional and polite, how were the test candidate facilities? That's just an example, but of course don't forget to tell us if you passed. Reviews are quick and simple, no sign up and only your nickname will be displayed. To ensure your review meets our guidelines, please read our Terms and Conditions prior to submission.
Average rating:
4 reviews
Jun 24, 2019
The one star is purely for the man on the desk. Absolutely disgraceful in the way he spoke to me, so rude and unnecessary. People are anxious enough to take their tests, without having to put up with his lack of professionalism.
Mar 20, 2018
Possible the most unpleasant characters in the howl of the service sector running this centre. They are unhelpful in the extreme, passive aggressive, rude, condescending and down right rude.
Jun 28, 2017
They are dreadful i booked a test and i turned up but they said there was no booking, as well someone infront of me was turned away so they did not even let me take their place. The woman on the desk was very unhelpful and rude
Apr 25, 2017
My Daughter had her theory at Gloucester test centre today. She was very nervous, this wasn't helped by the man on the desk who was very rude and spoke quite abruptly to her. He never said hello on her arrival, just said 'Provisional License' In the room itself their was lots of distractions people clicking the mouse on the computer and people talking as they were shown where to sit. Having ear phones would help.