Provided are contact details for Grimsby Coldwater Driving Test Centre, test route tips, test booking information and help passing the driving test in Grimsby.
TEST CENTRE CONTACT DETAILS
Practical Driving Test Centre Address
Estate Road No 1, South Humberside Trading Estate
Pyewipe
Grimsby
Lincolnshire
DN31 2TB
Test Centre Details:  Male and female toilets are available. No parking facilities available.
Test Centre Provides Tests For: Car, Motorcycle module 2 (on-road), Taxi, Lorries, large vehicles and buses, Approved driving instructor part 2, Approved driving instructor part 3
THE DRIVING TEST IN Grimsby
Located on the outskirts of Grimsby, the driving tests at Grimsby Driving Test Centre will likely incorporate multiple road types. From busy high speed 'A' roads such as the A180 to rural roads. Although rural roads tend to have far less traffic, they represent one of the UK's most hazardous roads due to potentially high speed and sharp corners.
The country road driving guide offers advice on how to use these specific roads. Busy town driving where the examiner will test your ability at roundabouts, junctions and crossroads. One of the driving test manoeuvre will be asked for and the emergency stop procedure has a 1-in-3 chance of being requested.
Grimsby DRIVING TEST Routes
The Grimsby driving test routes may alter slightly during the practical but will generally detail the various routes that the examiner will take you on and offer valuable insight into the types of road you will take.
BOOKING A DRIVING TEST AT Grimsby DRIVING TEST CENTRE
It can be of benefit to test candidates to book their practical test outside of peak traffic times. Often early mornings and late afternoons, rush hour can make a driving test more stressful. To book your practical test, there are two options:
Book a driving test by phone
The DVSA (Driver and Vehicle Standards Agency) automated telephone number allows for a practical test to be booked at Grimsby from the selected free slots available. Contact and booking telephone numbers can be located within the book a driving test section. If you wish to speak to an adviser, listen to the options provided in the recorded message.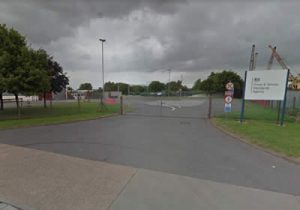 Book your driving test online
Driving test internet bookings are often the preferred option due to the free slot availability being displayed to the test candidates. See the book a driving test section for booking a practical driving test at Grimsby.
Rescheduling or cancelling the driving test
3 working days notice is required to cancel the driving test at Grimsby if you require a full refund. The same conditions apply if you wish to reschedule. Cancellations and rescheduling can be done via the contact details above.
Grimsby DRIVING TEST CENTRE PASS RATES
The pass rates vary depending on which driving test centre that you take your practical test with. Once you have found a test centre closest to you, the driving test pass rates section will provide you with an indication of the statistics for that test centre.
Grimsby TEST CENTRE TELEPHONE NUMBER
If you wish to book or amend a practical driving test time or date, please follow the instructions above as this cannot be done via test centres directly. You may contact Grimsby Driving Test Centre, or any driving test centre to inform the manager that you may be late, or to inquire whether a test is still going ahead due to bad weather. See driving tests in bad weather for further information. You may find your test centre telephone contact number in the driving test centre contact numbers section.
PRACTICAL DRIVING TEST CENTRE REVIEWS
Reviews help us to decide on services and products and what best to look out for. Write a review of Grimsby Driving Test Centre and let others taking their test at this centre what it was like. Tell us what the test routes were like, easy or hard, whether you passed or failed, what the test examiner was like. To ensure your review meets our guidelines, please read our Terms and Conditions prior to submission.
Average rating:
10 reviews
Dec 26, 2020
Great place , if you don't pass do not blame the examiners.........
May 21, 2020
Absolutely disgraceful treatment by the examiner, never been so appalled in my life, absolutely disgusting individual, stay away from this test centre at all costs, literally the worst example of a human being I've ever met, abusive and aggressive, AVOID.
Jul 30, 2019
Very bad test center avoid D Mckehvey or how is he called . Even my instructor said what he fail me for was not fair and right . Very bad test for HGV avoid . And i hear im not the only one .
Jul 24, 2019
Made my sister have a panic attack, thanks Dave.
Jun 27, 2019
Shame I can't put 0 star rating, its been a while since I passed my HGV test but might I add it wasn't at Grimsby, the 2 Paul or Dave ( horrible individuals ) examiners at Grimsby are a disgrace and obviously prodigious against women drivers, after failing me for a 3rd time in as many weeks I told them what I thought and booked myself into Beverley test station immediately for 2 weeks following where I passed first time with a brilliant examiner who told me he was looking for a realistic drive not perfect because no one is perfect ( breath of fresh air ) so my advice stay away from Grimsby if your a lady because you have no chance.