Hatched road markings or diagonal road markings can cause learner drivers a considerable amount of confusion. Hatched road markings are used to separate traffic lanes and to make it safer for the vehicles turning right.
Hatched road markings have failed a considerable amount of driving tests due to a learner driver dealing with them inappropriately. Hatched road markings are simply used to separate traffic for safety reasons. Many learner drivers try to avoid driving on them at all costs, when in reality if it's legal to do so, it can on many occasions be far safer to drive on the hatched markings.
This section explains the legality of hatched road markings and when it's best to drive on them.
The main rule to remember is that continuous solid white lines cannot be driven over, but broken white lines can. The images below offer a typical example where learner driver get into trouble during a driving test. Whether you can drive in a hatched area is dependent on if it is surrounded by a continuous solid white line or a broken one.
Hatched road markings with broken line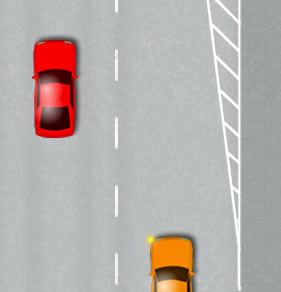 Solid line surrounding hatched road markings
This image is an example on a dual carriageway where the far right lane or 'fast lane' is merging. A typical example often seen is where a 2-lane carriageway is merging into a single lane. This hatched area may be surround by a broken line, or if the section of road is hazardous, a solid line may surround the hatched area.
The hatched area surrounded by a continuous solid white line prohibits vehicles from entering this area except in an emergency. Where an emergency situation is not in progress, it is a traffic offence to enter the area.
Hatched road markings and the driving test
The key is to keep a keen eye on road markings to initially establish if a hatched road area is surrounded by a continuous solid or broken line. If broken, you must then determine whether it is safer to enter the area due to other vehicles either already in the lane you intend on taking or vehicles behind you. Always remember mirror, signal, manoeuvre before changing direction and if changing lanes, you must check the blind spot before doing so.
Related information