Provided are contact details for Herne Bay Driving Test Centre, test route tips, test booking information and help passing the driving test in Kent.
TEST CENTRE CONTACT DETAILS
Practical Driving Test Centre Address
Altria Business Park
Margate Road
Thanet Way 
Herne Bay, Kent CT6 6LA
Test Centre Details:  Male and female toilets are available. Wheelchair access to main door difficult due to strength of door spring. Test candidate car parking facilities available.
Test Centre Provides Tests For: Car, Taxi, Motorcycle Module 1, Motorcycle Module 2, Approved driving instructor – part two, Approved driving instructor – part three
THE DRIVING TEST at Herne Bay
Herne Bay Driving Test Centre is situated around both busy town roads and rural roads. Both road types are likely during test. Rural roads although quiet, can be difficult due to their sharp bends. The country road driving tutorial offers tips on using these road types.
The testing examiner will require a sound knowledge and demonstration of road systems such as roundabouts, crossroads and junctions. Dual carriageway 'A' roads such as the A299 are likely during the practical.
A single test manoeuvre will be requested along with a 1-in-3 probability of the emergency stop. The Herne Bay driving test routes may be available to look at as a reference to the various types of roads that the examiner will take you on during the test.
BOOKING A DRIVING TEST AT Herne Bay DRIVING TEST CENTRE
Booking a driving test during the quietest periods of the day can help to ensure your tests runs as smoothly as possible. To book your practical test, see the options below.
Book a driving test by phone
Practical driving tests can be booked for any test centre including Herne Bay by telephone. The book a driving test section contains the DVSA (Driver and Vehicle Standards Agency) contact numbers which will put you through to an automated booking service. A DVSA assistant can be reached by listening to the options provided when calling.
Book your driving test online
Booking the practical test via the internet is easily completed. The online system displays the availability of tests with dates and times to choose from. See the book a driving test section for booking a practical driving test at Herne Bay.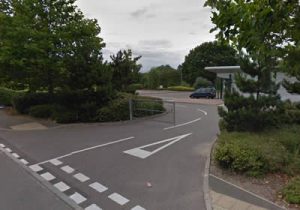 Rescheduling or cancelling the driving test
3 working days notice is required to cancel the driving test at Herne Bay if you require a full refund. The same conditions apply if you wish to reschedule. Cancellations and rescheduling can be done via the contact details above.
Herne Bay DRIVING TEST CENTRE PASS RATES
The pass rates vary depending on which driving test centre that you take your practical test with. Once you have found a test centre closest to you, the driving test pass rates section will provide you with an indication of the statistics for that test centre.
Herne Bay TEST CENTRE TELEPHONE NUMBER
It is possible in some cases to contact your practical driving test centre only to inform the centre manager that you may be running late, or if a scheduled driving test is still going ahead due to for example bad weather. See driving tests in bad weather for further information. Driving tests cannot be rearranged, booked or cancelled via test centres directly and can only be done via the DVSA. The Herne Bay Driving Test Centre contact telephone number may be located within the driving test centre contact numbers section.
PRACTICAL DRIVING TEST CENTRE REVIEWS
Good or bad reviews help us to decide on whether to use a product or service and what to expect from it. Feedback is important and writing a review of Herne Bay Driving Test Centre will help others. Tell us if you passed or failed your driving test, what the test routes were like, how you found the entire process and what your examiner was like. It's quick and simple – no signup necessary and only your nickname will be displayed. To ensure your review meets our guidelines, please read our Terms and Conditions prior to submission.
Average rating:
3 reviews
Nov 10, 2018
my daughter has failed 3 tests in around 7 weeks at this test center,the first one to the utter dismay of. her driving instructor who sat in the rear of the car during the test.at £63 ago plus driving school car fees its not cheap,...have insured my daughter on learners insurance to drive my car with me in the car,been out every night for 10 days now and I cant see what she is failing on, i worry about her having the licience to drive freely by herself,what parent wouldn't, but as she is proving to me that she is very competent then why is it that she keeps failing this test,..i don't think she is failing at all,,,,i think the system is failing her.....work creation scheme....another £63 and a job for life.
Oct 13, 2017
I took my test with a lady examiner called Deborah. She was very patient with me as l was extremely nervous and although l failed l won't worry when l take it again and l really hope l get her again. If all examiners were like her it would be so nice as you hear such stories but she was so lovely.
Oct 3, 2017
I had my test and absolute pure evil is the only way I can describe the examiner I had. Not just me but a number of people I have spoken to have had the same experience as myself. She was very abrupt, rude and disrespectful esoecially when she was telling me where I went wrong she pretty much gloated at my mistakes. Luckily she is not better than me and hasn't made me feel unworthy and it hasn't put me off my test but I imagine it has some people, I am determined to come back and pass next time and with a bit of luck I don't have that awful woman again.