Provided are contact details for Hither Green Driving Test Centre, test route tips, test booking information and help passing the driving test in London.
TEST CENTRE CONTACT DETAILS
Practical Driving Test Centre Address
42-44 Ennersdale Road
Hither Green
Greater London
SE13 6JD
Test Centre Details:  Small kerb onto pavement level, small step into test centre. Hither Green Driving Test Centre itself on one level without stairs. Ample parking on site for vehicles. Please do not park anymore than 5 minutes before the driving test. Please reverse into marked parking space. Male and female toilets.
Test Centre Provides Tests For: Car, Taxi, Approved driving instructor – part two, Approved driving instructor – part three
THE DRIVING TEST IN Hither Green
Being relatively close to central London, Hither Green Driving Test Centre is situated around very busy urban roads where the test examiner will require a high degree of knowledge of various road systems. Excellent ability and safety of roundabouts, junctions and crossroads is essential.
Quiet residential roads are often incorporated into the driving test. These roads present hazardous conditions due to being narrow. Ability to manoeuvre the car for oncoming traffic is important. See the passing parked cars tutorial for advice. Faster paced roads such as the A20 and A205 being likely.
---
One of the four test manoeuvres will be requested and the emergency stop procedure has a 1-in-3 possibility. The independent part of the test reserves 10 minutes of test time.
Test routes are available for many of the test centres and may include Hither Green driving test routes. Viewing the test routes provide test candidates with an insight into the various types of roads and traffic systems they're likely to encounter. The Hither Green test routes for sat nav and other navigation devices have been fully updated for the latest 2019 driving tests.
BOOKING A DRIVING TEST AT
Hither Green

 DRIVING TEST CENTRE

Taking the driving test from Hither Green Driving Test Centre is challenging due to difficult test route roads and large traffic volumes. Ensure you are highly proficient in your driving test manoeuvres. Read our in-depth tutorials on these manoeuvres in the Driving test tutorials section. Check for weekend Saturday driving test availability.

If the traffic flow is reduced around the Hither Green area during Saturdays, booking your test during this time will provide an advantage. If weekday bookings suite you, the ideal time is around 10am to 3pm. This will miss out on rush hour traffic.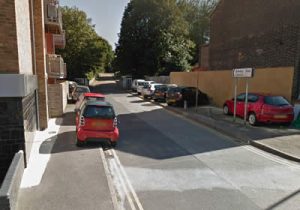 Book a driving test by phone
To book a practical driving test at the Hither Green Driving Test Centre by telephone, please visit the book a driving test section for all practical driving test booking telephone numbers. This is an automated line although if you have any queries regarding the test, a DVSA assistant can be reached by following the options available.
Book your driving test online
To book your driving test online for Hither Green Driving Test Centre, see the book a driving test section for all DVSA contact information.
Rescheduling or cancelling the driving test
Rescheduling or cancelling the test from Hither Green can be done via the above contact methods. If by telephone, talk to a DVSA assistant regarding this matter. A minimum of 3 working days notice is necessary if you with to reschedule to a later date or to receive a full refund if cancelling.
Hither Green

 DRIVING TEST CENTRE PASS RATES

Driving test pass rates vary for many reasons. Often the location of the test centre has an impact on pass rates. Once you have located your nearest test centre, the driving test pass rates section offers pass rate statistics for most of the UK practical driving test centres.
Hither Green

 TEST CENTRE TELEPHONE NUMBER

It is possible in some cases to contact your practical driving test centre only to inform the centre manager that you may be running late, or if a scheduled driving test is still going ahead due to for example bad weather. See driving tests in bad weather for further information. Driving tests cannot be rearranged, booked or cancelled via test centres directly and can only be done via the DVSA. The Hither Green Driving Test Centre contact telephone number may be located within the driving test centre contact numbers section.
Driving Test Cancellations
If your driving test has been cancelled by the DVSA or they are unable to conduct your test due to bad weather or an examiner unable to attend due to illness, you may claim out-of-pocket expenses. Please see here.
PRACTICAL DRIVING TEST CENTRE REVIEWS
Writing a review of Hither Green Driving Test Centre whether good or bad will help others in deciding which test centre to use and what to expect on their driving test. As an example, let other know whether you passed or failed, what your examiner was like, how difficult was it and what were the test routes like. It's quick and simple – no signup necessary and only your nickname will be displayed. To ensure your review meets our guidelines, please read our Terms and Conditions prior to submission.
Average rating:
35 reviews
Nov 28, 2019
Had my test here yesterday 27.11.2019. And passed. 1st time no minors. Test was at 2.32pm. I had a lovely examiner called Paul. We had a chat most of the way round which really relaxed me. The test was over in no time at all. And im now a very happy licence holder.
Nov 17, 2019
Had a test with examiner Steve.Extremely unprofessional and patronising.Wants you to fail
Aug 2, 2019
Read about driving examiner Mr.S on here with the sunglasses and prayed to God that I didn't get him. Lo and behold, I got him. I can confirm every review about him below is accurate, he really is such a miserable, arrogant human being. It literally felt like he just wanted to fail me for the sake of failing me? He kept making me feel like I was stupid the entire time, giving really late directions and then changing directions on short notice/once I was about to turn into the opposite direction. He made me feel extremely uncomfortable and I have no idea why DVLA has still employed him. If he ever reads this, please chin up or find another job that doesn't involve you meeting new people every day, you clearly have no people skills.
Jun 20, 2019
Steve is the worst driving examiner in the world. Arrogant , rude and cold. He will roll his eyes and acted really annoyed throughout. He wants people to fail!!! Horrible unkind human being who probably has a miserable live at home.
Jun 4, 2019
Pass from first attempt, my examiner was John very lovely guy!