Provided are contact details for Isleworth Driving Test Centre, test route tips, test booking information and help passing the driving test in London.
TEST CENTRE CONTACT DETAILS
Practical Driving Test Centre Address
Unit 8
The Wireless Factory
Fleming Way
Isleworth
TW7 6DB
Test Centre Details:  Car parking facilities are available at the test centre for candidates. Three steps to access Isleworth practical driving test centre. Special arrangements made for candidates with a disability. No toilet facilities available.
Test Centre Provides Tests For: Car
THE DRIVING TEST IN Isleworth
Isleworth Driving Test Centre is situated on the outskirts of London and will involve many diverse roads and systems. During the driving test, the examiner will be testing your ability and various roundabout types, crossroads and junctions.
Fast paced 'A' roads such as the A315 and A316 are likely along with quieter residential roads that may be hazardous due to oncoming vehicles and narrow lanes. The passing parked cars tutorial offers advice on this situation. The driving test will involve one test manoeuvre along with the emergency stop that has a 1-in-3 possibility of being requested.
The independent part of the driving test will be set over 10 minutes of test time (See independent driving test for details). Test routes are available for many of the test centres and may include Isleworth driving test routes. Viewing the test routes provide test candidates with an insight into the various types of roads and traffic systems they're likely to encounter.
BOOKING A DRIVING TEST AT Isleworth DRIVING TEST CENTRE
Check your test centre availability to see if they offer Saturday driving tests. If the traffic congestion is reduced at these times, a test can be easier. During weekday tests, booking your test between the times of 10am and 4pm will allow you to miss rush hour traffic.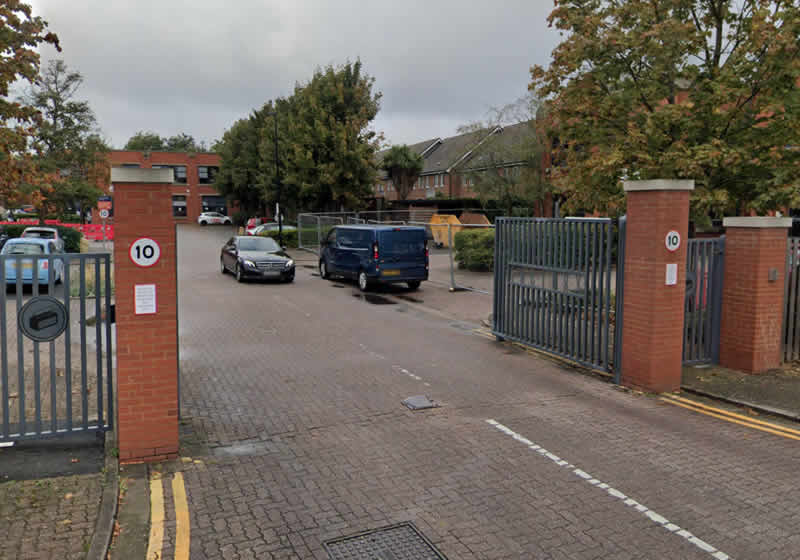 Book a driving test by phone
To book a practical driving test at the Isleworth Driving Test Centre by phone, visit the book a driving test section for all DVSA practical driving test telephone booking numbers. The above telephone number is an automated service although if you are having any issues regarding your test, a DVSA representative can be reached by following the options given.
Book your driving test online
Booking the practical test via the internet is easily completed. The online system displays the availability of tests with dates and times to choose from. See the book a driving test section for booking a practical driving test at Isleworth.
Rescheduling or cancelling the driving test
Driving Tests can be rescheduled or cancelled. Changing your driving test date can be done providing three working days' notice is given. To cancel your test and receive a full refund from DVSA bookings, three working days' notice must also be provided. Saturdays are also classed as a working day.
Isleworth DRIVING TEST CENTRE PASS RATES
Pass rates vary from each test centre, often due to the difficulty of the test routes. Some test candidates choose a test centre outside of their location due to the type roads that are taken on the test. The driving test pass rates section may show driving test pass rate statistics for your practical test centre.
Isleworth TEST CENTRE TELEPHONE NUMBER
Practical driving test centres can be contacted for various reasons including to see whether a scheduled test is going ahead due to bad weather for example (See driving tests in bad weather for further information), or to inform the test centre manager that you may be running late. Driving tests cannot be booked or rescheduled via test centres.
This can only be done via the DVSA. The Isleworth Driving Test Centre contact telephone number may be located within the driving test centre contact numbers section or obtained from your driving test confirmation letter or email.
PRACTICAL DRIVING TEST CENTRE REVIEWS
Writing a review of Isleworth Driving Test Centre whether good or bad will help others in deciding which test centre to use and what to expect on their driving test. As an example, let other know whether you passed or failed, what your examiner was like, how difficult was it and what were the test routes like. It's quick and simple – no signup necessary and only your nickname will be displayed. To ensure your review meets our guidelines, please read our Terms and Conditions prior to submission.
Average rating:
38 reviews
Aug 5, 2022
Hi I want to book my driving test but I couldn't find it earlier date plz some one could u plz give me the cancellation date earlier
Jul 16, 2022
Instructor named Mohamed who goes by the name "mo" He was absolutely horrible, rude, unwelcoming and made me feel so uncomfortable. From his record, I can see I'm not the only one who complained about him and I advise anyone who is taking a test with him to swap with a different instructor! He had no patience what so ever, told me to follow sat nav which was fine but as I was following it he just removed the sat nav without letting me know and expected me to do my own thing. When I asked shall I still follow the route he says "yes, then follow the instructions i give". What a horrible horrible miserable man honestly. Something has to be done about this. I have had a driving instructor who has failed me before but was so kind and let me know where I went wrong but this guy was an animal.
FYI I passed last week in a different test centre with only one minor. Adding to that I did not have any extra hours either and my instructor said I was more than test ready and he was right!!
I feel sorry for anyone who has mo, horrible man
Jul 16, 2022
AVOID EXAMINER CALLED "Mo"!!!
I have done over 30 hours of driving and I am very comfortable on the roads. I have an instructor who has a good pass rate and someone who marks harshly to help the leaner progress. I have passed my mock tests with very few minors and know how to drive.

Firstly, this examiner was extremely rude and stuck up, he refused to shake my hand and completely blanked me when I asked how he was. I was driving around the area and it started when it took the satnav and told me I would be following his directions instead. He asked me to go into a narrow road, which I did at a slow speed. I was in 1st gear as it was a meeting point and there were cars parked on my left side and right. The car in front of me held back so I could proceed so I went through at around 5-6 mph. I was closer to the left than the right as there were cars on both sides and I was in my lane. As I was driving through at the slow speed he exaggerated and told me I was too close and that I'm going to touch the car to my left. He grabbed the wheel dramatically and said steer it away more. At this point I was already steering towards the right a bit more trying to keep the car away from both sides. When we proceeded and got to the end of the road he told me to park up and terminated the test as I am "a hazard to have on the road". I asked him if he was being serious and that it was a meeting point I was driving at with care. He said does it look like I'm joking. I told him that I have passed so many mock tests and know the roads like it's my house and he patronisingly sniggered and replied with clearly you wasn't driving then.

When I received my results back I saw 2 dangerous faults for one thing and no minor faults. I went on roundabouts; pulled out of junctions with blind spots; pulled up on the left several times with no minors at all and somehow I have been marked with 2 dangerous faults.Two for the same meeting point which made no sense at all.

If you have a driving test with this man good luck because he tries to fail everyone. I've asked many instructors at the place and they all said the same thing. I supposedly put his life in jeopardy at 5 miles an hour on 1st gear.
Jul 9, 2022
Mo is bit too stringent. He gave me a major for not checking left shoulder. I mean comeon, it could easily have been a minor. Another one was for touching the kerb, i would think even that was harsh and on some days could have been a minor.
Jan 21, 2022
My experience was absolutely AWFUL with Mo he was a nightmare passenger. Barely conducted the test for 10 mins but we still pay extortionate prices for tests. Mo should really work on his people skills. God help you if you have Mo. He made me feel extremely uncomfortable & was so awkward to talk to. No conversation which added to the nerves. I feel as if he failed me before the test had even began. Didn't even greet me in the morning.