Provided are contact details for Leighton Buzzard Driving Test Centre, test route tips, test booking information and help passing the driving test in Bedfordshire.
TEST CENTRE CONTACT DETAILS
Practical Driving Test Centre Address
Leighton Road
Stanbridge 
Leighton Buzzard
Bedfordshire
LU7 4QG
Test Centre Details:  Male and female toilets available at this test centre. No ramp access to test centre for wheelchair users. Special arrangements will be made for disabled test candidates. To gain access to the test centre and the car parking facilities, follow the one-way-system and follow signs to the on-site parking.
Test Centre Provides Tests For: Car, Motorcycle Module 1, Lorries, large vehicles and buses
THE DRIVING TEST IN Leighton Buzzard
The Leighton Buzzard Driving Test Centre is situated around both rural and urban roads. Both road types are likely during the driving test. Rural roads are often difficult for novice drivers due to applying the safe and appropriate speed around the often harsh bends.
The country road driving tutorial offers help on this matter. Test routes are designed by the examiners who conduct tests at the local test centres. The routes specifically incorporate some of the most challenging and varied roads and traffic system in the location. High speed 'A' roads such as the A505 also being likely.
A high standard of road systems such as roundabouts, crossroads and junctions on major and minor roads is important. The test will incorporate a single test manoeuvre along with the emergency stop procedure that has a 1-in-3 possibility of being requested.
All practical car tests now include approximately 10 minutes of independent driving. this requires the test candidate to follow a basic map shown by the examiner before setting off, following road signs or a combination of both.
Leighton Buzzard DRIVING TEST Routes
Test routes are available for many of the UK practical test centres and may include Leighton Buzzard driving test routes. Viewing the test routes provide test candidates with an insight into the various types of roads and traffic systems they're likely to encounter. Please be advised that test routes may change over time and should only be used as a reference to the types of routes you can expect.
BOOKING A DRIVING TEST AT Leighton Buzzard DRIVING TEST CENTRE
Driving test are conducted at many of the UK driving test centres throughout the day Monday to Friday. Busier test centres may offer Saturday test bookings at a slightly higher booking fee. It's generally in the test candidates best interest to book a test during the quieter periods of the day. This usually involves avoiding peak rush hour traffic.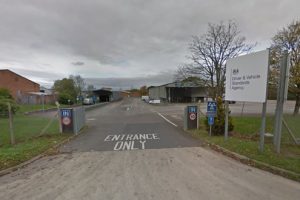 Book a driving test by phone
Practical driving tests in the UK are booked via the Driver and Vehicle Standards Agency (DVSA). Driving tests can be booked by telephone or via the internet (see below). To book a test at either of the Leighton Buzzard Driving Test Centres, see the book a driving test section for booking contact telephone numbers. This is an automated service, though a DVSA assistant can be reached by following the options provided.
Book your driving test online
The most popular method for booking a practical test is via the internet. Upon making a booking, the available times and dates will be displayed for your chosen test centre. To make a test booking at either of the Leighton Buzzard Driving Test Centres, see the book a driving test section.
Rescheduling or cancelling the driving test
Driving Tests can be rescheduled or cancelled. Changing your driving test date can be done providing three working days' notice is given. To cancel your test and receive a full refund from DVSA bookings, three working days' notice must also be provided. Saturdays are also classed as a working day.
Leighton Buzzard DRIVING TEST CENTRE PASS RATES
Pass rates vary from each test centre, often due to the difficulty of the test routes. Some test candidates choose a test centre outside of their location due to the type roads that are taken on the test. The driving test pass rates section may show driving test pass rate statistics for your practical test centre.
Leighton Buzzard TEST CENTRE TELEPHONE NUMBER
A member of staff can be contacted at your test centre to enquire on any general driving test questions you may have, for example if a test is still going ahead due to bad weather (See driving tests in bad weather for further information).
Practical driving test can only be booked, cancelled or amended via the DVSA directly however. See above for details. The Leighton Buzzard Driving Test Centre contact telephone numbers may be located within the driving test centre contact numbers section or obtained from your driving test confirmation letter or email.
PRACTICAL DRIVING TEST CENTRE REVIEWS
Reviews are a great way of letting people know what's good or bad about a product or service. Write a review of either of the Leighton Buzzard Driving Test Centres to let others know if you passed or failed the test, how difficult the test routes were, whether the test centre had adequate facilities and what your examiner was like on the day. It's quick and simple – no signup necessary and only your nickname will be displayed. To ensure your review meets our guidelines, please read our Terms and Conditions prior to submission.
Average rating:
15 reviews
Feb 11, 2020
Having read these reviews I feel I should leave one too. My son had a driving test with Karen, very disappointed with her attitude and failing his test. Extremely unprofessional on why she failed him, its was her mistake slamming on brakes when she wasn't even looking at the road she was on her iPad. All my sons friends have failed first time with (woman) instructors, they are conning young people out of money by failing them. We are taking this further after speaking to Michelle - Manager she said appeal against this. We are worried now what instructor my son will get next time. How many other people has Karen failed today, miserable lady.
Dec 5, 2019
First impressions of the test-centre are that is is vast and seems confusing, but don't let that put you off. Entering the site, you follow the lane around the far end of the building and back towards the Stanbridge Road. Parking bays are to the left of the exit gate, and the entrance to the centre is the door on the end of the central building, facing the road. Be careful walking from your car to the test-centre, as HGV tests also happen here: keep to the marked walkways. The waiting area is a bit cramped, but comfortable, and there are toilets that candidates can use. At the start of the test, remember the exit gate doesn't allow traffic to enter, so, if turning right, position to the right-hand side. Speed limit is 30, just after turning right, but National Speed Limit, if turning left. There is a bit of a slope, getting onto the road, so it's easy to stall the car. Turning right, back into the test-centre, at the end of the test, be aware that oncoming traffic has just passed the National Speed Limit sign, so it may be accelerating towards you. From an instructors point of view, you can walk to the nearby Co-op store and back, while waiting, but be very careful walking around on the site. Examiners wear hi-vis for a reason!
Nov 1, 2019
I had my driving test today with some rude nasty old bat, i dont even know what jer name was as she couldnt even be bothered to introduce herself properly. I made a slight mistake aboit 10 mins into the test and she spoke to me like crap and said i dont know what on earth made you do that! After that i wanted to end the test as i knew she was going to fail me but she wouldnt let me end the test so i decided to drive how i wanted the rest of the test. She dodnt know this and she was sighing and tutting when i lifted my foot of the clutch too fast. Then she had the nerve to deny speaking to me like crap at the end! Nasty rude and unprofessional i will be taking this further she shouldnt be in this job nasty old woman!!!!
Apr 8, 2019
Extremely ignorant and unproffesional examiner - TD . All of the examiners came out of their office smiling, except one. She snapped at me before we had even left the building, when I asked if she had said my name, which did wonders for putting me at ease. I asked if she needed to see my documents as I had brought them with me, to be told, you've just signed a declaration, so no. Rude, rude, rude.
Nov 7, 2018
Jo tested me and she was professional and helpful and understanding. Not only the test was hard but most importantly fair. She was so pleasant to deal with. JUst a remarkable person that loves her job and knows how to do it. Passed me right away after forty minutes. All the test criteria was tested and proper feedback was given too. Cheers to all. Leighton Buzzard is a good place to take your test assuming you land with one of the right examiners.