Provided are contact details for Letchworth Driving Test Centre, test route tips, test booking information and help passing the driving test in Hertfordshire.
TEST CENTRE CONTACT DETAILS
Practical Driving Test Centre Address
Jackmans Place
Letchworth Garden City
Hertfordshire
SG6 1RF
Test Centre Details:  No ramp access for wheelchair users. Special arrangements will be made if you have a disability. Male and female toilets available. Test candidate car parking facilities available.
Test Centre Provides Tests For: Car, Motorcycle module 2
THE DRIVING TEST IN Letchworth
Both urban roads and rural roads are likely during the driving test from Letchworth Driving Test Centre. Examiners often include rural roads as they present their own unique challenges to novice drivers. Typically judging the correct speed for the often harsh corners is difficult, where the country road driving tutorial helps.
Combined with these road types will be various roundabout types, junctions and crossroads. Busy 'A' roads such as the A505 and high speed dual carriageways are often taken as part of the test routes. The test will involve a single test manoeuvre from the possible 4.
Around a 1-in-3 chance of the emergency stop procedure being requested. Independent driving is part of each practical test and  will be taken for around 10 minutes of test time.
Test routes are available for many of the test centres and may include Letchworth driving test routes. Viewing the test routes provide test candidates with an insight into the various types of roads and traffic systems they're likely to encounter.
BOOKING A DRIVING TEST AT Letchworth DRIVING TEST CENTRE
Though practical driving tests are run throughout the day from Monday to Friday at most test centres, booking your test during the quieter periods of the day often provides a less stressful test for candidates. Booking a test is easily completed from the two methods below.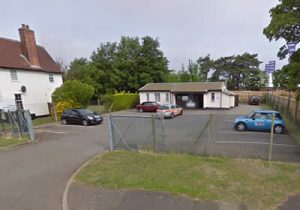 Book a driving test by phone
Practical driving tests in the UK are booked via the Driver and Vehicle Standards Agency (DVSA). Driving tests can be booked by telephone or via the internet (see below). To book a test at Letchworth Driving Test Centre, see the book a driving test section for booking contact telephone numbers. This is an automated service, though a DVSA assistant can be reached by following the options provided.
Book your driving test online
The most popular method for booking a practical test is via the internet. Upon making a booking, the available times and dates will be displayed for your chosen test centre. To make a test booking at Letchworth Driving Test Centre, see the book a driving test section.
Rescheduling or cancelling the driving test
Driving Tests can be rescheduled or cancelled. Changing your driving test date can be done providing three working days' notice is given. To cancel your test and receive a full refund from DVSA bookings, three working days' notice must also be provided. Saturdays are also classed as a working day.
Letchworth DRIVING TEST CENTRE PASS RATES
Pass rates vary from each test centre, often due to the difficulty of the test routes. Some test candidates choose a test centre outside of their location due to the type roads that are taken on the test. The driving test pass rates section may show driving test pass rate statistics for your practical test centre.
Letchworth TEST CENTRE TELEPHONE NUMBER
A member of staff can be contacted at your test centre to enquire on any general driving test questions you may have, for example if a test is still going ahead due to bad weather (See driving tests in bad weather for further information).
Practical driving test can only be booked, cancelled or amended via the DVSA directly however. See above for details. The Letchworth Driving Test Centre contact telephone number may be located within the driving test centre contact numbers section or obtained from your driving test confirmation letter or email.
PRACTICAL DRIVING TEST CENTRE REVIEWS
Reviews are a great way of letting people know what's good or bad about a product or service. Write a review of Letchworth Driving Test Centre to let others know if you passed or failed the test, how difficult the test routes were, whether the test centre had adequate facilities and what your examiner was like on the day. It's quick and simple – no signup necessary and only your nickname will be displayed. To ensure your review meets our guidelines, please read our Terms and Conditions prior to submission.
Average rating:
15 reviews
Jul 27, 2019
I passed my Motorcycle test here after failing twice at another test centre. I did make a couple of minor faults due to nerves, of which i'm certain Basildon test centre would have failed me on. The examiner here was fair and I believe he took the overall ride into consideration and actually used his brain. He explained what i'd done wrong and took the time to talk to me about the whole test.
Jun 4, 2019
I had an awful examiner who expected me to know that when coming to roundabouts go straight over unless he told me otherwise. He didn't discuss this with me before the test therefore I had to ask and he was so rude to me for asking where to go! Monotone voice the whole time. Didn't explain in detail what I had done wrong either, was very vague so my mum had to go ask him and he was arrogant to her! No idea who I had but definitely do not want him again!
Jan 16, 2019
I have tried to pass my test 2 times at this test centre. Both times I have got male examiners which were more nervous than me. Their nervousness passed on to me and instead of a confident and relaxed (as possible as an exam can be) at one point made me really anxious and unsure of what I need to do. During my last test the examiner even raised his voice during the test and jumped in front of me which scared me. I wanted to stop the exam on that minute. I understand that these people do not know how we drive and all, however, if they cannot keep their nerves in control, they should not work as examiners. Very unhappy and really unprofessional. Please use your break if need be, but do not undo all our effort in becoming a confident and good drivers.
Sep 25, 2018
The test centre was very well kept. I had Paul as my examiner he put me at ease with my test nerves straight away. Pleased that I passed first time.
Father of tested daughter
Aug 14, 2018
So of the 11 reviews on here there are 35% relating to the rudeness of Jill and her attitude. My daughter didn't perform today and she accepts that. However her instructor, stated he could tell Jill was in a badmood when she came out to start my daughters test. She was rude, aggressive and reduced my daughter to tears in the examination. How you are with people helps them grow or belittles them. I am saddened an individual takes pleasure in this. My daughters friend also had her and was treated to a rude attitude and reducded to tears. Can i ask what the centre intends to do about this... Multiple complaints on here alone