Provided are contact details for Mitcham Driving Test Centre, test route tips, test booking information and help passing the driving test in Surrey.
TEST CENTRE CONTACT DETAILS
Practical Driving Test Centre Address
Redhouse Road
Mitcham
Surrey
CR0 3AQ
Test Centre Details:  Male and female toilet facilities available. Car parking facilities available, though spaces are limited.
Test Centre Provides Tests For: Car, Motorcycle Module 1, Motorcycle Module 2
THE DRIVING TEST IN Mitcham
Mitcham Driving Test Centre is located on an industrial estate that many large vehicles use. Remember that large vehicles often need extra room whilst navigating bends and junctions.
Being a Greater London based test centre, the driving test from Mitcham DTC is to include many residential streets that often incorporate many small, closed junction and involve parked cars. Passing parked cars whilst dealing with oncoming vehicles is often challenging for novice drivers.
These road types are often used also for the test manoeuvres. Mitcham driving test routes also involve complex multi-lane roundabouts and junctions on busy 'A' roads. No country road driving is involved from this test centre.
All practical driving tests now include approximately 10 minutes of independent driving. This involves either following a basic map displayed by the examiner before moving off, following road signs or a combination of both. Test routes are available for many of the UK practical driving test centres and may include Mitcham driving test routes. The routes aid test candidates in gaining an understanding of the various roads and systems that the examiner will take you on during your test. Routes can be viewed on this website or downloaded as an app.
BOOKING A DRIVING TEST AT Mitcham DRIVING TEST CENTRE
Driving tests can be taken throughout the day from Monday to Friday. It's often beneficial for test candidates to arrange their test to be taken during the quieter periods of the day to avoid rush hour traffic. Certain busy test centres may offer Saturday bookings, though this does incur a slightly higher booking fee. There are two ways a practical test can be booked: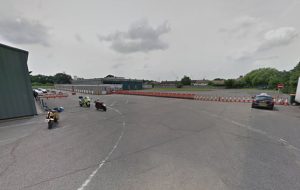 Book a driving test by phone
Practical driving tests in the UK are booked via the Driver and Vehicle Standards Agency (DVSA). Driving tests can be booked by telephone or via the internet (see below). To book a test at Mitcham Driving Test Centre, see the book a driving test section for booking contact telephone numbers. This is an automated service, though a DVSA assistant can be reached by following the options provided.
Book your driving test online
The most popular method for booking a practical test is via the internet. Upon making a booking, the available times and dates will be displayed for your chosen test centre. To make a test booking at Mitcham Driving Test Centre, see the book a driving test section.
Rescheduling or cancelling the driving test
Driving Tests can be rescheduled or cancelled. Changing your driving test date can be done providing three working days' notice is given. To cancel your test and receive a full refund from DVSA bookings, three working days' notice must also be provided. Saturdays are also classed as a working day.
Mitcham DRIVING TEST CENTRE PASS RATES
Throughout the UK practical driving test centres, pass rates vary. Certain centres, often in very busy areas may have a slightly lower pass rate and in this situation, some test candidates decide to take their test at an alternative test centre. The driving test pass rates section may show driving test pass rate statistics for your practical test centre.
Mitcham TEST CENTRE TELEPHONE NUMBER
Your practical driving test centre contact telephone number (including Mitcham Driving Test Centre) may be located on your test booking email confirmation, or found within the driving test centre contact numbers section.
Test centres must not be contacted to book, cancel or amend a driving test however (see above), and only to contact the centre manager if you have any questions or concerns regarding your test, for example if a test is still going ahead due to bad weather (See driving tests in bad weather for further information).
REVIEWS FOR YOUR DRIVING TEST CENTRE
Write a review of Mitcham Driving Test Centre to let others know how your test went. You can tell people if you passed or failed the driving test, what the test routes were like, were there difficult parts? Tell us what the test centre was like, was there adequate facilities? Was it easy to find? and what was your examiner like on the day? It's quick and simple – no signup necessary and only your nickname will be displayed. To ensure your review meets our guidelines, please read our Terms and Conditions prior to submission.
Average rating:
19 reviews
Jun 21, 2022
Mitcham DVSA Test Center is a SCAM/FRAUD, the Examiner almost run over a dude during my test, the Hiab operator was on the m8dle ogf the road and i passed into the other side behind a learner dring school car, then i notice on my rear view mirors that the examinar passed so close or under the Hiab Load and operstor that the operator went agains the Hoab not to be runed over, the examiner left is indicators on like 3 times for like 100's of meters then at the end he come with fabricated excuses to fail me things that dont exist a dthings tgat he should be gappy instead ge was upset, right in Mitcham test center there is a construction next door and the test starts on theother side of the fence thst iscovered with sone company logo/protection inpairing visibility so I went slow but i notice he had to brake he was expecting mejusy to go he was always right next to me on 20mph and 30mph roads and g8ving me directions like 10 to 15 meters in advance... SCAM/FRAUD your already fsiled before your starting rhe exam so they xan book you again £££ and the school can hire the motorcycle again and again and again! I'have been driving bikes for over 25 years done 3 cbt in the pass, owned bukes like dt125, mito 125, baontea 125, Raptor 700 (Quad) KTM 450 SXF this kast two i own at the moment, and from experience i can tell you the examiner on the bike rubish on the road he was danger for himself and others, its a Fraudester as inventing stuff noj existsnt and a Scamerand DVSA is complice with is not alwing for video recirding during the test as it would look realy bad for thems thats the reason simple teabsparency is mon existsnt, term and conditions blablabla every wete there us xaneras today for crime prevention and evidence gathering. If I am forced to see the center then they are firced to deal with peolle taking photos of it there is no copiright watever you eyes csn see and expectancy of privacy. Police uses cameras, bussynes use cameras, buses use cameras, trains and other public services, there is cameras every were today in 2022 but dvsa test centers say it's forbiden i belive they have internal cameras themselves so i guess transoarecy is non existsnce, equality from staff and clients/public is non existance and this can be considered descrimination agains the people that work hard, pay and done the right training then go for the test and is failled by a lazy examiner fabricating information. Verry desapointed with DVSA and Mitcham test center that likes Scaming people and uses Fraudulent tactics!
Oct 16, 2019
I'm so happy I passed my Driving test yesterday after my 4th time going there, thanks to examiner Colin Wilkins he was very professional I was very comfortable with him when I was doing my driving test.
Apr 2, 2019
The fat beared security guard is very bad in behaviour. I was waiting he was on phone call . It takes him 7 minutes to remove cones . Then I complain him that it takes you too long.he said don,t talk and go. Please take notice.
Aug 25, 2018
I had my first practical exam this week! The Examiner was so so rude!! Everything about him was so so bad. I said hello to him.... he just walked past me .... pretended that he never hear me ....very very cold body language ....Watch out his name is call Michael!! Very unhelpful N unfriendly man!! He fail me just cause of observation on a junction.! I thought I drive so so perfectly... I was so shocked .. he fail me!! I got just total 5 faults and one serious faults !! Pls: watch out for Michael This man is heartless.
Dec 1, 2017
MITCHAM TEST CENTRE: It is a very good test centre. however you got to remember the statistics of how many pple they have to pass and fail I agree not all examiners are friendly Debbie n Michael are 100% recommended avoid booking a afternoon slot you will fail book a early morning from 7:15am to 9am why, ok yes u have to be more vigilant BUT rush hour traffic helps as you will be sitting in traffic and over half your test will be consumed via traffic also remember it's the examiners supervisor that gives out the route to the examiners . I had a examiner he failed because lack of obvs but had the cheek to tell me my driving was on point to a T. I had Debbie she was amazing she was good and Michael is a good guy aswell as previous friends has told me . good luck everyone hope this helps. p.s if you get a route for beddington pls pray. when coming out of the test centre if they ask you to turn left you going to fail if they ask you to turn right you will pass