Provided are contact details for Newton Abbot Driving Test Centre, test route tips, test booking information and help passing the driving test in Devon.
TEST CENTRE CONTACT DETAILS
Practical Driving Test Centre Address
Vander House
Brunel Road
Newton Abbot
Devon
TQ12 4YQ
Test Centre Details:  Level car park with single opening door, opening outwards to driving test centre. Level access to all facilities. Male and female toilets available. Test candidate car parking facilities available.
Test Centre Provides Tests For: Car
THE DRIVING TEST IN Newton Abbot
Expect rural country road driving and high speed 'A' roads such as the A380 dual carriageway from Newton Abbot Driving Test Centre. Rural roads often represent a challenge for novice drivers due to high speeds met with harsh corners. To gain an understanding of a safe and appropriate speed for these road types, see the country road driving tutorial.
The test will include in-town driving where you will be assessed on most traffic systems such as roundabouts, crossroads and junctions. The examiner will request a single test manoeuvre, on occasions they may request two manoeuvres if time permits.
Involved will be a 1-in-3 possibility of the emergency stop. Test centre routes are designed by the examiners who conduct practical tests at their local test centre. The routes are designed in such a way so to involve as many diverse roads and traffic systems as possible, often including very challenging parts.
Gaining knowledge of the test routes provides valuable insight into the type of roads that will be taken during your test. Driving test routes may be available to view or a downloadable app for your mobile device in your area, including Newton Abbot Driving Test Centre.
BOOKING A DRIVING TEST AT Newton Abbot DRIVING TEST CENTRE
Test centres offer a variety of times that tests can be booked throughout the day. Available times are displayed upon booking. Many test candidates benefit from booking their test so that it takes place over the quieter periods of the day.
Book a driving test by phone
Practical driving tests can be booked over the telephone via an automated service. To book a test at Newton Abbot Driving Test Centre, see the book a driving test section for booking contact telephone numbers. Although this is an automated service, a Driver and Vehicle Standards Agency (DVSA) assistant can be reached by following the prompts.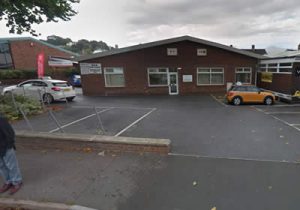 Book your driving test online
The majority of test candidates book their driving test over the internet as the available free test slots are made visible to be taken. To make a test booking at Newton Abbot Driving Test Centre, see the book a driving test section.
Rescheduling or cancelling the driving test
Driving Tests can be rescheduled or cancelled. Changing your driving test date can be done providing three working days' notice is given. To cancel your test and receive a full refund from DVSA bookings, three working days' notice must also be provided. Saturdays are also classed as a working day.
Newton Abbot DRIVING TEST CENTRE PASS RATES
Throughout the UK practical driving test centres, pass rates vary. Certain centres, often in very busy areas may have a slightly lower pass rate and in this situation, some test candidates decide to take their test at an alternative test centre. The driving test pass rates section may show driving test pass rate statistics for your practical test centre.
Newton Abbot TEST CENTRE TELEPHONE NUMBER
Your practical driving test centre contact telephone number (including Newton Abbot Driving Test Centre) may be located on your test booking email confirmation, or found within the driving test centre contact numbers section. Test centres must not be contacted to book, cancel or amend a driving test however (see above), and only to contact the centre manager if you have any questions or concerns regarding your test, for example if a test is still going ahead due to bad weather (See driving tests in bad weather for further information).
REVIEWS FOR YOUR DRIVING TEST CENTRE
Write a review of Newton Abbot Driving Test Centre to let others know how your test went. You can tell people if you passed or failed the driving test, what the test routes were like, were there difficult parts? Tell us what the test centre was like, was there adequate facilities? Was it easy to find? and what was your examiner like on the day? It's quick and simple – no signup necessary and only your nickname will be displayed. To ensure your review meets our guidelines, please read our Terms and Conditions prior to submission.
Average rating:
12 reviews
Mar 10, 2023
I had Laurence Dunkley for my second test, he was rude about another candidate before I even started my test. During my test he raised his voice to me on more than one occasion, made the test as difficult and possible and was constantly tutting, waving his arms around and getting annoyed with me. I already told him I have adhd and need to concentrate but he still distracted me as much as possible which is really dangerous. He made up mistakes that had never even happened and was really rude and volatile the whole time. Looking at the reviews it seems he has been doing this for at least the last 5 years. I have complained to the DVSA but they do nothing about it and just cover for him. I fully believe this man will cause a terrible accident one day and he should not be allowed to do the job he does. I was a confident driver and was making no mistakes in my lessons so I know I am able to drive. I drove all around Newton abbot and Plymouth with confidence and no problems but I haven't driven since my test as I have been too anxious. Unfortunately nothing will happen and this man will be allowed to bully people until the day he retires
Dec 14, 2022
I managed to pass first time thanks to Bev helping to calm my nerves. She was so lovely and had a nice chat with me to keep me calm. I am so happy I had her there!
Oct 5, 2022
Had an excellent experience in Newton Abbot today with a female tester. She was kind and relaxed and put me totally at ease. Clear and concise directives and a friendly manner helped me to perform at my best.
Aug 12, 2022
the worst test centre especially. a woman called bev she shouted at me multiple times made me feel like crap and I wasted my money to be spoken to like a child
May 11, 2022
I seem to find the instructors very rude. They all work so differently, more stricter than others, just no pleasant ness in any of the cars which doesn't do any good for anxious people. The pass quota is just degrading. It's so expensive the tests to be spoken to like crap. Nodding their heads at you if you make a wrong turn. Not very professional. It's like setting up to fail at Newton abbot test centre.
Just catching up money due to covid.