Detailed below provide the Northampton Pearson Professional Theory Test Centre contact address details, services offered and advice for booking and taking your theory test.
Driving Theory Test Centre Address
Suite 201, Sol House
St.Katherines Street
Northampton
NN1 2QZ
Toilets: Yes
Disabled access:
Translator Booth: No
Welsh Online: No
FINDING Northampton THEORY TEST CENTRE
Train stations are often a short walk from most theory test centres.
Northampton Railway Station
Black Lion Hill
Northampton
Northamptonshire
NN1 1SP
Station telephone number: 0121 634 2040. From the station, Northampton Theory Test Centre is 0.3 miles, or a 7 minute walk.
Arriving by car: A car park is located on St Mary's St, approximately a 3 minute walk to the theory test centre.
BOOK A THEORY TEST AT Northampton THEORY TEST CENTRE
There test bookings are easily completed via one of two methods detailed below. You'll need your provisional driving licence / number at hand. The Driving and Vehicle Standards Agency (DVSA) manage all theory test bookings and during the booking process, be sure to mention if you have any reading or hearing difficulties as help is available. The theory test centre in Northampton is run by Pearson Professional. Contact details of both organisations can be obtained from the booking sections found below.
Book a theory test by telephone
One method for booking a driving theory test is via the automated telephone booking line. Though this system is automated, a DVSA staff member can be reached by listening to the options available at the start of the process. Theory test bookings can be made in Northampton by visiting the book a driving theory test section.
Book a theory test online
Due to vacant theory test slots being displayed online, internet theory test bookings are a popular option. To book your theory test in Northampton, see the book a driving theory test section for all DVSA theory test booking information.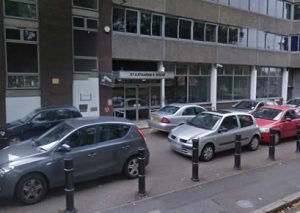 RESCHEDULING OR CANCELLING THE THEORY TEST
If you are unable to attend your theory test in Northampton, you may either reschedule or cancel the test. You may only reschedule the theory test to a suitable time and date or cancel it to receive a full refund if you allow for three working days notice. Saturdays are included as a working day.
AFTER YOU HAVE BOOKED YOUR TEST
The DVSA now send e-mails not letters to confirm your theory test booking. Check you provide the correct e-mail address so that you receive confirmation on the date, time, address and reference number of your theory test. If you have not received an e-mail, check your junk folder. Although not essential to take to the theory test centre, it's advisable to print this e-mail to show to the centre staff if any problems arise.
ATTENDING THE THEORY TEST
All theory test centres have prearranged allocated test times for all candidates. As a result, late arrivals may not be able to attend the test. Please ensure you arrive in good time and also take along your photocard provisional driving licence. The paper counterpart is no longer required. If you have the old style licence, a valid passport must be taken along. without these forms of identification, it's unlikely the test centre staff will allow you to sit the test. If you have misplaced your licence, contact the DVLA who will send you a replacement. See the learning to drive section for information on obtaining a new licence.
Northampton THEORY TEST CENTRE REVIEW
Reviews are always helpful when considering buying a product or service. Lets others know what to expect at Northampton Theory Test Centre by writing a short review. For example; how easy was the test centre to find? If you arrived by car, how were the parking facilities? How were the test centre staff and facilities? And of course, don't forget to tell us if you passed. Reviews are quick and simple, no sign up and only your nickname will be displayed. To ensure your review meets our guidelines, please read our Terms and Conditions prior to submission.
Average rating:
0 reviews