Provided are contact details for Shrewsbury Driving Test Centre, test route tips, test booking information and help passing the driving test in Shropshire.
TEST CENTRE CONTACT DETAILS
Practical Driving Test Centre Address
Stafford Drive
Battlefield Enterprise Park
Shrewsbury
Shropshire
SY1 3BF
Test Centre Details:  Ramp access to Shrewsbury Driving Test Centre for wheelchair access. Male and female toilet facilities available. Test candidate car parking spaces available.
Test Centre Provides Tests For: Car, Motorcycle Module 1, Motorcycle Module 2, Car and trailers, Approved driving instructor – part two, Approved driving instructor – part three
THE DRIVING TEST IN Shrewsbury
The driving test from Shrewsbury Driving Test Centre will last from around 30 to 40 minutes and will involve many varied road types. Examiners specifically use test centre locations so that many road types are used on the test routes.
Expected can be rural country roads (see the country road driving tutorial for advice on the types), high speed 'A' roads such as the A53 and A49 and in-town urban driving. The examiner will be expecting a high standard of skill and safety for most traffic systems such as junctions, roundabouts and crossroads.
The driving test from Shrewsbury Driving Test Centre will include one of the four test manoeuvres and the emergency stop procedure being likely every other test conducted has the emergency stop).
The independent driving element of the test will take around 10 minutes. Gaining knowledge of the test routes provides valuable insight into the type of roads that will be taken during your test. Driving test routes may be available to view or a downloadable app for your mobile device in your area, including Shrewsbury Driving Test Centre.
BOOKING A DRIVING TEST AT Shrewsbury DRIVING TEST CENTRE
Test candidates can book their practical test so that it takes place at any time throughout the day Monday to Friday. During busy periods, certain test centres may offer weekend tests. Saturday tests cost slightly more to book. The time at which you take your test can reflect the outcome as those taken during off-peak traffic times often gain better results.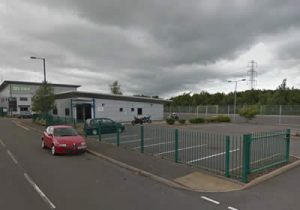 Book a driving test by phone
Practical driving tests can be booked over the telephone via an automated service. To book a test at Shrewsbury Driving Test Centre, see the book a driving test section for booking contact telephone numbers. Although this is an automated service, a Driver and Vehicle Standards Agency (DVSA) assistant can be reached by following the prompts.
Book your driving test online
The majority of test candidates book their driving test over the internet as the available free test slots are made visible to be taken. To make a test booking at Shrewsbury Driving Test Centre, see the book a driving test section.
Rescheduling or cancelling the driving test
Driving Tests can be rescheduled or cancelled. Changing your driving test date can be done providing three working days' notice is given. To cancel your test and receive a full refund from DVSA bookings, three working days' notice must also be provided. Saturdays are also classed as a working day.
Shrewsbury DRIVING TEST CENTRE PASS RATES
Throughout the UK practical driving test centres, pass rates vary. Certain centres, often in very busy areas may have a slightly lower pass rate and in this situation, some test candidates decide to take their test at an alternative test centre. The driving test pass rates section may show driving test pass rate statistics for your practical test centre.
Shrewsbury TEST CENTRE TELEPHONE NUMBER
Please note that direct contact with driving test centres cannot be made for test booking, cancelling or rescheduling. this can only be made directly with the DVSA (see above). Practical test centres can be contacted directly (including Shrewsbury Driving Test Centre) for reasons such as to inform the test centre manager you may be slightly late, or any issues you have with the test such as if it is still to proceed due to bad weather (see driving tests in bad weather for further information). See the driving test centre contact numbers section for further information.
REVIEWS FOR YOUR DRIVING TEST CENTRE
Tell others about your experience at Shrewsbury Driving Test Centre and let us know how your test went, did you pass or fail, how was the test centre, were there toilets or parking facilities? Were the test routes difficult? How were the test examiners? It's quick and simple – no signup necessary and only your nickname will be displayed. To ensure your review meets our guidelines, please read our Terms and Conditions prior to submission.
Average rating:
12 reviews
Jun 11, 2022
Very unprofessional, the examiner failed me due to things are couldn't even bee minors, would not recommend.
Sep 1, 2019
I took three tests at Shrewsbury, with Malcolm, Jackie and Peter. After reading other reviews I was worried that it would be terrible, but they honestly couldn't have been better. All three were reassuring before and during the test, and when I failed they explained why I'd failed in a fair manner. Go into it positive and you'll be fine!
Jul 13, 2019
Rude and patronising examiners. It is an ego boost for them to fail people on minor errors that they can easily make out to be serious faults. I assume the only source of ego they get in their lives.
May 18, 2019
Unprofessional, your examinor Pete turned my driving instructors dash cam off during my test and failed me on 2 serious faults both of witch, my instructor and a few others have said are down to matter of opinion I would despute these faults but as I have no dash cam footage to prove, I am now stuck I felt unsafe as he was highly inappropriate throughout the examination using foul language and being overall aggressive towards me, and when asked by my instructor why the dash cam was switched off he responded withbecause "I can do what I like" overall PETE knows he did wrong and will continue to do so untill someone gets into a serious accident due to his aggressive and ill mannared nature while conducting examination
Nov 28, 2018
My daughter has had this Geoff again today. Gave her a rebuke over a wrong direction too late then showed frustration which totally threw my daughter. Then said in review he'd had to grab her wheel when he had not. Made her feel totally nervous and uneasy. I shall complain. He's a liability and will cause an accident. Avoid...