Provided are contact details for Southport Driving Test Centre, test route tips, test booking information and help passing the driving test in Merseyside.
TEST CENTRE CONTACT DETAILS
Practical Driving Test Centre Address
Eastbank House
Eastbank Street
Southport
Merseyside
PR8 1HE
Test Centre Details:  Ramp access to Southport Driving Test Centre for wheelchair users. No toilets available. Car parking facilities available.
Test Centre Provides Tests For: Car, Motorcycle module 2
THE DRIVING TEST IN Southport
Located centrally to Southport, the driving test from Southport Driving Test Centre will start on busy roads. The examiner will assess your ability for all main traffic systems. Roundabouts of different types will be assessed as will junctions and crossroads.
Residential areas often used for test manoeuvres are also to asses your ability at meeting oncoming vehicles within narrow lanes and parked vehicles (see passing parked cars). These areas can often be used for the emergency stop procedure which has around a 1-in-3 possibility of being requested.
---
The 30 – 40 minute driving test from Southport will involve approximately 10 minutes of independent driving which involves following a basic map diagram displayed by the examiner before moving off, following road signs or a combination of both. The test routes are compiled by the examiners who conduct the tests at each specific test centre.
Test routes are compiled to utilise as many varied road types and traffic systems as possible so to ensure the test candidate is proficient in all aspects of driving. Test routes often include difficult parts and by gaining knowledge of the routes offers valuable insight into what to expect on the test.
Driving test routes may be available to view or a downloadable app for your mobile device in your area, including Southport Driving Test Centre. Southport test routes for sat nav and other navigation devices have been updated to the latest 2019 version. See driving test routes for sat nav.
BOOKING A DRIVING TEST AT Southport DRIVING TEST CENTRE
By either telephone or over the internet, driving tests can be booked and scheduled to take place throughout the week Monday to Friday. Saturday tests may be available from certain test centres. Test availability is made clear whilst booking. ensure you have your theory test pass number and provisional driving licence number at hand.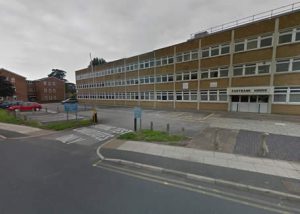 Book a driving test by phone
Practical driving tests can be booked over the telephone via an automated service. To book a test at Southport Driving Test Centre, see the book a driving test section for booking contact telephone numbers. Although this is an automated service, a Driver and Vehicle Standards Agency (DVSA) assistant can be reached by following the prompts.
Book your driving test online
The majority of test candidates book their driving test over the internet as the available free test slots are made visible to be taken. To make a test booking at Southport Driving Test Centre, see the book a driving test section.
Rescheduling or cancelling the driving test
Driving Tests can be rescheduled or cancelled. Changing your driving test date can be done providing three working days' notice is given. To cancel your test and receive a full refund from DVSA bookings, three working days' notice must also be provided. Saturdays are also classed as a working day.
Southport DRIVING TEST CENTRE PASS RATES
Practical driving test pass rates vary from centre to centre. This can often be due to the location, often busier areas having a slightly lower pass rate. Driving tests can be taken at any UK test centre. Choosing an area that you feel more confident in may benefit. The driving test pass rates section may show driving test pass rate statistics for your practical test centre.
Southport TEST CENTRE TELEPHONE NUMBER
For driving test booking and test amendments such as rescheduling or cancelling, please only contact the DVSA as above. Test centre staff may be contacted directly if you have a question that directly relates to your test – examples may include an issue with your test vehicle (see cars for the driving test), or if a test is still going ahead due to bad weather (see driving tests in bad weather for further information). Your test centre contact telephone details (including Southport Driving Test Centre) may be located driving test centre contact numbers section.
REVIEWS FOR YOUR DRIVING TEST CENTRE
Tell others about your experience at Southport Driving Test Centre and let us know how your test went, did you pass or fail, how was the test centre, were there toilets or parking facilities? Were the test routes difficult? How were the test examiners? It's quick and simple – no signup necessary and only your nickname will be displayed. To ensure your review meets our guidelines, please read our Terms and Conditions prior to submission.
Average rating:
13 reviews
Oct 4, 2022
Absolutely disgusting service. Nothing to do with the result for my daughter, the way Janette treated her was appalling and I will be taking this further. A grown woman speaking to her like rubbish, coughing entirely throughout the test, which was putting her off, huffed when my daughter went into the wrong gear so my daughter was completely put off. Once failed the test, my daughter couldn't carry on for the remainder of the test as too upset, she was left in the middle of Southport with her driving instructor's car (in charge of it) while Janette the examiner walked off and ordered a taxi further up. My daughter could have driven off in the car on her own or anything or something could have happened to the car. My daughter was left in a distressed state as she feels it was not a major that was reported for her to fail and very over the top but the continuous coughing fits and huffing from the examiner Janette while she was already so nervous.
Following on after the fail, Jannette also carried on to say who are you ringing, who are you ringing in a rude and intimidating way, once she said my Mum, Janette's reply was so you are calling your Mum out of work to come for you!!!! SHE SHOULD HAVE NOT BEEN LEFT IN THE MIDDLE OF SOUTHPORT WITH A CAR THAT WAS NOT HERS AND NO DRIVING LICENCE!!!
Mar 23, 2022
JANETTE SHOULD NOT BE DOING THIS JOB END OF! I was on a junction turning right slowly moving fairing for the car opposite me to go past and she slams on the breaks and she goes "woahhhhhh! They have priority" awful experience, treated me like a nobody. Disgusting.
Nov 10, 2019
Failed my first test had john seemed like s fair man i failed on parallel parking and fot 1 serious for not being in the correct lane coming off an island and 7 minnors to be fair i wasnt ready for my test do just took it as a lesson i sat my second test with jannette who was actually really nice i passed with 3 minnors but jannette was really chatty helped me relax asking me if i was ok and reasuring me to be calm
Oct 22, 2019
Jeanette should NOT be doing this job. I was driving at 20mph on a straight road and she was swaying around dramatically as if I was going 50pm on bendy roads. She is so distracting and off putting and speaks to you like a piece of shit. As soon as she got in the car she was making snidey comments and playing around with the air con which put me off before I even started driving.

She screamed at me saying "you almost crashed into that tree" when I was pulling over to the left and the tree was literally nowhere near the road. She's clearly a very nervous and hostile person and she should not be a driving examiner. If you ask her for clarification on a direction she has given or ask her to repeat it she will speak to you like you've just asked her if you can have a shit in the car.

Examiners should not be bullying or shouting at students on their test and the test centre really need to look into this. Disgusting.
Sep 12, 2019
I was very dissapointed in how strict my examiner was (mike) gave me 2 serious 1 for being slightly to the left on a one way turning right with no cars behind me he could easily have just given me a minor for it and this was 90 secs into my test so he failed me after 2 corners ridiculous and 2nd one stopping at a red light i checked my mirrors and surroundings but the lights had changed instantly to green as there wasnt any traffic around at all i was just about to go and he said go the lights are green another one could of easily just give me a minor he took me around about 9 roundabouts gave me the toughest show me tell me questions and made me parrallel park which i passed flawlessly with 4 minors it was like he was determined to fail me i had no words my driving was great !