Provided are contact details for Stirling Driving Test Centre, test route tips, test booking information and help passing the driving test in Stirling and Falkirk.
TEST CENTRE CONTACT DETAILS
Practical Driving Test Centre Address
Government Buildings
2 St Ninians Road
Stirling
Stirling and Falkirk
FK8 2HF
Test Centre Details:  Ramp access to Stirling Driving Test Centre for wheelchair users. Male, female and disabled toilets available.
Test Centre Provides Tests For: Car, Motorcycle module 2
THE DRIVING TEST IN Stirling
The driving test from Stirling Driving Test Centre will feature is designed so that the examiner can assess your ability at many varied road types. Test routes from Stirling typically include high speed 'A' roads and rural country roads.
Country roads are statistically the most dangerous in the UK. The country road driving tutorial offers test candidates advice on these road types. In terms of traffic systems in-town, examiner will assess you at all major systems including busy multi-lane roundabouts, mini roundabouts, crossroads and junctions of varying types.
You will be expected to demonstrate one of the test manoeuvres and around 10 minutes of independent driving, all of which will be clearly explained by the examiner. The emergency stop procedure is requested on approximately one in every four tests conducted. Throughout the test in Stirling, the examiner will also be assessing your ability for safe passing distances (see passing parked cars), forward planning, general control, regard to other road users and safety.
The test routes are compiled by the examiners who conduct the tests at each specific test centre. Test routes are compiled to utilise as many varied road types and traffic systems as possible so to ensure the test candidate is proficient in all aspects of driving. Test routes often include difficult parts and by gaining knowledge of the routes offers valuable insight into what to expect on the test. Driving test routes may be available to view or a downloadable app for your mobile device in your area, including Stirling Driving Test Centre.
BOOKING A DRIVING TEST AT Stirling DRIVING TEST CENTRE
Tests are booked either by telephone or via the internet and can be scheduled from Monday to Friday. Test centre in more rural based areas may operate on a part time basis only.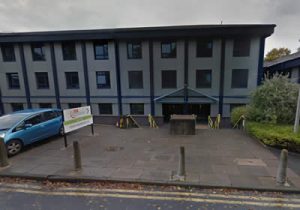 Book a driving test by phone
Practical driving tests can be booked over the telephone via an automated service. To book a test at Stirling Driving Test Centre, see the book a driving test section for booking contact telephone numbers. Although this is an automated service, a Driver and Vehicle Standards Agency (DVSA) assistant can be reached by following the prompts.
Book your driving test online
The majority of test candidates book their driving test over the internet as the available free test slots are made visible to be taken. To make a test booking at Stirling Driving Test Centre, see the book a driving test section.
Rescheduling or cancelling the driving test
Driving Tests can be rescheduled or cancelled. Changing your driving test date can be done providing three working days' notice is given. To cancel your test and receive a full refund from DVSA bookings, three working days' notice must also be provided. Saturdays are also classed as a working day.
Stirling DRIVING TEST CENTRE PASS RATES
Practical driving test pass rates vary from centre to centre. This can often be due to the location, often busier areas having a slightly lower pass rate. Driving tests can be taken at any UK test centre. Choosing an area that you feel more confident in may benefit. The driving test pass rates section may show driving test pass rate statistics for your practical test centre.
Stirling TEST CENTRE TELEPHONE NUMBER
For driving test booking and test amendments such as rescheduling or cancelling, please only contact the DVSA as above. Test centre staff may be contacted directly if you have a question that directly relates to your test – examples may include an issue with your test vehicle (see cars for the driving test), or if a test is still going ahead due to bad weather (see driving tests in bad weather for further information). Your test centre contact telephone details (including Stirling Driving Test Centre) may be located driving test centre contact numbers section.
REVIEWS FOR YOUR DRIVING TEST CENTRE
Tell others about your experience at Stirling Driving Test Centre and let us know how your test went, did you pass or fail, how was the test centre, were there toilets or parking facilities? Were the test routes difficult? How were the test examiners? It's quick and simple – no signup necessary and only your nickname will be displayed. To ensure your review meets our guidelines, please read our Terms and Conditions prior to submission.
Average rating:
3 reviews
Sep 21, 2018
Big massive thank you to Billy Halliday, my tester, for getting me through my test with ease. This was my 3rd time, and the first I had him. He made me feel so calm and more relaxed than previous testers which made all the difference. So grateful to have had such a gentleman this time around. Thanks again Billy. RESPECT
Jun 18, 2018
My girlfriend passed her driving test today but was made to feel like sh*t by her invigilator. Shouldn't be coming home crying with a pass certificate in her hand. A*seholes.
Feb 1, 2018
I wish to express our gratitude to Jim Murray, examiner, for making my son Shaun fell so relaxed during his test today. Shaun expressed Jim as " a really decent guy" and relaxed his clear nervousness. Thank you Jim. A true blessing to Scottish driving. Thank you