Detailed below provide the Stockport Pearson Professional Theory Test Centre contact address details, services offered and advice for booking and taking your theory test.
Driving Theory Test Centre Address
Kingsgate, Wellington Road North
Stockport
SK4 1LW
Toilets: Yes
Disabled access:
Translator Booth: No
Welsh Online: No
Tests Available: Car, motorcycle, lorries, buses and coaches
Telephone Number: 01613009984
FINDING Stockport THEORY TEST CENTRE
Train stations and bus stations are often a short walk from most theory test centres.
Bus Stop
There is a bus that stops just off Wellington Road North / Wellesley House, services by First. From the bus stop, Stockport Theory Test Centre is 0.1 miles, or a 3 minute walk.
Telephone Number: general inquiries regarding your theory test booking 0300 200 1188.
Arriving by car: Heaton Lane Car Park is located approximately an 8 minute walk to the theory test centre.
BOOK A THEORY TEST AT Stockport THEORY TEST CENTRE
All you will need to make a theory test booking is your provisional driving licence, all you'll need a few details from this. You can book the theory test via one of the two methods detailed below. The Driving and Vehicle Standards Agency (DVSA) are responsible for managing all theory test bookings and Pearson Professional conduct the theory tests. Whilst making a booking, be sure to mention if you have any reading or hearing difficulties as help is available during the test.
Book a theory test by telephone
Booking a theory test can be made via the automated telephone line. You do not need to speak to anyone although there is an option to speak to a DVSA member of staff should you have any concerns or questions. Theory test bookings can be made in Stockport by visiting the book a driving theory test section.
Book a theory test online
Booking a theory test via the internet is often the most popular due to the system displaying theory test time and date availability, allowing you to select a free slot. To book your theory test in Stockport, see the book a driving theory test section for all DVSA theory test booking information.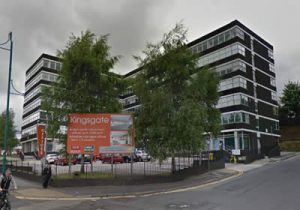 RESCHEDULING OR CANCELLING THE THEORY TEST
You are entitled to reschedule the theory test for an alternative date and time, or cancel the test to receive a full refund. Please allow for a minimum of three working days notice (including Saturdays) for either of these to be possible.
AFTER YOU HAVE BOOKED YOUR TEST
After you have completed your theory test booking, you'll receive an e-mail from the DVSA. Check your junk mail in case you didn't receive it. This e-mail will confirm the theory test date appointment and provide you with a reference number. Although not essential to take to the theory test centre, it's advisable to print this e-mail to show to the centre staff if any problems arise.
ATTENDING THE THEORY TEST
Reception area is on the ground floor at the far end of the building. Security and fraud prevention is taken seriously at all theory test centres. Whilst attending Stockport Theory Test Centre, you must show the staff your provisional driving licence photocard, or if you have the old paper type, this must be taken along with a valid passport.
If you have the old licence, but no passport, you must apply for a new driving licence. If you are unable to show these forms of identification, it's unlikely you'll be able to take the test, also resulting in a loss of test fee. If you have misplaced your licence, contact the DVLA who will send you a replacement. See the learning to drive section for information on obtaining a new licence. Arrive at Stockport Theory Test Centre in good time as theory test centres have strict test slot times. Late arrivals that miss their allotted time slot will forfeit the theory test and lost the test booking fee.
Stockport THEORY TEST CENTRE REVIEW
Reviews provide us with an insight into into a product or service. Write a short review of Stockport Theory Test Centre to let other know if the test centre was easy to find, if you went by car, were there parking facilities? Were the test centre staff polite and helpful and what were the centre facilities like? That's just an example, but don't forget to tell us if you passed. Reviews are quick and simple, no sign up and only your nickname will be displayed. To ensure your review meets our guidelines, please read our Terms and Conditions prior to submission.
Average rating:
12 reviews
Oct 26, 2019
My son arrived 2mins late because of a train delay the woman on reception was extremely rude and refused to allow him to take his test after travelling from Macclesfield
Aug 10, 2019
Woman at the reception is incredibly rude, mumbled and sighed when asked to repeat what she said. Spent most of her time looking at the desk and made no attempt at all to be nice. The guy who tells you your booth was lovely 5/5 for him, the woman needs to cheer up and stop being such a miserable sod
Jun 26, 2019
The lady in reception was not friendly at all however the gentlemen who was next to the test room was lovely and helpful. I went for my next test in Manchester and it was much friendlier atmosphere.
Jan 11, 2019
Took my test yesterday and was fearing the worst after reading these reviews. Feel I need to say what an absolute load of nonsense the previous reviews are. The staff were friendly, professional and excellent at their jobs in what is a very popular and busy test centre. It's also properly signposted from the reception entrance at the side of Kingsgate House.
Dec 20, 2018
This place is an absolute joke!! NHS signs all over the building, no signs, anywhere, relating to driving theory tests, the name of the building itself is only visible from one side, there's no where to park, at all. When we finally figured out this was the correct building, we then had to figure out how the heck to gain access to the car park, and then found one reception area to do with the NHS, we finally found another generic reception area, again no signage relating to theory tests, I asked someone, and we were told where to go. Despite spending 5 or 10 mins running around trying to find where the heck the place is, because they can't be bothered displaying signs, and despite a road closure and a diversion, we were still 5 mins early, however not 10 mins early as per the instructions. My son was then verbally abused by the person managing the tests, who barked at him to ask him why he was late, which he wasn't, told him he wasn't allowed to take the practice test, as he was late (which he wasn't) told him to empty his pockets, spit out his chewing gum, and wouldn't allow him to take his bottle of water (which has no label on) into the test, and was generally rude and obnoxious. Not good.