Provided are contact details for Wednesbury Driving Test Centre, test route tips, test booking information and help passing the driving test in the West Midlands.
TEST CENTRE CONTACT DETAILS
Practical Driving Test Centre Address
Knowles Street
Wednesbury
West Midlands
WS10 9HN
Test Centre Details:  Portable ramp is available for wheelchair access to Wednesbury Driving Test Centre. Male and female toilets available. Car parking facilities available.
Test Centre Provides Tests For: Car
THE DRIVING TEST IN Wednesbury
Wednesbury Driving Test Centre is located among busy roads and traffic. Challenging roads and roundabouts will feature such as the A461 dual carriageway and multi-lane roundabouts. Expect crossroads and junctions to feature on the driving test from Wednesbury Driving Test Centre significantly.
Residential areas although quieter can be hazardous for learners due to parked vehicles and oncoming traffic. Areas such as these feature test manoeuvres often and the emergency stop which currently has around a 1-in-3 possibility of being requested.
The driving test from Wednesbury Driving Test Centre will take around 30 – 40 minutes. The independent part of the test will take around 10 minutes of this time. Tips for passing the driving test at Wednesbury Driving Test Centre are to browse the driving test routes section and locate the difficult areas. Examiners who conduct the tests develop the test routes for their test centres with the intention of taking the test candidate through as many varied road types and traffic systems as possible, within the time given.
Also booking the test during times with less traffic is beneficial. This is often between 10am and 4pm during the week. If your test centre area is quieter during Saturdays, it is a good tip to check test centre availability for Saturday based tests. Driving test routes may be available to view or a downloadable app for your mobile device in your area, including Wednesbury Driving Test Centre.
BOOKING A DRIVING TEST AT Wednesbury DRIVING TEST CENTRE
Booking your practical driving test is completed by the methods outlined below. Whilst booking, you will need at hand your provisional driving licence and your theory test pass certificate. Later on in the booking process, you will be able to choose from the available test dates and times displayed to you.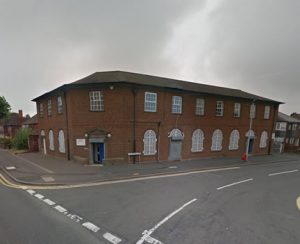 Book a driving test by phone
Driving tests can be booked by telephone where an automated service will take you through the process. The book a driving test section details the process and telephone numbers needed to book a test at Wednesbury Driving Test Centre. If you require a person to speak to, a Driver and Vehicle Standards Agency (DVSA) assistant can be reached by following the prompts.
Book your driving test online
The majority of test candidates book their driving test over the internet as the available free test slots are made visible to be taken. To make a test booking at Wednesbury Driving Test Centre, see the book a driving test section.
Rescheduling or cancelling the driving test
Driving Tests can be rescheduled or cancelled. Changing your driving test date can be done providing three working days' notice is given. To cancel your test and receive a full refund from DVSA bookings, three working days' notice must also be provided. Saturdays are also classed as a working day.
Wednesbury DRIVING TEST CENTRE PASS RATES
Pass rates from each driving test centre vary, often due to location. As a UK resident, you can book and take your driving test at any practical test centre within the UK, allowing you to choose the location you feel more confident with. The driving test pass rates section may show driving test pass rate statistics for your practical test centre.
Wednesbury TEST CENTRE TELEPHONE NUMBER
For driving test booking and test amendments such as rescheduling or cancelling, please only contact the DVSA as above. Test centre staff may be contacted directly if you have a question that directly relates to your test – examples may include an issue with your test vehicle (see cars for the driving test), or if a test is still going ahead due to bad weather (see driving tests in bad weather for further information). Your test centre contact telephone details (including Wednesbury Driving Test Centre) may be located driving test centre contact numbers section.
REVIEWS FOR YOUR DRIVING TEST CENTRE
Help others by telling them your experience of your driving test and write a review of Wednesbury Driving Test Centre. Let us know if you passed or failed your driving test. What was the test centre like, did it had adequate facilities? What were the test routes like and how was your examiner? It's quick and simple – no signup necessary and only your nickname will be displayed. To ensure your review meets our guidelines, please read our Terms and Conditions prior to submission.
Average rating:
22 reviews
Aug 20, 2022
I have had multiple tests at Wednesbury test centre. My first test I had an awful experience- I had driving examiner Chris. The whole experience was uncomfortable and I didn't enjoy doing the test at all, I felt as though he had the mindset of failing me before I sat in the car- he over exaggerated every move I made and was overall very grumpy and was awful at giving me feedback. The second test I had was brilliant here even though I failed the examiner was so kind and helpful and made me feel super relaxed, and on my third time where I passed I had examiner stuart- he was amazing, and engaged in conversation and was so polite and felt like he wanted the fairest outcome! And I passed on this attempt. I honestly think if you are a good drive the test center is fair! But some examiners are much kinder as a person than others, so don't let a moody man like Chris affect your stress levels on the day! As it certainly did mine. Best of luck!
Sep 27, 2019
I had my test today at Wendsbury DTC and the examiner was really kind and I passed first time . I do believe it's all about experiance.
Sep 12, 2019
Doesn't even deserve a single star, examiner is absolute horrible, forces pupils to cry. Avoid this place at all costs!!!
Jul 18, 2019
Only gave 1 star because no choice of 0 stars I seriously suggest the centre reviews their examiners and give them a training session on customer service and how to speak to people. More or less as soon as the test started Jas today shouted at the learner, huffed and puffed constantly. When the learned felt there wasn't a safe place to pull over said it wasn't a trick question and then spoke about the learner to their instructor as if they weren't there. Its a highly stressful situation anyone without having a power crazy idiot sitting next to you. Sort it out!,,,
Jul 2, 2019
Worst test centre ever!! Failed for something that didn't even happen and was given 14 minors. Dave is a terrible examiner and constantly huffed and puffed. He would give dirty looks every time I checked his side of the mirror. Failed for observations when I checked all the mirrors and blind spots when reversing not my fault he was daydreaming!!! Test lasted 55 mins aswell!!!!! Never go to this centre.
Page 1 of 5:
«
‹
1
2
3
4
5
›
»