Provided are contact details for West Wickham Driving Test Centre, test route tips, test booking information and help passing the driving test in Kent.
TEST CENTRE CONTACT DETAILS
Practical Driving Test Centre Address
56 Glebe Way
West Wickham
Kent
BR4 0RL
Test Centre Details:  No wheelchair access – two large steps down to the rear entrance door and the front door has a very low step up. Special arrangements will be made for test candidates with a disability. Limited car parking spaces, though there is also parking at Rose Walk, the road next to West Wickham Driving Test Centre. Male and female toilets available.
Test Centre Provides Tests For: Car
THE DRIVING TEST IN West Wickham
The West Wickham Driving Test Centre has reasonably good test centre pass rates compared to some other test centres located in or near London. The driving test routes are still challenging and will feature fast paced traffic with difficult road systems.
Expected from West Wickham Driving Test Centre will be one of the possible four test manoeuvres, often taken round residential areas. These areas can often be narrow roads with parked cars (see passing parked cars) so are used to assess passing distances and meeting oncoming vehicles. Such areas can often be used for the emergency stop which has around a 1-in-3 possibility of being requested.
The duration of the driving test from West Wickham Driving Test Centre is to take around 30 – 40 minutes. Approximately 10 minutes of this time is reserved for independent driving. Expect many challenging roundabouts from multi-lane to mini. Challenging junctions often being closed or busy and crossroads. Knowing each and every test route isn't essential, though gaining an understanding of the particularly difficult areas of the test routes often proves beneficial.
Examiners who conduct the tests develop the test routes for their test centres with the intention of taking the test candidate through as many varied road types and traffic systems as possible, within the time given. This is to ensure test candidates can deal with all situations and often involves difficult areas. Driving test routes may be available to view or a downloadable app for your mobile device in your area, including West Wickham Driving Test Centre.
BOOKING A DRIVING TEST AT West Wickham DRIVING TEST CENTRE
It busy areas such as West Wickham, it may prove beneficial to book your test so that it takes place over the quieter periods of the day. Whilst booking, you'll need your theory test pass certificate and provisional driving licence as the system will require information from these. At the end, you will be able to choose from available times and dates on display.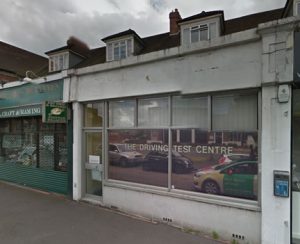 Book a driving test by phone
Driving tests can be booked by telephone where an automated service will take you through the process. The book a driving test section details the process and telephone numbers needed to book a test at West Wickham Driving Test Centre. If you require a person to speak to, a Driver and Vehicle Standards Agency (DVSA) assistant can be reached by following the prompts.
Book your driving test online
The majority of test candidates book their driving test over the internet as the available free test slots are made visible to be taken. To make a test booking at West Wickham Driving Test Centre, see the book a driving test section.
Rescheduling or cancelling the driving test
Driving Tests can be rescheduled or cancelled. Changing your driving test date can be done providing three working days' notice is given. To cancel your test and receive a full refund from DVSA bookings, three working days' notice must also be provided. Saturdays are also classed as a working day.
West Wickham DRIVING TEST CENTRE PASS RATES
Pass rates from each driving test centre vary, often due to location. As a UK resident, you can book and take your driving test at any practical test centre within the UK, allowing you to choose the location you feel more confident with. The driving test pass rates section may show driving test pass rate statistics for your practical test centre.
West Wickham TEST CENTRE TELEPHONE NUMBER
For driving test booking and test amendments such as rescheduling or cancelling, please only contact the DVSA as above. Test centre staff may be contacted directly if you have a question that directly relates to your test – examples may include an issue with your test vehicle (see cars for the driving test), or if a test is still going ahead due to bad weather (see driving tests in bad weather for further information). Your test centre contact telephone details (including West Wickham Driving Test Centre) may be located driving test centre contact numbers section.
REVIEWS FOR YOUR DRIVING TEST CENTRE
Help others by telling them your experience of your driving test and write a review of West Wickham Driving Test Centre. Let us know if you passed or failed your driving test. What was the test centre like, did it have adequate facilities? What were the test routes like and how was your examiner? It's quick and simple – no signup necessary and only your nickname will be displayed. To ensure your review meets our guidelines, please read our Terms and Conditions prior to submission.
Average rating:
16 reviews
Aug 7, 2021
My truthful review wasn't published, so all I'm going to say is this centre is only passing certain people (read between the lines). Avoid this place if you don't look like them. Please don't waste your money
Oct 15, 2019
Mike was the absolute worst examiner, he belittled you at every chance and was very arrogant. He kept on being sarcastic and rude and failed me for driving on the other side of the road when I was driving in between as there were parked cars that I had to clear. He clearly had a bad day and took it out on the learners.
Aug 27, 2019
I've taken two tests at West Wickham the first one was on 28/06/19 with the lovely examiner Jenny, she was very nice to me. Made me feel at ease, she came across as very professional and gave clear directions/instructions during the test. I found the route we went was really varied, although I felt it was an easy route/test I sadly failed due to one serious fault (positioning) my self on the wrong side to do a right turn out of the one way system (by Langley Park girls school), but thanks to her and that mistake I will always remember where I need to be. Thank you Jenny! My second test was on 22/08/19 with yet another amazing examiner, this time it was with Shane. He gave clear instructions as well. This time we went down the mad mile route, I was hoping to get this route as I found it a bit challenging at first during my lessons. Luckily I felt prepared for this route, I really enjoyed doing my test with Shane. He came across as very friendly , professional and calm when we meet. He made me feel at ease. This test also felt easy although I had one minor I passed my test! Had to ask Shane to repeat himself as I couldn't believe it, Shane gave me my freedom and for that I will be forever great-full, both the examiners are a credit to the driving test centre.
Feb 24, 2019
Treated absolutely disgustingly by the examiner Jenny during my test - rude, impatient, sighing during my test and had made rude unnecessary comments (asked me why I was walking slightly in front of her to get to the car?!!?) before the test had even began, barely said hello etc. Last test also had quite an abrupt rude man called Alan - I seriously think this centre needs to consider the kind of people they are employing as you don't know someone is already feeling on their test day and a small friendly comment or making some conversation/not jumping down someone's throat if they make an error with directions could help - small things maybe but it really does make or break someone's experience/day even if they have failed their test.
Jan 12, 2019
It was my second time at this center. Both examiners were excellent and fair.