Provided are contact details for Barking Driving Test Centre, test route tips, test booking information and help passing the driving test in Barking.
TEST CENTRE CONTACT DETAILS
Practical Driving Test Centre Address
84 Tanner Street
Barking
Essex
IG11 8QF 
Test Centre Details:  Male and female toilets are available at the test centre. There are 2 steps to access the test centre and arrangements will be made at this test centre if you have a disability. No car park is available at the test centre – tests often begin from Park Avenue.
Test Centre Provides Tests For: Car
THE DRIVING TEST IN Barking
The driving test at Barking will last for approximately 40 minutes, will include an eye test, Show Me Tell Me questions, around 20 minutes of independent driving and a manoeuvre. Arrive at the test centre around 10 minutes early.
Barking Driving Test Centre is situated busy streets and roads. A good understanding of roundabouts, crossroads and junctions is a must. Difficult to navigate one-way-systems are also likely to feature on the driving test. Busy primary route 'A' roads and dual carriageways such as the A13 and A406 feature from Barking Driving Test Centre. Quiet back-road residential areas will feature on the driving test.
These types of roads can be hazardous due to the size and possibility of on-coming vehicles. All driving manoeuvres will need to be thoroughly practiced as will the emergency stop.
Although Barking Driving Test Centre does not have candidate parking, practice of the bay parking manoeuvre is still advised. If you are taking your driving test at Barking Driving Test Centre, the examiner may take you to Goodmayes Driving Test Centre to request the bay parking manoeuvre. The driving test from Barking mainly features busy urban roads with very little or no country road driving.
Barking test centre routes
Due to high traffic density and complicated road systems, the driving test in Barking can be difficult and challenging. To gain a good understanding of the various roads taken on the driving test from Barking Driving Test Centre, visit the driving test routes section for Barking.
BOOKING A DRIVING TEST AT
Barking (Tanner Street)

 DRIVING TEST CENTRE

If your driving test centre is located in a busy area, it may be of benefit to book your driving test in between the times of 10am and 4pm. This way you will miss out on rush hour traffic that can be problematic for learner drivers. Alternatively, some driving test centres offer test bookings on Saturdays. Driving test fees at the weekend are increased. Driving tests cannot be booked through the test centres directly. To book a driving test, there are 2 options; by phone or online.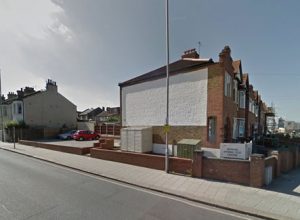 Book a driving test by phone
To book a practical driving test at the Barking Driving Test Centres by phone, see the book a driving test section for DVSA (previously the DSA) practical test booking telephone numbers. The DVSA telephone number is an automated test booking line. A DVSA assistant can offer help via the options given.
Book your driving test online
To book your driving test online for Barking Driving Test Centre, see the book a driving test section for all DVSA contact and online booking information.
Rescheduling or cancelling driving test
To gain a full refund for the driving test at Barking, cancellations must be made at least 3 working in advance of the test date. The same conditions apply for rescheduling if you wish to change the date. The above contact details can be used for these methods.
Barking DRIVING TEST CENTRE PASS RATES
The Driving test pass rates section contains all pass rates for all UK driving test centres including Barking test centre.
Barking

 TEST CENTRE TELEPHONE NUMBER

Barking test centre telephone number may be located via the driving test centre contact numbers section. Practical tests cannot be booked via these numbers and should only be used to contact the test centre manager for any concerns or issues you may have regarding your test.
PRACTICAL DRIVING TEST CENTRE REVIEWS
Write a review of Barking Driving Test Centre. Rate this test centre based on your experience of using them. Tell people how your test went and what your examiner was like. It's quick and simple – no signup necessary and only your nickname will be displayed. To ensure your review meets our guidelines, please read our Terms and Conditions prior to submission.
Average rating:
20 reviews
May 10, 2021
Praise the Lord! I finally pass my practical driving test here in Barking, the most difficult place to take a test due to so many factors. I have been a professional driver abroad for over 10years, as a Female driver, working and can drive both left right, manual and automatic vehicles.
Trying to secure a UK driving licence was like a setback to me which cost me almost £2000 in the process. However, I did not give up... Today I was very fortunate to meet one of the best Examiner in Barking Tanner Street who take his time to examine my driving ability on this my lucky month of May 2021. This was my 9th solid attempt! which I didnot give up on and it was not because I cannot drive a car but because of 1 little mistake at the edge to succeed that the examiner will call serious fault which got me failed 8times but By the grace of God today, I finally passed with only 2minors! I have been extremely nervous due to my previous bad experiences with some examiners but Michael help to calm my nerves in a very professional way which really build my confident back once again.
May God bless Michael. I give Michael 5 stars as one of the best examiner in Barking Tanner Street. Life is all about trying again when you fail, don't give up! You will finally succeed in Jesus Christ Name. Amen.
Oct 28, 2020
My test was on Monday & on my 4th attempt I finally passed! I have been extremely nervous on all tests & stupidly the night before my test I read these (which I now know) completely false past reviews about Kamil. My previous tests have taken place at Goodmayes test centre but due to such a high demand of tests as a result of Co- vid my next available option was to book at Tanner Street, Barking, hence why I wished to research some information about the test centre. On the day, when my examiner introduced himself as Kamil I was instantly filled with dread as I thought I was in for it as I was convinced that despite how my drive went on the day, past reviews led me to believe Kamil was not necessarily a nice man & more so a hard examiner to please! This could NOT be so far from the truth & my experience did not match what has previously been written about him! I can honestly say Kamil was the first examiner that made me feel most relaxed & reassured throughout my drive, which is why I felt so strongly about writing this & leaving a more up to date review!! Whilst he is professional, he is a fair & friendly examiner who made conservation which in turn put me so much more at ease & I drove more like I would do on normal lessons. I couldn't fault my experience at Tanner Street & would recommend this test centre to anyone. Kamil is not the dragon examiner that he has previously portrayed to be!
Good luck to all those who have a test approaching!
Aug 15, 2018
Please ignore all these negative reviews. I was very scared when I read all the bad reviews. I had Kamil as my examiner and I found him to be very professional and made me feel relaxed and calm. I would strongly say if you know how to drive you will pass.
Aug 13, 2018
I had my driving test this morning at 8.10 a.m in Barking Tanner Street. My examiner is KAMIL. He is an inappropriate person to be as an examiner. He failed me today and said the reason is I was nearly touching the Kerb and it is a serious fault. Nothing happened like that. If it is a serious fault he would have touched the steering or apply the brake but he hasn't done anything till the exam finished. I can proudly say that I was very confident and calm during my exam. My husband was sitting in the back of the car. Until the final moment, we both thought that I was going to pass my test. My driving instructor also said after I come back from the test that when he saw that KAMIL was my examiner he thought I might get failed. Because he knew from the other occasions that KAMIL is scared to give license to the learners. I hope the Exam board will reconsider this person. He is playing in others life and wasting their time and money. I don't want anyone to have KAMIL as their examiner. He is unprofessional.
Jun 29, 2018
THE DRIVING EXAMINER WAS SO NICE ,I DIDNT EVEN DO ANY MINOR FAULT BUT HE GAVE ME FAIL BECAUSE I WAS WAITING IN MINI ROUNDABOUT BIT LONG FOR EXTRA SAFE...HE GAVE ME ONE SERIOUS MISTAKES FOR HESITATION.IF HE WANT HE COULD GAVE ME PASS....I AM UPSET BECAUSE EXAMINER ALWAYS SEE HOW SAFE YOU ARE ...BUT IS THAT SERIOUS MISTAKES FOR EXTRA CARE?SOMETIME THEY TAKES THEIR OWN DECISION ..I THINK RIGHT TO APPEAL SHOULD INCLUDE SO EVERYONE CAN GET ORIGINAL DECISION.