Provided are contact details for Cannock Driving Test Centre, test route tips, test booking information and help passing the driving test in Cannock.
TEST CENTRE CONTACT DETAILS
Practical Driving Test Centre Address
Cannock Community Fire Station
Old Hednesford Road
Cannock
Staffordshire
WS11 6LD
Test Centre Details:  Male, female and disabled toilet available. Car parking available.
Test Centre Provides Tests For: Car
THE DRIVING TEST IN Cannock
Cannock Driving Test Centre is situated in the center of a busy town where complicated roundabouts, various type of junctions and crossroads will feature on the driving test. Narrow residential roads are likely where hazard occur from oncoming vehicles, where passing parked cars.
High speed 'A' roads such as the A460 and A34 are likely to be present on the test. These high speed roads require a good understanding of oncoming traffic speed before joining. Rural roads also being a possibility (see country road driving). Approximately a 1-in-3 chance of the emergency stop procedure and 1 out of 4 of the driving test manoeuvres will be asked by the testing examiner.
To gain a better understanding of the various road types and traffic systems that you are likely to encounter during your test from Cannock Driving Test Centre, visit our driving test routes section.
BOOKING A DRIVING TEST AT Cannock DRIVING TEST CENTRE
If your driving test centre is located in a busy area, it may be of benefit to book your driving test in between the times of 10am and 4pm. This way you will miss out on rush hour traffic that can be problematic for learner drivers. Alternatively, some driving test centres offer test bookings on Saturdays. Driving test fees at the weekend are increased. There are currently two options that can be used for booking a practical driving test; by telephone or via the internet.
Book a driving test by phone
The book a driving test section contains the DVSA telephone numbers for booking a practical driving test at Cannock driving test centres by phone. This telephone number directs you to an automated test booking line, although if you browse the option you can talk to a assistant.
Book your driving test online
To book your driving test online for Cannock Driving Test Centre, see the book a driving test section for all DVSA online test booking information.
Rescheduling or cancelling the driving test
3 working days notice is required to cancel the driving test at Cannock if you require a full refund. The same conditions apply if you wish to reschedule. Cancellations and rescheduling can be done via the contact details above.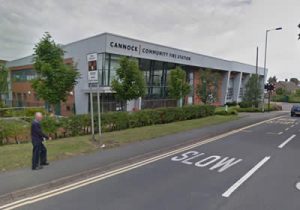 Cannock DRIVING TEST CENTRE PASS RATES
Driving test pass rates vary considerably depending on which test centre your practical is taken at. Browse the driving test pass rates section for information on your UK DVSA test centre pass rates.
Cannock TEST CENTRE TELEPHONE NUMBER
Though it is possible to call driving test centres directly, if you wish to book or alter a driving test, this must be done via the DVSA (see above). Cannock Driving Test Centre telephone number may be either located on this page or via the driving test centre contact numbers section. Test centres can be contacted only for an up to date status of tests, such as whether they are still being conducted in bad weather for example. See driving tests in bad weather for further information.
PRACTICAL DRIVING TEST CENTRE REVIEWS
In order to help others that are taking their driving test, or to simply tell us whether you passed or failed your driving test, write a review of Cannock Driving Test Centre. Rate this driving test centre based on your experience using them, what was your examiner like and how difficult were the test routes? It's quick and simple – no signup necessary and only your nickname will be displayed. To ensure your review meets our guidelines, please read our Terms and Conditions prior to submission.
Average rating:
6 reviews
Apr 15, 2019
I passed my driving test with only 3 minors shame that place is shutting down the examiner i had was great and very polite i literally cried an gave him a hug best thing i ever done now i have freedom
Jul 6, 2018
Took my test here i drove very well i was at traffic lights and didnt feel the car roll back i got a fail for something i didnt do. My instructor had no issues while i was doing my test she sat in back with us im not happy at all with the fail my driving is good quality he said so how could i have failed! I always keep my foot on brake when im waiting at lights i have good control of car
Apr 25, 2018
I just failed my test. I accept the mistakes I agree with the result. The examiner who carried out the test was Dennis (D.FLYNN). I made a mistake i signalled early and then the examiner shouted at me. HE SHOUTED examiners cannot shout, he said " can you not follow the sat nav properly" that was the minor mistake. Examiners like this make students nervous. Later on in the test I made a serious mistake, it was opposite the Hamilton secondary school there were students blocking the road at a junction all of a sudden a bus came and I blocked the bus . The examiner once again shouted saying " Did you not see the bus". EXAMINERS SHOULD NOT SHOUT SO IF YOU GET DENNIS FLYNN IN THE TEST BE CAREFUL BECAUSE HE SHOUTS. HOW ON EARTH IS THIS ALOUD TO HAPPEN?
Jul 26, 2017
Funny how all of the bad reviews are from those who failed their tests. Good centre with good instructors.
Mar 20, 2017
My son failed because he asked for clarification during the independent part of the test. The driving tips on this website states clearly that students are allowed to ask for route to be repeated. I wish I had read this before now. The examiners need to stick to the rules. I will be banging some doors down there if they fail to apply the correct rules on his re rest. Not happy at all. Can't even contact them to raise a concern or complaint.