Chelmsford Driving Test Centre is located in and around busy town roads. Required for the test will be a high knowledge of traffic systems such as roundabouts of all types from large multi-lane to small mini roundabouts, crossroads, junctions and a possibility of one-way-systems.
A good understanding of test routes close to and nearby the test centre will be of benefit. Busy 'A' roads such as the A138 and the A12 dual carriageway are likely where good judgement of oncoming traffic speed is important before joining. Quiet residential roads that are narrow, have tight bends are likely. Oncoming vehicles can be hazardous on such roads.
See passing parked cars for further help. One of the possible four driving test manoeuvres shall be requested, independent driving and a 1-in-3 chance of the emergency stop being requested.
The driving test in Chelmsford includes many challenging roads, including country roads. The test is designed to take you over as many varied roads as possible to establish to the driving examiner you are a competent and safe driver. The Chelmsford driving test routes will enable you to gain a better understanding of the various road types that are likely. Focusing on the areas that are most difficult will be most beneficial.
Hoffmanns Way Driving Test Centre
Practical Driving Test Centre Address
Synergy Centre
4 Hoffmanns Way
Chelmsford
Essex


CM1 1GU

 
Test Centre Details:  Please note:

Chelmsford, Hoffmanns Way test centre is no longer in operation. Driving tests including those for car are now conducted from Hanbury Road. Please see below for further details.
CHELMSFORD DRIVING TEST CENTRE
Practical Driving Test Centre Address
Hanbury Road
Widford Industrial Estate 
Chelmsford
Essex


CM1 3DR

 
Test Centre Details:  

Chelmsford driving test centre is fitted with automatic opening doors suitable for all customers. 

One way system in operation for training vehicles on test, clearly marked and to park on the manoeuvring area. 

There are no car park facilities for candidates vehicles. Please park legally in Hanbury Road. 

Male and female toilets.

Test Centre Provides Tests For: Car, 

Lorries, large vehicles and buses, Approved driving instructor part 3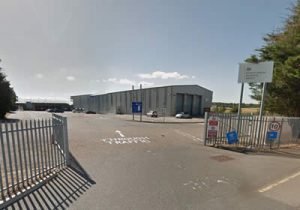 BOOKING A DRIVING TEST AT Chelmsford DRIVING TEST CENTRE
Driving tests cannot be booked through the test centres directly. To book a driving test, there are 2 options; by phone or online.
Book a driving test by phone
To book a practical driving test at the Chelmsford driving test centres by telephone, see the book a driving test section for practical test booking telephone numbers. The above DVSA (previously called the DSA) telephone number is an automated service. The option to speak to a DVSA assistant is available if required.
Book your driving test online
To book your driving test online for Chelmsford Driving Test Centre, see the book a driving test section for all DVSA contact information, plus online booking details.
Rescheduling or canceling your practical test
A full refund is available if you wish to cancel the driving test in Chelmsford provided 3 clear working days notice is given. The above conditions must also be met if rescheduling the test. The above contact information can be used for these purposes.
If your driving test centre is located in a busy area, it may be of benefit to book your driving test in between the times of 10am and 4pm.This way you will miss out on rush hour traffic that can be problematic for learner drivers. Alternatively, some driving test centres offer test bookings on Saturdays. Driving test fees at the weekend are increased.
Chelmsford DRIVING TEST CENTRE PASS RATES
Driving test pass rates vary considerably depending on which test centre your practical is taken at. Browse the driving test pass rates section for information on your UK DVSA test centre pass rates.
Chelmsford TEST CENTRE TELEPHONE NUMBER
Though it is possible to call driving test centres directly, if you wish to book or alter a driving test, this must be done via the DVSA (see above). Chelmsford Driving Test Centre telephone number may be either located on this page or via the driving test centre contact numbers section. Test centres can be contacted only for an up to date status of tests, such as whether they are still being conducted in bad weather for example. See driving tests in bad weather for further information.
PRACTICAL DRIVING TEST CENTRE REVIEWS
In order to help others that are taking their driving test, or to simply tell us whether you passed or failed your driving test, write a review of Chelmsford Driving Test Centre. Rate this driving test centre based on your experience using them, what was your examiner like and how difficult were the test routes? It's quick and simple – no signup necessary and only your nickname will be displayed. To ensure your review meets our guidelines, please read our Terms and Conditions prior to submission.
Average rating:
6 reviews
Feb 26, 2020
Be aware of examiner who has a beard he might fail you for literally everything. Chelmsford is the worst place to take a test. Completely waist time and money. You must have very high level of road user. More knowledge to do this test. Not friendly places.
Jan 8, 2020
There's one examiner, her name is Sam. She's the worst test conductor ever. She didn't smile even once to make me feel comfortable. She didn't even respond to my smile. Her attitude made me so nervous that I made 3 dangerous mistakes. Her rigid face still haunts me. They know we are already nervous and that can make us do mistakes. They should try to make us at ease. Otherwise I never make those mistakes which I made that day, with my instructor.
Nov 15, 2019
1st time passed . Examiner was friendly, made me feel at ease and was extremely fair with the minors i received. Ultimately if you are not safe enough then they will fail you. Practice makes perfect and dont take your test untill you are ready
Feb 12, 2019
Be aware of examiner who has a beard he might fail you for literally everything. Chelmsford is the worst place to take a test if you can pick don't go there I would probably go to the moon instead next time