Provided are contact details for Cheltenham Driving Test Centre, test route tips, test booking information and help passing the driving test in Cheltenham.
TEST CENTRE CONTACT DETAILS
Practical Driving Test Centre Address
Bishopsgate House
94 All Saints Road 
Cheltenham
Gloucestershire
GL52 2HQ
Test Centre Details:  Six steps are required to access to Cheltenham Driving Test Centre. Special arrangements will be made for wheelchair users. No car parking available at this test centre. Please park legally on All Saints Road near to test centre. Male and female toilets available.
Test Centre Provides Tests For: Car
THE DRIVING TEST IN Cheltenham
During the driving test, the examiner from Cheltenham Driving Test Centre will require that you demonstrate a good understanding and be able to safely navigate roundabouts, junctions, crossroads and possibly one-way-systems.
Rural roads my be part of the driving test and although they may appear quiet, rural roads represent one of the most challenging road types. See country road driving for further help. High speed 'A' roads such as the A435 and A40 are also likely to feature on the practical test.
One of the possible four driving test manoeuvres will be required and a 1-in-3 chance of the emergency stop procedure. 20 minutes of your test will be set aside for the independent part of the driving test.
By browsing the Cheltenham driving test routes section, you will gain a good understanding on the various road types and traffic systems that the examiner will take you on.
BOOKING A DRIVING TEST AT Cheltenham DRIVING TEST CENTRE
It's often beneficial to avoid the stress of rush hour when booking your practical. This usually occurs in the morning from around 9-10am and in the late afternoon at around 4-5pm. Certain test centres also offer a Saturday test at a slightly higher fee. Driving tests cannot be booked through the test centres directly. To book a driving test, there are 2 options; by phone or online.
Book a driving test by phone
To book a practical driving test at the Cheltenham driving test centres by phone, see the book a driving test section for practical test booking telephone numbers. The above DVSA (formerly called the DSA) telephone number is an automated service. The option to speak to a DVSA assistant is available if required.
Book your driving test online
To book your driving test online for Cheltenham Driving Test Centre, see the book a driving test section for all DVSA contact information and online test booking details.
Cancel or reschedule the driving test
A full refund is available if you wish to cancel the driving test in Cheltenham provided 3 clear working days notice is given. The above conditions must also be met if rescheduling the test. The above contact information can be used for these purposes.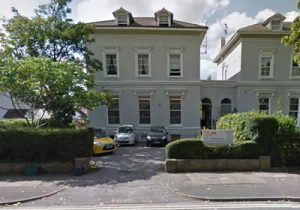 Cheltenham DRIVING TEST CENTRE PASS RATES
Driving test pass rates vary considerably depending on which test centre your practical is taken at. Browse the driving test pass rates section for information on your UK DVSA test centre pass rates.
Cheltenham TEST CENTRE TELEPHONE NUMBER
Though it is possible to call driving test centres directly, if you wish to book or alter a driving test, this must be done via the DVSA (see above). Cheltenham Driving Test Centre telephone number may be either located on this page or via the driving test centre contact numbers section. Test centres can be contacted only for an up to date status of tests, such as whether they are still being conducted in bad weather for example. See driving tests in bad weather for further information.
PRACTICAL DRIVING TEST CENTRE REVIEWS
In order to help others that are taking their driving test, or to simply tell us whether you passed or failed your driving test, write a review of Cheltenham Driving Test Centre. Rate this driving test centre based on your experience using them, what was your examiner like and how difficult were the test routes? It's quick and simple – no signup necessary and only your nickname will be displayed. To ensure your review meets our guidelines, please read our Terms and Conditions prior to submission.
Average rating:
21 reviews
Dec 1, 2021
You need read guys all comments and fix problems.
People not happy with yours worker's.
With yours examiner's.
Not happy.
Bad reviews, People don't trust.
Same like me about examiner Pat name or Path.
I fail with him 4times.
I can't believe in that.
And I can't believe he still work that job??
People fail with him in 10 min time.
Same like me.
Its bad and not respect...
No good guys .
You need more look more in clients and more understanding..
Nov 18, 2021
Ok.
I fail 3 times I Cheltenham..
2 times with same guy.
Today he was same guy and I fail with him
Same.mistake?
He seems like
very very happy about this.
And not nice guy..........
So I can't understand you ,how those people work that job
Its same mistake?
But he happy about that and try to fail.me and hi did.
Guys its disappointing, no respect people.
So no no never get in Cheltenham. Never
Jun 29, 2021
Really not impressed. Had my test here and failed after a perfect drive in the last 5 minutes on the way back. Apparently it was a major fault to go through a give way sign when there was no oncoming traffic. Now I have to wait until October for a re test whilst others passed and cannot drive well at all because they had different examiners who were not so miserable and cranky.
Sep 29, 2020
Given a major for hesitating at the double trafficlights at sixways, inbound from Greenway Lane. Renowned accident blackspot. Visibility from this access point almost zero. Only fault on the entire test, no minors. Failed for hesitating. Will plough headlong into the oncoming traffic next time see how Susan likes that!
Aug 25, 2020
Was really nervous to take my test here because of all the bad reviews but there was nothing to worry about - the examiner was helpful and made me feel at ease, and I passed first time. The test route was challenging but no worse than test routes elsewhere.
Page 1 of 5:
«
‹
1
2
3
4
5
›
»