Provided are contact details for Chertsey Driving Test Centre, test route tips, test booking information and help passing the driving test in Chertsey.
TEST CENTRE CONTACT DETAILS
Practical Driving Test Centre Address
Unit 4, The Forum
Hanworth Lane
Chertsey
Surrey
KT16 9JX 
Test Centre Details:  Ramped access to Chertsey driving test centre for both the main and the rear of the building for wheelchair users. Fire exits available. One disabled parking bay available for driving test candidates. 8 driving test candidate parking bays available. Male, Female and Disabled toilets available.
Test Centre Provides Tests For: Car, Approved driving instructor – part two, Approved driving instructor – part three
THE DRIVING TEST IN Chertsey
Busy town roads including roundabouts from large multi-lane to small residential areas where mini roundabouts are commonly used. Other traffic systems that are used to a large extent during practical tests include all types of crossroads, junctions and possibly one-way-systems will be part of the driving test at Chertsey Driving Test Centre.
Rural roads represent the most dangerous types of roads and are often used within the test routes (see country road driving for further help on the road types) and high speed 'A' roads such as the A320 and A317 may also be taken.
The driving test from Chertsey can be challenging with numerous roundabouts and busy junctions. Looking through the Chertsey driving test routes will provide an insight into the various types of roads that the examiner will be requesting from Chertsey driving test centre. Although a thorough understanding of the Chertsey driving test routes isn't necessary, locating the areas of difficulty and practicing these will be of benefit.
BOOKING A DRIVING TEST AT Chertsey DRIVING TEST CENTRE
If your driving test centre is located in a busy area, it may be of benefit to book your driving test in between the times of 10am and 4pm. This way you will miss out on rush hour traffic that can be problematic for learner drivers. Alternatively, some driving test centres offer test bookings on Saturdays. Driving test fees at the weekend are increased. Driving tests cannot be booked through the test centres directly. To book a driving test, there are 2 options; by phone or online.
Book a driving test by phone
To book a practical driving test at the Chertsey driving test centres by phone, see the book a driving test section for the DVSA (previously called the DSA) practical driving test booking telephone number. The above DVSA telephone number is an automated service. The option to speak to a DVSA assistant is available if required.
Book your driving test online
To book your driving test online for Chertsey Driving Test Centre, see the book a driving test section for all DVSA contact information and online booking details.
Cancel or reschedule the driving test
A full refund is available if you wish to cancel the driving test in Chertsey provided 3 clear working days notice is given. The above conditions must also be met if rescheduling the test. The above contact information can be used for these purposes.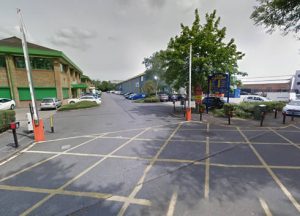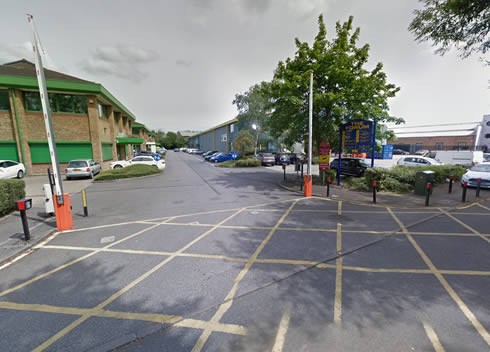 Chertsey DRIVING TEST CENTRE PASS RATES
Driving test pass rate statistics vary considerably depending on which test centre your practical is taken at. Browse the driving test pass rates section for information on your UK DVSA test centre pass rates.
Chertsey TEST CENTRE TELEPHONE NUMBER
Though it is possible to call driving test centres directly, if you wish to book or alter a driving test, this must be done via the DVSA (see above). Chertsey Driving Test Centre telephone number may be either located on this page or via the driving test centre contact numbers section. Test centres can be contacted only for an up to date status of tests, such as whether they are still being conducted in bad weather for example. See driving tests in bad weather for further information.
PRACTICAL DRIVING TEST CENTRE REVIEWS
In order to help others that are taking their driving test, or to simply tell us whether you passed or failed your driving test, write a review of Chertsey Driving Test Centre. Rate this driving test centre based on your experience using them, what was your examiner like and how difficult were the test routes? It's quick and simple – no signup necessary and only your nickname will be displayed. To ensure your review meets our guidelines, please read our Terms and Conditions prior to submission.
Average rating:
15 reviews
Jul 6, 2022
Steve was an amazing examiner, very kind and calm, even when I made mistakes and was still happy to take me when I arrived a couple of minutes late. Thank you so much Steve, it is very much appreciated.
Sep 24, 2021
I am an A.D.I with my own driving School. Steer Right Driving School. I would like to praise all the examiners at Chertsey Especially Matt . Matt especially makes my pupils very calm just like himself. The center is a much happier place these days after a certain lady examiner has left.
Jul 16, 2020
I am an driving instructor and I know all the examiners at Chertsey and they are a great bunch, it's amazing that the ones that fail don't want to take responsibility for their mistakes and want to blame the examiner who doesn't car if you pass or fail, makes no odds to them, it they will not put an unsafe driver on the road, they are the experts and if you think your few months of driving outweighs their years of experience and expertise then you are quite frankly delusional ,
Jun 10, 2019
Probably the most unfriendly passive aggressive examiner in the UK, who will make her best to fail you. Her negativity can be sensed while you are driving and she only smiles when you make errors. It is ridiculous that while we are paying for taking the test it is not guaranteed that there will be a different examiner next time you book to give everyone a fair chance to pass and being assessed objectively rather than being stuck with the same miserable examiner over and over again.
Apr 27, 2019
Only got two minors however got a major which I do not believe was correctly justified, when going over why I failed, the instructor was really rude and continuously raised his voice at me. Not to mention he also made some very sexist remarks which I did not feel were appropriate.