Provided are contact details for Chingford Driving Test Centre, test route tips, test booking information and help passing the driving test in Chingford.
TEST CENTRE CONTACT DETAILS
Practical Driving Test Centre Address
Doric House
128 Station Road 
Chingford
Greater London E4 6AD
Test Centre Details:  Car users: Please park you car in the car park located to the left of the bus terminals. Motorbike users: Please park in the car park provided at the rear of the driving test centre. Driving tests start from the car park in Station Road. Male and female toilets are available.
Test Centre Provides Tests For: Car, Approved driving instructor – part two
THE DRIVING TEST IN Chingford
Situated on the outskirts of London, From Chingford Driving Test Centre, you will start the test on a busy road as the centre  is situated around busy roads but also close to rural roads. During the driving test, the examiner will expect a high standard of driving through varied road systems such as junctions, roundabouts, both large multi-lane to small mini roundabouts situated in residential areas and crossroads of various kinds. One-way-systems may also be implemented on the test.
Rural roads and lanes may also feature. These high speed roads can prove hazardous due to their narrow lanes and sharp bends, see the country road driving tutorial for help.
High speed 'A' roads such as the A1069 and A110 are also likely to feature. The test examiner will request one out of the four driving test manoeuvres. The emergency stop procedure may also be requested. 20 minutes of the driving test will be reserved for independent driving.
Certain areas of the Chingford driving test routes are challenging such as difficult roundabouts or junctions. Browsing the test routes will give you a good idea of the various road types the examiner will be taking you on during the driving test from Chingford and will benefit you on the day of the test.
BOOKING A DRIVING TEST AT Chingford DRIVING TEST CENTRE
Driving tests cannot be booked through the test centres directly. To book a driving test, there are 2 options; by phone or online.
Book a driving test by phone
To book a practical driving test at the Chingford driving test centres by phone, visit the book a driving test section for all DVSA (the DVSA – Driver and Vehicle Standards Agency were previously called the DSA) practical test booking phone numbers. The above DVSA telephone number is an automated service. The option to speak to a DSA assistant is available if required.
Book your driving test online
To book your driving test online for Chingford Driving Test Centre, see the book a driving test section for all DVSA contact and online booking information.
Cancel or reschedule the driving test A full refund is available if you wish to cancel the driving test in Chingford provided 3 clear working days notice is given. The above conditions must also be met if rescheduling the test. The above contact information can be used for these purposes.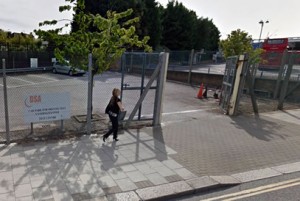 Test centre tips
If your driving test centre is located in a busy area, it may be of benefit to book your driving test in between the times of 10am and 4pm. This way you will miss out on rush hour traffic that can be problematic for learner drivers. Alternatively, some driving test centres offer test bookings on Saturdays. Driving test fees at the weekend are increased.
Chingford DRIVING TEST CENTRE PASS RATES
Driving test pass rate statistics vary considerably depending on which test centre your practical is taken at. Browse the driving test pass rates section for information on your UK DVSA test centre pass rates.
Chingford TEST CENTRE TELEPHONE NUMBER
Though it is possible to call driving test centres directly, if you wish to book or alter a driving test, this must be done via the DVSA (see above). Chingford Driving Test Centre telephone number may be either located on this page or via the driving test centre contact numbers section. Test centres can be contacted only for an up to date status of tests, such as whether they are still being conducted in bad weather for example. See driving tests in bad weather for further information.
PRACTICAL DRIVING TEST CENTRE REVIEWS
In order to help others that are taking their driving test, or to simply tell us whether you passed or failed your driving test, write a review of Chingford Driving Test Centre. Rate this driving test centre based on your experience using them, what was your examiner like and how difficult were the test routes? It's quick and simple – no signup necessary and only your nickname will be displayed. To ensure your review meets our guidelines, please read our Terms and Conditions prior to submission.
Average rating:
33 reviews
Sep 9, 2021
Very bad rude disrespectful stuff all old grandma u will find there fail 2 times on minors very sneaky
Sep 13, 2019
Had driving test today with lady called Sandra, very friendly passed first time.
Sep 5, 2019
I think this test centre is great, both my parents, my sister and I passed here. My sister and I passed first time. Mr Ali was very kind and helped calm my nerves. Would definitely recommend!
May 24, 2019
First time pass with Stuart just 1 minor.Was quiet nervous but he seemed really nice. Directions given was very clear and in good time. Enjoyed the experience.
Aug 8, 2018
I had my test on the 8/08/18 around 10.20 and passed with a very beautiful and nice instructor called Karen. She was soo calm and very considerate all u have to do is show her u can drive safely and she will pass u. This was my first time in Chingford but my 5th exam so I was very worried that histories might repeat themselves but fortunately for me it was my lucky day. I remember when she asked if my instructor was coming with me and he said the next time in a joking way. Karen was like don't say that and made me feel very welcoming to be going with her. My advice to everyone taking this test is not to panick and just do as ur told cause instructions are giving in plenty of time. Also don't go Enfield CENTER very harsh there as I failed 4 times there all the time was a very minor things which made me think I can never pass. I've been in ur shoes don't give up u can do it