Within Gillingham, there are two practical test centres. One test centre that conducts tests for Cars and motorcycles, and the other for Lorries, large vehicles and buses (LGV).
Located on and around busy urban roads, Gillingham Driving Test Centre will incorporate many road systems during the driving test. The examiner will require you to demonstrate your ability at such systems as roundabouts, crossroads and junction. The test is also likely to involve narrow street residential roads that provide hazardous conditions due to width constraints. See passing parked cars guide for advice on these road types. Busy and often high speed 'A' roads such as the A278 and rural roads are also likely.
The country road driving tutorial offers advice on challenging rural road, in particular for judging the correct speed for bends. The emergency stop procedure has a 1-in-3 possibility of being requested. One of the potential four driving test manoeuvre will be requested. The Gillingham driving test routes may alter slightly during the practical but will generally detail the various routes that the examiner will take you on.
Where are the driving test centres in Gillingham
Listed below are the practical test centres in Gillingham, along with address and the services that each offers.
Gillingham Driving Test Centre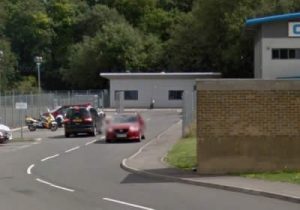 Practical Driving Test Centre Address
Unit 1, Astra Park
Courteney Road 


Gillingham, Kent


ME8 0RZ
Test Centre Details:  Male and female toilets are available at this test centre. Test candidate parking available.
Test Centre Provides Tests For: Car,

Motorcycle Module 1, Motorcycle Module 2
Gillingham LGV Driving Test Centre
Practical Driving Test Centre Address
Unit 4 The Courtyard
Campus Way, off Bailey Drive
Gillingham Business Park 


Gillingham, Kent




ME8 0NZ

Test Centre Details:  Male and female toilets are available at this test centre. Test candidate parking available.
Test Centre Provides Tests For: 

Lorries, large vehicles and buses, Car and trailers
BOOKING A DRIVING TEST AT
Gillingham

 DRIVING TEST CENTRE

Booking your practical test at either of the Gillingham Driving Test Centres is easily done either via the internet or by telephone. If possibly, book your driving test during the quieter times of the day. These times are usually outside of rush hour.

Book a driving test by phone
The book a driving test section contains the DVSA telephone numbers for booking a practical driving test at either Gillingham Driving Test Centre by phone. This telephone number directs you to an automated test booking line, although if you browse the option you can talk to a assistant.

Book your driving test online
Often the preferable method to book a driving test at the Gillingham Driving Test Centres is via the internet. This option displays to you all the available test slots allowing you to choose a time and day that is suitable for you.

Rescheduling or cancelling the driving test
3 working days notice is required to cancel the driving test at Gillingham if you require a full refund. The same conditions apply if you wish to reschedule. Cancellations and rescheduling can be done via the contact details above.
Gillingham

 DRIVING TEST CENTRE PASS RATES

The pass rates vary depending on which driving test centre that you take your practical test with. Once you have found a test centre closest to you, the driving test pass rates section will provide you with an indication of the statistics for that test centre.
Gillingham

 TEST CENTRE TELEPHONE NUMBER

If you wish to book or amend a practical driving test time or date, please follow the instructions above as this cannot be done via test centres directly. You may contact Gillingham Driving Test Centre, or any driving test centre to inform the manager that you may be late, or to enquire whether a test is still going ahead due to bad weather. See driving tests in bad weather for further information. You may find your test centre telephone contact number in the driving test centre contact numbers section.
PRACTICAL DRIVING TEST CENTRE REVIEWS
Reviews help us to decide on services and products and what best to look out for. Write a review of Gillingham Driving Test Centre and let others taking their test at this centre what it was like. Tell us what the test routes were like, easy or hard, whether you passed or failed, what the test examiner was like. It's quick and simple – no signup necessary and only your nickname will be displayed. To ensure your review meets our guidelines, please read our Terms and Conditions prior to submission.
Average rating:
18 reviews
Jul 18, 2022
Had my test today with Tony who demonstrated all the professionalism and friendliness you would expect from an examiner. He remained calm throughout, helped to ease any nerves I did have and was even kind enough to make as clear as possible where he wanted me to pull up, turn in, lane positioning for 'that' Tesco roundabout, etc. Unfortunately I didn't pass on account of undue hesitation (which was a completely fair decision) but it was a much smoother (and dare I say more enjoyable!) experience than at Maidstone previously. Definitely would recommend this as the preferred test centre in the ME postcode area. Hopefully will be back for Round 2 soon!
Dec 20, 2021
I had my driving test today. And I had an examiner called Nigel. I was super nervous and actually dreading today but upon meeting Nigel he completely put my mind at ease, he was calm and helped my nerves so much. I just want to say the test site was really well placed and everyone was very friendly and encouraging. But a big thank you to Nigel for making my test experience enjoyable a truly lovely man.
Dec 4, 2020
I just wanted to say thank you to my instructor today. Unfortunately I don't remember his name but he made me feel very confortable, explained what to expect during the test. I was very stressed but everything went very well. Thank you so much!
Jan 5, 2019
Just wanted to say thanks to my examiner Ben for being so nice and friendly.
Aug 8, 2018
My examiner Angie was lovely. She made me feel comfortable and at ease I believe this was a main factor for me passing as I struggle with nerves. Thankyou Angie, great place to do your driving test