Provided are contact details for Gloucester Driving Test Centre, test route tips, test booking information and help passing the driving test in Gloucestershire.
TEST CENTRE CONTACT DETAILS
Practical Driving Test Centre Address
Falcon Close
Green Farm Business Park
Quedgeley
Gloucestershire
GL2 4LY
Test Centre Details:  Car park to the left and at right angles to the road. There is one space reserved for disabled candidates at Gloucester Driving Test Centre. Male and female toilets are available
Test Centre Provides Tests For: Car, Motorcycle Module 1, Motorcycle Module 2, Car and trailers, Approved driving instructor – part two
THE DRIVING TEST IN Gloucester
Gloucester Driving Test Centre is situated within busy city roads and close to rural roads. The test examiner is likely to select both road types during the driving test. The examiner will be testing your ability at junctions of varied types, roundabouts and crossroads.
Busy 'A' roads such as the A38 are likely. The rural types of roads often represent a challenge to many drivers, not only learners due to the potential high speeds and sharp corners. Our country road driving tutorial provides advice on how to safely use these road types.
Often in the test, small residential roads are selected due to being hazardous for narrow width constraints and meeting oncoming traffic. See passing parked cars for a insight on using these particular types of roads.
A single driving test manoeuvre and a 1-out-of-3 possibility of the emergency stop procedure being requested. The Gloucester driving test routes may alter slightly during the practical but will generally detail the various routes that the examiner will take you on.
BOOKING A DRIVING TEST AT Gloucester DRIVING TEST CENTRE
Always choose your driving test booking time carefully. Choosing a time that clashes with peak traffic rush hour may see you sitting in traffic more, but will also put you in direct contact with stressed drivers trying to get home. To book your practical test, you have two options:
Book a driving test by phone
The book a driving test section contains the DVSA telephone numbers for booking a practical driving test at Gloucester Driving Test Centre by phone. This telephone number directs you to an automated test booking line, although if you browse the option you can talk to a assistant.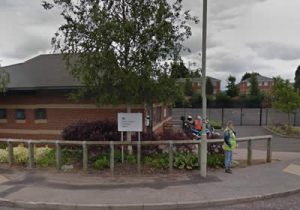 Book your driving test online
Often the preferable method to book a driving test at Gloucester Driving Test Centre is via the internet. This option displays to you all the available test slots allowing you to choose a time and day that is suitable for you.
Rescheduling or cancelling the driving test
3 working days notice is required to cancel the driving test at Gloucester if you require a full refund. The same conditions apply if you wish to reschedule. Cancellations and rescheduling can be done via the contact details above.
Gloucester DRIVING TEST CENTRE PASS RATES
The pass rates vary depending on which driving test centre that you take your practical test with. Once you have found a test centre closest to you, the driving test pass rates section will provide you with an indication of the statistics for that test centre.
Gloucester TEST CENTRE TELEPHONE NUMBER
If you wish to book or amend a practical driving test time or date, please follow the instructions above as this cannot be done via test centres directly. You may contact Gloucester Driving Test Centre, or any driving test centre to inform the manager that you may be late, or to inquire whether a test is still going ahead due to bad weather. See driving tests in bad weather for further information. You may find your test centre telephone contact number in the driving test centre contact numbers section.
PRACTICAL DRIVING TEST CENTRE REVIEWS
Reviews help us to decide on services and products and what best to look out for. Write a review of Gloucester Driving Test Centre and let others taking their test at this centre what it was like. Tell us what the test routes were like, easy or hard, whether you passed or failed, what the test examiner was like (please do not mention names). It's quick and simple – no signup necessary and only your nickname will be displayed. To ensure your review meets our guidelines, please read our Terms and Conditions prior to submission.
Average rating:
26 reviews
Dec 22, 2021
I agree with the review below. Who you get as you examiner makes so much difference. I passed on my 6th attempt with 4 different examiners who were all different levels of miserable except Nick, who was friendly and put me completely at ease. I didn't pass with Nick, i passed with an incredibly rude older man. Mick or Mike I think he was called.
Dec 21, 2021
So I think this centre like all is dependent on the examiner you have, I had a guy called Paul for my first two tests and failed both times, I've heard he's relatively new., Paul made me feel very anxious, and both tests were very stressful. On my third attempt I had a man called Pat, he was much friendlier and I felt so much more relaxed…ended up passing with NO MINORS! I really feel the examiners attitude and warmth can really impact how well you do on the day.
Dec 8, 2021
If you turn up not wearing a mask with your instructor - even if you are exempt from wearing a mask - they will fail you on the spot.

The person who failed me did so from 15 yards away, by yelling at me.
He failed to introduce himself professionally. He showed me no form of ID. He looked smug.

I am not impressed.

Failing in Cheltenham was a much more pleasant, professional - and useful - use of my time.
Dec 5, 2021
The first test I had was with a man called Mike.. I was warned by my instructor that if I had Mike (also known as failey Bailey) I would fail as he would trigger my anxiety .. unfortunately I had him and failed with in the first 5 minutes which I still think was unfair.. I have a panic and anxiety disorder which makes driving under exam situations hard. I drive perfectly every other time. Anyway. Had my 2nd test yesterday with a man called Nigel, the experience wasn't as bad however I don't feel these examiners know how to deal with extreme stress.. driving tests are stressful but imagine dealing with those stresses and having mental health condition on top. I failed and although I agree with my fail I was left feeling angry because I stated my mental health in my application so I wouldn't need to explain on the day as that makes me more anxious. However the examiner had no idea! Like what's the point!. I've heard that the best examiner is nick and he really knows how to deal with those candidates who have high anxieties. I just pray I get him next time as I'll probably give up as I can't afford to keep waisting £62 a pop for a test I'm ready for to fail and get taken straight back to the centre! It's not even like I can take away the experience of the test as they haven't lasted longer than 15 mins.
Nov 13, 2021
Thank you. I failed with Nick, he was excellent towards me. Then fail with Jerome he rude. I pray I get Nick. I did he kind. I feel good. I pass. Thank you. Thank you.