Provided are contact details for Gloucester Driving Test Centre, test route tips, test booking information and help passing the driving test in Gloucestershire.
TEST CENTRE CONTACT DETAILS
Practical Driving Test Centre Address
Falcon Close
Green Farm Business Park
Quedgeley
Gloucestershire
GL2 4LY
Test Centre Details:  Car park to the left and at right angles to the road. There is one space reserved for disabled candidates at Gloucester Driving Test Centre. Male and female toilets are available
Test Centre Provides Tests For: Car, Motorcycle Module 1, Motorcycle Module 2, Car and trailers, Approved driving instructor – part two
THE DRIVING TEST IN Gloucester
Gloucester Driving Test Centre is situated within busy city roads and close to rural roads. The test examiner is likely to select both road types during the driving test. The examiner will be testing your ability at junctions of varied types, roundabouts and crossroads.
Busy 'A' roads such as the A38 are likely. The rural types of roads often represent a challenge to many drivers, not only learners due to the potential high speeds and sharp corners. Our country road driving tutorial provides advice on how to safely use these road types.
Often in the test, small residential roads are selected due to being hazardous for narrow width constraints and meeting oncoming traffic. See passing parked cars for a insight on using these particular types of roads.
A single driving test manoeuvre and a 1-out-of-3 possibility of the emergency stop procedure being requested. The Gloucester driving test routes may alter slightly during the practical but will generally detail the various routes that the examiner will take you on.
BOOKING A DRIVING TEST AT Gloucester DRIVING TEST CENTRE
Always choose your driving test booking time carefully. Choosing a time that clashes with peak traffic rush hour may see you sitting in traffic more, but will also put you in direct contact with stressed drivers trying to get home. To book your practical test, you have two options:
Book a driving test by phone
The book a driving test section contains the DVSA telephone numbers for booking a practical driving test at Gloucester Driving Test Centre by phone. This telephone number directs you to an automated test booking line, although if you browse the option you can talk to a assistant.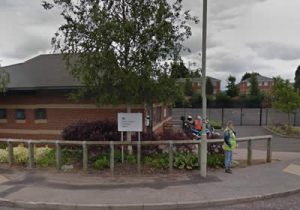 Book your driving test online
Often the preferable method to book a driving test at Gloucester Driving Test Centre is via the internet. This option displays to you all the available test slots allowing you to choose a time and day that is suitable for you.
Rescheduling or cancelling the driving test
3 working days notice is required to cancel the driving test at Gloucester if you require a full refund. The same conditions apply if you wish to reschedule. Cancellations and rescheduling can be done via the contact details above.
Gloucester DRIVING TEST CENTRE PASS RATES
The pass rates vary depending on which driving test centre that you take your practical test with. Once you have found a test centre closest to you, the driving test pass rates section will provide you with an indication of the statistics for that test centre.
Gloucester TEST CENTRE TELEPHONE NUMBER
If you wish to book or amend a practical driving test time or date, please follow the instructions above as this cannot be done via test centres directly. You may contact Gloucester Driving Test Centre, or any driving test centre to inform the manager that you may be late, or to inquire whether a test is still going ahead due to bad weather. See driving tests in bad weather for further information. You may find your test centre telephone contact number in the driving test centre contact numbers section.
PRACTICAL DRIVING TEST CENTRE REVIEWS
Reviews help us to decide on services and products and what best to look out for. Write a review of Gloucester Driving Test Centre and let others taking their test at this centre what it was like. Tell us what the test routes were like, easy or hard, whether you passed or failed, what the test examiner was like (please do not mention names). It's quick and simple – no signup necessary and only your nickname will be displayed. To ensure your review meets our guidelines, please read our Terms and Conditions prior to submission.
Average rating:
33 reviews
Jul 19, 2022
I passed my test recently and I wanted to convey my gratitude to one of the examiners. Nick. I suffer with extreme anxiety so test situations are horrendous for me. I had had 3 tests previously. All were terrifying experiences made worse by stern, unfriendly examiners. One in particular was almost rude in his manner. I was going to give up after that test but my instructor, bless him, persuaded me to continue.
The test with Nick was completely different, he was warm and friendly creating a relaxed atmosphere in which I almost forgot my nerves! I am not really sure how he made me relax because we didn't talk much but it felt like driving with my instructor and i was finally able to show that i can drive!

So thank you Nick for being human! 😂
Jun 21, 2022
Passed with nick can I just say how amazing he is. God bless him.
Jun 7, 2022
Ok so it's a test centre. It's scary, liked the dentist, only i would rather go to the dentist than have another test with the old guy there. Definitely needs to be put out to pasture. So miserable. In the end i passed with one of the new guys. Paul or Robbo or something. He was bang on. Super fair and helpful. Cheers mate. My instructor told me it is a much better place now there are some new blokes. Look out for the manager though she doesn't get off her chair much and is really grumpy when she has too!
May 28, 2022
I had 2 tests here. I failed with Nick who was friendly and gave me useful, constructive feedback. I made a stupid mistake (Make sure it is your light thats green!). On my second test I had a young guy called Matt who was also really friendly but better than Nick because he passed me! If all the examiners are like these guys you should not fear your test. I was dreading my test but both were actually fun experiences!
May 16, 2022
I had a very scary large "lady" with lots of hair. She really looked like she had swallowed a bee throughout the test. Her silent treatment made me very anxious. It's not easy to drive at your best like this. Very unhappy and even more nervous for next time now. The other examiners all looked far more friendly. Perhaps they are miserable too once in the car.