Provided are contact details for Guildford Driving Test Centre, test route tips, test booking information and help passing the driving test in Surrey.
TEST CENTRE CONTACT DETAILS
Practical Driving Test Centre Address
Slyfield Industrial Estate off Moorfield Road 
Guildford
Surrey
GU1 1SA
Test Centre Details:  Ramped access to Guildford Driving Test Centre office only (on steps). Car parking facilities available for candidates. Male and female toilets available.
Test Centre Provides Tests For: Car, Taxi, Lorries, large vehicles and buses (LGV), Car and trailers, Approved driving instructor – part two, Approved driving instructor – part three
THE DRIVING TEST IN Guildford
As Guildford Driving Test Centre is situated on the outskirts, a wide variety of road types is likely during the driving test. Expect town driving to incorporate busy roundabouts, from large multi-lane to residential area mini roundabouts, various junctions and crossroads.
Narrow residential lanes and roads are often taken during the test, providing hazardous conditions due to width constraints and oncoming traffic. The passing parked cars tutorials offer guidance on these road types.
---
Rural roads can be difficult due to harsh corners (see the country road driving tutorial) and 'A' roads such as the A3 Dual carriageway system is a probability. The testing examiner will request one manoeuvre out of a possible four and a one-in-three chance of the emergency stop procedure being requested. Independent driving is around 10 minutes of following basic maps and road signs.
During the driving test from Guildford Driving Test Centre, many difficult roads and roundabouts will be taken. By viewing the Guildford Driving Test Routes, you will gain a better understanding of the various roads that the examiner will be taking you on during the driving test from Guildford. The time of day that you book your driving test for this test centre will also make a difference. Booking the test between the times of 10AM and 3PM should result in less traffic during your test to deal with.
BOOKING A DRIVING TEST AT Guildford DRIVING TEST CENTRE
Choose whether you would like to book your practical driving test by either telephone or via the internet.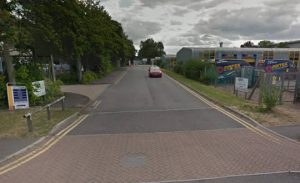 Book a driving test by phone
The DVSA (Driver and Vehicle Standards Agency) automated telephone number allows for a practical test to be booked at Guildford from the selected free slots available. Contact and booking telephone numbers can be located within the book a driving test section. If you wish to speak to an adviser, listen to the options provided in the recorded message.
Book your driving test online
Driving test internet bookings are often the preferred option due to the free slot availability being displayed to the test candidates. See the book a driving test section for booking a practical driving test at Guildford.
Rescheduling or cancelling the driving test
3 working days notice is required to cancel the driving test at Guildford if you require a full refund. The same conditions apply if you wish to reschedule. Cancellations and rescheduling can be done via the contact details above.
Guildford DRIVING TEST CENTRE PASS RATES
The pass rates vary depending on which driving test centre that you take your practical test with. Once you have found a test centre closest to you, the driving test pass rates section will provide you with an indication of the statistics for that test centre.
Guildford TEST CENTRE TELEPHONE NUMBER
If you wish to book or amend a practical driving test time or date, please follow the instructions above as this cannot be done via test centres directly. You may contact Guildford Driving Test Centre, or any driving test centre to inform the manager that you may be late, or to inquire whether a test is still going ahead due to bad weather. See driving tests in bad weather for further information. You may find your test centre telephone contact number in the driving test centre contact numbers section.
PRACTICAL DRIVING TEST CENTRE REVIEWS
Reviews help us to decide on services and products and what best to look out for. Write a review of Guildford Driving Test Centre and let others taking their test at this centre what it was like. Tell us what the test routes were like, easy or hard, whether you passed or failed, what the test examiner was like. It's quick and simple – no signup necessary and only your nickname will be displayed. To ensure your review meets our guidelines, please read our Terms and Conditions prior to submission.
Average rating:
15 reviews
Dec 1, 2021
Strongly not recommend this center.
Failed the test for a completely unfair reason.
A destroyed so called inspector, with the only target to chase the smallest mistakes in order to fail the candidate.
Does anyone here know if there is any chance to a legal proceeding with these idiots?
Nov 15, 2019
I had my test here on 17th October which was very positive and I passed. Unfortunately I handed my driving licence to the instructor to be sent away and the customer services department have lost it. They have not explanation other than for me to fill out a D1 form and pay £20 for a new licence. DVLA have no record of it. Send your own would be my advice.
Aug 22, 2019
I took my trailer test here. I drove around guilford a few times prior to the test. My examiner was very very miserable but it just made me more determined to pass. I felt extremely lucky on the day that he chose a country route with easier roads than those that are in guilford town. My advice would be to get familiar with the area as it is a difficult place to just turn up and wing it to test standards. I passed with 1 minor.
Apr 11, 2019
I see couple of views on (Name removed). I had my test here with this person and all I hear was good. This person was lovely to me i was very nervous Maybe you unhsppy because you fail. You can not blame this person.
Mar 6, 2019
(Name removed) was my examiner, was so rude and grumpy, reaction is too exagerated.