Provided are contact details for Hendon Driving Test Centre, test route tips, test booking information and help passing the driving test in London.
TEST CENTRE CONTACT DETAILS
Practical Driving Test Centre Address
3 Aviation Drive
Beaufort Park
Hendon
Greater London
NW9 5TZ
Test Centre Details:  Male and female toilet facilities available. Test candidate parking facilities include 2 bays for disabled candidates.
Test Centre Provides Tests For: Car, Taxi
THE DRIVING TEST IN Hendon
Hendon Driving Test Centre is situated around busy roads where the testing examiner will require a high level of knowledge and safety of various road systems. These are to include junctions, roundabouts (to include mini roundabouts) and crossroads. Typically these traffic systems range from off main routes to narrow residential streets.
Quiet residential roads are likely to feature. These roads represent a hazard due to being narrow with oncoming traffic. Passing parked cars and dealing with oncoming vehicles often represents a challenge to learner drivers.
Rural roads may also feature from Hendon Driving Test centre as it is situated on the outskirts of London. Rural roads often have harsh bends where the ideal way of dealing with this can be found in the country road driving tutorial.
Approximately 10 minutes will be set aside for independent driving. In most cases one test manoeuvre will be requested with around a 1-in-3 possibility of the emergency stop procedure. The Hendon driving test routes may be available to look at as a reference to the various types of roads that the examiner will take you on during the test.
BOOKING A DRIVING TEST AT Hendon DRIVING TEST CENTRE
If the traffic in your area is reduced during Saturdays, it may be of benefit to book your test during this time. A higher test fee is applicable for Saturday tests. Good tips for the test is to get a good idea of the various Hendon driving test routes. Understanding these routes will help your ability during the test.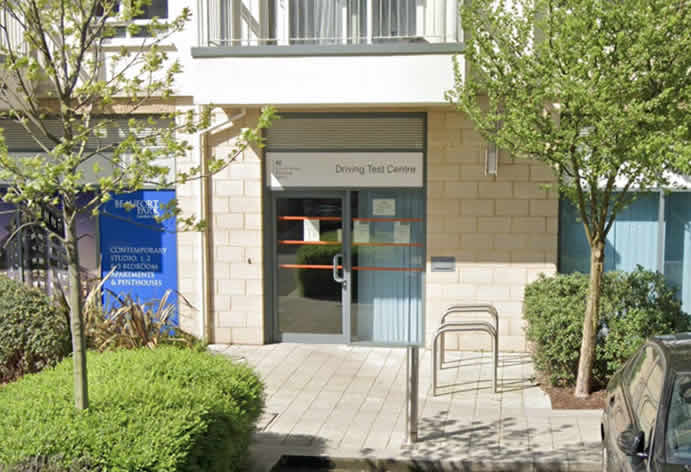 Book a driving test by phone
To book a practical driving test at the Hendon driving test centres by phone, book a driving test section contains all DVSA (Driver and Vehicle Standards Agency) telephone contact information for practical driving tests. A DVSA assistant can be requested via the options given if you have any queries regarding your test.
Book your driving test online
Driving test internet bookings are often the preferred option due to the free slot availability being displayed to the test candidates. See the book a driving test section for booking a practical driving test at Hendon.
Rescheduling or cancelling the driving test
3 working days notice is required to cancel the driving test at Hendon if you require a full refund. The same conditions apply if you wish to reschedule. Cancellations and rescheduling can be done via the contact details above.
Hendon

 DRIVING TEST CENTRE PASS RATES

The pass rates vary depending on which driving test centre that you take your practical test with. Once you have found a test centre closest to you, the driving test pass rates section will provide you with an indication of the statistics for that test centre.
Hendon

 TEST CENTRE TELEPHONE NUMBER

It is possible in some cases to contact your practical driving test centre only to inform the centre manager that you may be running late, or if a scheduled driving test is still going ahead due to for example bad weather. See driving tests in bad weather for further information.

Driving tests cannot be rearranged, booked or cancelled via test centres directly and can only be done via the DVSA. The Hendon Driving Test Centre contact telephone number may be located within the driving test centre contact numbers section.
PRACTICAL DRIVING TEST CENTRE REVIEWS
Good or bad reviews help us to decide on whether to use a product or service and what to expect from it. Feedback is important and writing a review of Hendon Driving Test Centre will help others. Tell us if you passed or failed your driving test, what the test routes were like, how you found the entire process and what your examiner was like. It's quick and simple – no signup necessary and only your nickname will be displayed. To ensure your review meets our guidelines, please read our Terms and Conditions prior to submission.
Average rating:
19 reviews
Jul 19, 2022
My experience with this driving test centre is appalling. I had Chris, who I must say is a very stuck up man. He is the WORST instructor you could ever have. He failed me on account of hitting the curb out of necessity. The instruction given to me was to pull up on the left behind a particular car, ignoring the fact that it wasn't safe or convenient for me to do so, he said, and I quote, "pull up behind this car here don't worry". So for me to pull up behind said car without issues it was either to hit the curb or hit the car infront of me. I have never hit any curbs before and so this is very unlike me. He then proceeded to exaggerate the force at which I had unfortunately hit the curb and said there definitely would be damage to the tires when infact this is not the case - so he definitely doesn't know what he is talking about, neither in road safety nor car maintenance. During the entire test he commended me for my excellent driving and concluded the exam with a fail due to the curb incident, which I can wholeheartedly assure you was his fault. Had he not asked me to rush and pull up behind a particular car - whilst he also didn't state it was "safe or convenient", then I would have passed. This man is ridiculous and shouldn't be an examiner, it is as though he is quite miserable with his life being an examiner and wants to take it out on any learners in his path. He abuses his authority and speaks in a very patronising way. I would recommend booking elsewhere as this test centre seems to produce some really, excuse my French, shitty and idiotic instructors who have little regard for the learners sitting beside them. Said examiner had commented on how smooth and safe my driving was but said that I damaged the car (which I hadn't) and apparently that is grounds for a fail??? ABSOLUTE JOKE!! I am honestly fuming and I will be taking the matter further as I do believe Chris is in no position to be an examiner and his license to examine should be stripped off him immediately.
May 23, 2022
Passed my test here! My examiner, Caroline, was amazing! She helped me keep calm during the test, as well as giving me very informative feedback at end of the test about any mistakes I made. She also informed me of things that I had done well, allowing me to completely understand what I should do in similar situations.

Overall, I would definitely recommend trying to get a test here!
May 17, 2022
Lily Really amazing very confident and calming no pressure at all everything went smoothly best examiner Lily you are great !
Mar 5, 2022
Agree with the past reviews, if you are assigned Richard at the Hendon driving centre then prepare to fail and I say this even if you are the best of drivers, Richard will find a reason to fail you.

I was failed today due to distance from the cars on the left where Richard intervened despite not being what I believe is a dangerous distance from the cars, the road was narrow and there were other cars coming from the right. I was very worried ahead of time after I read the reviews about Richard but I went in hopeful but I was disappointed.
I would recommend finding another test centre, especially as getting a test is SO hard at the moment. I went to another centre and passed!

Best of luck to everyone learning to drive and about to take their test.
Jan 24, 2022
Richard was appalling. My driver instructor had to go back to COMPLAIN! This man failed me for stopping on a roundabout after he had asked me to stop and didn't even bother finishing the test. I can understand why he already had so many bad reviews! Such a grumpy guy. What a waste of my time…