Provided are contact details for Hyde Driving Test Centre, test route tips, test booking information and help passing the driving test in Manchester.
TEST CENTRE CONTACT DETAILS
Practical Driving Test Centre Address
23 Perrin Street
Hyde
Greater Manchester
SK14 1JE
Test Centre Details:  Ramp access to Hyde Driving Test Centre for wheelchair users. Male, female and disabled toilets available. No car parking facilities for test candidates available.
Test Centre Provides Tests For: Car, Taxi
THE DRIVING TEST IN Hyde
Hyde Driving Test Centres test routes will involve many different road types and road systems. The examiner will be testing your ability on various junction types, crossroads, roundabouts and possibly one-way-systems. Another road type that is common is quiet, narrow residential roads.
Although appearing to be easy, hazards occur with oncoming vehicles and narrow lanes. The passing parked cars tutorial offers advice for these situations. Fast paced 'A' roads will be taken such as the A627 and A560.
One of the possible four test manoeuvres will be required along with the emergency stop procedure being a 1-in-3 possibility. Test routes are available for many of the test centres and may include Hyde driving test routes. Viewing the test routes provide test candidates with an insight into the various types of roads and traffic systems they're likely to encounter.
BOOKING A DRIVING TEST AT Hyde DRIVING TEST CENTRE
Practical driving tests can be booked at various times throughout the day, including Saturdays at certain test centres. To book a driving test, two options are available:
Book a driving test by phone
Practical driving tests can be booked for any test centre including Hyde by telephone. The book a driving test section contains the DVSA (Driver and Vehicle Standards Agency) contact numbers which will put you through to an automated booking service. A DVSA assistant can be reached by listening to the options provided when calling.
Book your driving test online
Booking the practical test via the internet is easily completed. The online system displays the availability of tests with dates and times to choose from. See the book a driving test section for booking a practical driving test at Hyde.
Rescheduling or cancelling the driving test
3 working days notice is required to cancel the driving test at Hyde if you require a full refund. The same conditions apply if you wish to reschedule. Cancellations and rescheduling can be done via the contact details above.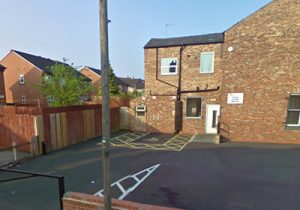 Hyde DRIVING TEST CENTRE PASS RATES
Driving test pass rates vary for many reasons. Often the location of the test centre has an impact on pass rates. Once you have located your nearest test centre, the driving test pass rates section offers pass rate statistics for most of the UK practical driving test centres.
Hyde TEST CENTRE TELEPHONE NUMBER
Practical driving test centres can be contacted for various reasons including to see whether a scheduled test is going ahead due to bad weather for example (See driving tests in bad weather for further information), or to inform the test centre manager that you may be running late. Driving tests cannot be booked or rescheduled via test centres.
This can only be done via the DVSA. The Hyde Driving Test Centre contact telephone number may be located within the driving test centre contact numbers section or obtained from your driving test confirmation letter or email.
PRACTICAL DRIVING TEST CENTRE REVIEWS
Writing a review of Hyde Driving Test Centre whether good or bad will help others in deciding which test centre to use and what to expect on their driving test. As an example, let other know whether you passed or failed, what your examiner was like, how difficult was it and what were the test routes like. It's quick and simple – no signup necessary and only your nickname will be displayed. To ensure your review meets our guidelines, please read our Terms and Conditions prior to submission.
Average rating:
16 reviews
May 25, 2021
One of the instructors made me feel so uncomfortable and was so rude through out when he took me back he said aggressively you selling ur instructor or me then got out and slammed the door and didn't even say bye
Dec 22, 2020
A few days before my test after reading the reviews I didn't want my examiner to be (Name Removed) based on the reviews people gave about him, but when I went for my test I got really nervous at the start hearing (Name Removed) is going to be my examiner. I was thinking I'm definitely going to fail. However, after a few mins into my test I started to just focus on my driving and be confident. (Name Removed) passed me at the end and yeah he wasn't too bad after all, so I'd say it depends on how a person handles themselves during the test. rather than focusing on the examiner. I'd say (Name Removed) is a little scary at first but he's a fair examiner.
Dec 8, 2020
The examiner (Name Removed), is rude and nasty. I was tearing up as he was talking to me.
He is very aggressive and patrionising. At the end of the exam he really goes on at you. I was asked a question about power steering, and at the end of it I said 'you just kinda know, and can feel it' this is at the end of a scripted answer, in my debrief he said extremely aggressively 'you can't just know!' Which I felt was very rude and I wanted to cry the whole time I was with him. Don't recommend
Oct 30, 2019
So I've had my test twice at this center now 1st time i had it with Paul who was a nice Gent. I failed on 4 minors one being a serious as i pulled out to close to a parked car which failed me!! I was only round the corner from the center. Then today i had the best guy ever. His name was Bob, when i first seen him i thought omg he wont pass me. My judgement was wrong he was the funniest, nicest, most down to earth man ever!! He made me feel comfortable as soon as i got in the car. Bob you're a ledge and thank you so much 😁
Jun 26, 2019
(Name Removed), where to start with him. Failed me on one serious fault, I was creeping out of a side road and I MEAN creeping out, then he slams on the brakes as there was a car coming. The said car didnt have to slow down or move over as I wasn't in the way and wouldve stopped on my own accord! Also a very rude man, extremely impatient with me despite my nerves. About to start reverse parking on an incline and he puts his arm up and looks at his watch! Infuriating!