Provided are contact details for Kings Lynn Driving Test Centre, test route tips, test booking information and help passing the driving test in Norfolk.
TEST CENTRE CONTACT DETAILS
Practical Driving Test Centre Address
Rollesby Road
Hardwick Industrial Estate 
Kings Lynn
Norfolk
PE30 4LS
Test Centre Details:  Test candidate car parking facilities and two disabled car parking bays close to the test centre building with toilets just inside the front door. Male and female toilets available.
Test Centre Provides Tests For: Car, Taxi, Motorcycle Module 1, Motorcycle Module 2
THE DRIVING TEST IN Kings Lynn
The practical test from Kings Lynn Driving Test Centre is to include busy urban roads with the likelihood of rural roads, both of which can feature on the test routes. Rural roads have their own unique challenges, often due to often high speeds and harsh corners.
To help assess the correct and safe speed for rural roads, read the country road driving tutorial. The driving test examiner will be assessing your ability at roundabouts of various types, junctions and crossroads.
The test often includes small residential roads where hazards can occur from oncoming vehicles and narrow width constraints. Such residential areas often have parked cars. See the passing parked cars tutorial for further advice. Busy 'A' roads are likely to include the A149 and dual carriageway systems such as the A47.
One test manoeuvre is required from the possible four (the examiner chooses which one) and a 1-in-3 possibility of the emergency stop. Test routes are available for many of the test centres and may include Kings Lynn driving test routes. Viewing the test routes provide test candidates with an insight into the various types of roads and traffic systems they're likely to encounter.
BOOKING A DRIVING TEST AT Kings Lynn DRIVING TEST CENTRE
Detailed below are the available options for booking your practical test in Kings Lynn. Many learner drivers find quieter roads less stressful and therefore you may benefit from booking a test during the quieter times of the day. Typically, avoid rush hour traffic.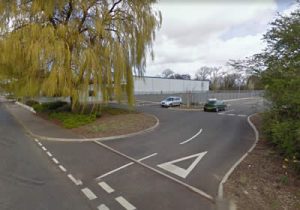 Book a driving test by phone
All practical driving tests are booked via the Driver and Vehicle Standards Agency (DVSA), and can be booked by telephone. To book a test at Kings Lynn Driving Test Centre, see the book a driving test section for booking contact telephone numbers. This is an automated service, though a DVSA assistant can be reached by following the options provided.
Book your driving test online
The most popular method for booking a practical test is via the internet. Upon making a booking, the available times and dates will be displayed for your chosen test centre. To make a test booking at Kings Lynn Driving Test Centre, see the book a driving test section.
Rescheduling or cancelling the driving test
Driving Tests can be rescheduled or cancelled. Changing your driving test date can be done providing three working days' notice is given. To cancel your test and receive a full refund from DVSA bookings, three working days' notice must also be provided. Saturdays are also classed as a working day.
Kings Lynn DRIVING TEST CENTRE PASS RATES
Pass rates vary from each test centre, often due to the difficulty of the test routes. Some test candidates choose a test centre outside of their location due to the type roads that are taken on the test. The driving test pass rates section may show driving test pass rate statistics for your practical test centre.
Kings Lynn TEST CENTRE TELEPHONE NUMBER
Practical driving test centres can be contacted for various reasons including to see whether a scheduled test is going ahead due to bad weather for example (See driving tests in bad weather for further information), or to inform the test centre manager that you may be running late. Driving tests cannot be booked or rescheduled via test centres.
This can only be done via the DVSA. The Kings Lynn Driving Test Centre contact telephone number may be located within the driving test centre contact numbers section or obtained from your driving test confirmation letter or email.
PRACTICAL DRIVING TEST CENTRE REVIEWS
Reviews are a great way of letting people know what's good or bad about a product or service. Write a review of Kings Lynn Driving Test Centre to let other know if you passed or failed the test, how difficult the test routes were, whether the test centre had adequate facilities and what your examiner was like on the day. It's quick and simple – no signup necessary and only your nickname will be displayed. To ensure your review meets our guidelines, please read our Terms and Conditions prior to submission.
Average rating:
11 reviews
Nov 23, 2023
absolutely disgusted by the behaviour presented to one of my family memebers who took there test and the woman who tested him took him norwich way!!! It's a kings lynn test! nerves are high enough stop putting young peoples nerves in the worst position.
Nov 22, 2023
Vile failing a nurse for absolute pathetic reasons, aviod here book norwich this place is corrupt
May 28, 2022
Driving instructor told me that I would score better for running over disabled people. Not sure what that was about...
May 9, 2022
My daughter got failed twice now for minor things. Even her instructor said she should have passed . Failing young people over the most minute things is not on . So annoyed
Apr 26, 2022
I have just watched your employees verbally abuse and physically assault a man in a wheelchair. Think about that for a moment. . . . Assaulting a man in a wheelchair. These bullies need to be fired, complaints should be filed with police and management/ownership must publicly apologize to this man.