When it comes to booking the practical driving test, you will need your driving licence number, theory test certificate number and theory test pass date.
If you have lost your theory test certificate and do not have a copy of the theory test certificate number, you will need to contact the Driver and Vehicle Standards Agency (DVSA) who are responsible for practical driving test and theory test booking.
It is the DVSA who also issue theory test certificates and in the case of a lost theory test certificate can issue you a replacement.
The DVSA will ask for proof of identity and upon confirmation the DVSA will either issue you with a new theory test certificate or tell you what your theory test certificate number is.
Can you take the practical driving test if you have lost the theory test certificate?
Generally speaking yes. The test examiner normally only asks to see your driving licence. In the event of any complications it is recommended that you take along with you your theory test certificate and a print out of the driving test booking confirmation e-mail.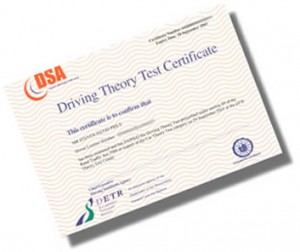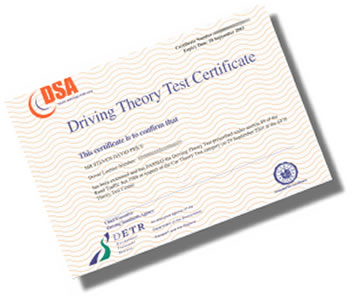 If you have lost your theory test certificate, go to the Gov.uk website where you'll be asked for your driving licence number and your name. You'll then be presented with your theory test pass number.
In our experience however, we have never had a examiner ask to see the theory test certificate. The examiner will check that you've passed your theory test before the practical test begins. It is important that you take with you your provisional driving licence to your practical driving test. Both parts of your licence must be taken;
the plastic card licence
the paper counterpart (if you have the old style licence)
If you have the old style driving licence, you will also need to take a valid passport for identification purposes. Failure to take these items will render your practical driving test terminated and a loss of the test fee. If your theory test certificate is stolen, the DVSA must be contacted immediately via the contact methods below.
Information for lost theory certificate
In the event that you have lost your theory test certificate, contact the DVSA between the hours of 8:00 AM to 6:00 PM Monday to Friday.
Driver and Vehicle Standards Agency
PO BOX 381
M50 3UW
0300 200 1122 Customer enquiries + Test booking
0300 200 1188 Customer enquiries
Email: customercare@pearson.com
Find your theory test certificate number: www.gov.uk