Provided are contact details for Lowestoft Driving Test Centre, test route tips, test booking information and help passing the driving test in Suffolk.
TEST CENTRE CONTACT DETAILS
Practical Driving Test Centre Address
Unit 3 Oakland House Business Centre
Mobbs Way
Oulton Broad
Lowestoft
Suffolk
NR32 3AL
Test Centre Details:  There are no toilets at the test centre,  toilet facilities available in the Library opposite the Lowestoft Driving Test Centre. Test candidate car parking available.
Test Centre Provides Tests For: Car, Taxi, Motorcycle module 2, Approved driving instructor part 3
THE DRIVING TEST IN Lowestoft
The driving test from Lowestoft Driving Test Centre starts from a nice quiet road situated on an industrial estate and will take you in around many narrow residential streets that can be challenging to learners due to width constraints. This often involves passing parked cars whilst dealing with oncoming cars.
The examiner will use such roads to test your ability at meeting oncoming vehicles and test manoeuvres. Lowestoft Driving Test Centre is likely to feature rural country road driving and out of town 'A' roads such as the A12 dual carriageway.
---
One of the test manoeuvres are to be expected to be completed and the emergency stop procedure having a 1-in-3 possibility. Test routes are available for many of the UK practical driving test centres and may include Lowestoft driving test routes. The routes aid test candidates in gaining an understanding of the various roads and systems that the examiner will take you on during your test. Routes can be viewed on this website or downloaded as an app.
BOOKING A DRIVING TEST AT Lowestoft DRIVING TEST CENTRE
Practical driving tests are conducted throughout the day, Monday to Friday. Test candidates tend to benefit from booking their test to coincide with the quietest periods of the day, avoiding rush hour. Certain test centres may offer Saturday test bookings, though at a slightly higher fee. Details on how to book your test can be found below.
Book a driving test by phone
Practical driving tests in the UK are booked via the Driver and Vehicle Standards Agency (DVSA). Driving tests can be booked by telephone or via the internet (see below). To book a test at Lowestoft Driving Test Centre, see the book a driving test section for booking contact telephone numbers. This is an automated service, though a DVSA assistant can be reached by following the options provided.
Book your driving test online
The most popular method for booking a practical test is via the internet. Upon making a booking, the available times and dates will be displayed for your chosen test centre. To make a test booking at Lowestoft Driving Test Centre, see the book a driving test section.
Rescheduling or cancelling the driving test
Driving Tests can be rescheduled or cancelled. Changing your driving test date can be done providing three working days' notice is given. To cancel your test and receive a full refund from DVSA bookings, three working days' notice must also be provided. Saturdays are also classed as a working day.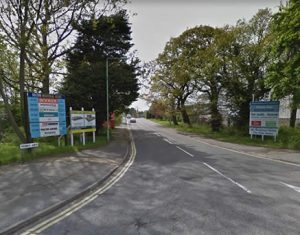 Lowestoft DRIVING TEST CENTRE PASS RATES
Pass rates vary from each test centre, often due to the difficulty of the test routes. Some test candidates choose a test centre outside of their location due to the type roads that are taken on the test. The driving test pass rates section may show driving test pass rate statistics for your practical test centre.
Lowestoft TEST CENTRE TELEPHONE NUMBER
Your practical driving test centre contact telephone number (including Lowestoft Driving Test Centre) may be located on your test booking email confirmation, or found within the driving test centre contact numbers section. Test centres must not be contacted to book, cancel or amend a driving test however (see above), and only to contact the centre manager if you have any questions or concerns regarding your test, for example if a test is still going ahead due to bad weather (See driving tests in bad weather for further information).
REVIEWS FOR YOUR DRIVING TEST CENTRE
Write a review of Lowestoft Driving Test Centre to let others know how your test went. You can tell people if you passed or failed the driving test, what the test routes were like, were there difficult parts? Tell us what the test centre was like, was there adequate facilities? Was it easy to find? and what was your examiner like on the day? It's quick and simple – no signup necessary and only your nickname will be displayed. To ensure your review meets our guidelines, please read our Terms and Conditions prior to submission.
Average rating:
7 reviews
Jul 30, 2019
Can not fault the centre I had adam jesson.he was so polite and helpful and put me at ease all the way through my test .can not thank him enough
Mar 14, 2019
Ridiculous driving test. Keep failing people for stupid reasons. Doesn't matter how good you are they always have some reason to fail. Should be review more times.
Dec 20, 2018
Had the dreaded test nerves but Ian put me at ease with general chit chat while driving and I soon got into the swing of things and become more comfortable passed first time thanks to BSM driving school Grant is brilliant the examiners all seam friendly and professional
Aug 21, 2017
Be careful if you going to take exam in Lowestoft DSA test centre. As you get dumb ass Stuart Horn for manual driving test and you will failed!!! I have to do my test 4 times!!! I got pass then on Norwich on 5th time. UK's worst driving examiner.
Jul 13, 2017
My examiner was unfair. It was my second test and I was 100% sure I was going to pass. We then finished and she said I failed. I got 6 minors and a serious fault. The serious fault was being to close to a parked car which I think is a pathetic thing to fail on, just goes to show that they can only pass so many people a day. Absolutely Apuling, they need to reevaluate what they are there for not what they are getting paid for.