Provided are contact details for Macclesfield Driving Test Centre, test route tips, test booking information and help passing the driving test in Cheshire.
TEST CENTRE CONTACT DETAILS
Practical Driving Test Centre Address
Unit 4 Bailey Court
Green Street
Macclesfield
Cheshire
SK10 1JQ
Test Centre Details:  Male and female toilet facilities available. There is no ramp access for wheelchair users. Special arrangements will be made. No test candidate car parking spaces available.
Test Centre Provides Tests For: Car, Motorcycle module 2
THE DRIVING TEST IN Macclesfield
The various road types taken on the test routes from Macclesfield Driving Test Centre are busy urban roads, high paced 'A' roads such as the A537 and A536 and rural country roads. Rural roads in particular can be challenging due to the frequent high speeds and meeting harsh corners.
The country road driving tutorial aims to offer advice on how to use safe and appropriate speed for these road types. The examiner often tests your ability on residential roads where test manoeuvres often take place. These roads are also ideal for testing your ability for meeting traffic within narrow lanes and dealing with the situation accordingly.
---
The passing parked cars tutorial offers advice on this. High driving proficiency at traffic systems such as roundabouts, crossroads and junctions of all types and sizes is essential. The examiner will request one of the possible four manoeuvres along with the emergency stop having a 1-in-3 chance of being requested. Driving tests now all require the test candidate to demonstrate around 10 minutes of independent driving.
Test routes are available for many of the UK practical driving test centres and may include Macclesfield driving test routes. The routes aid test candidates in gaining an understanding of the various roads and systems that the examiner will take you on during your test. Routes can be viewed on this website or downloaded as an app.
BOOKING A DRIVING TEST AT Macclesfield DRIVING TEST CENTRE
Practical tests can be booked throughout the day at the majority of UK driving test centres. Certain test centres in busy areas also offer Saturday test booking, though the booking fee is slightly higher. Booking a driving test is easily completed via telephone or via the internet.
Book a driving test by phone
Practical driving tests in the UK are booked via the Driver and Vehicle Standards Agency (DVSA). Driving tests can be booked by telephone or via the internet (see below). To book a test at Macclesfield Driving Test Centre, see the book a driving test section for booking contact telephone numbers. This is an automated service, though a DVSA assistant can be reached by following the options provided.
Book your driving test online
The most popular method for booking a practical test is via the internet. Upon making a booking, the available times and dates will be displayed for your chosen test centre. To make a test booking at Macclesfield Driving Test Centre, see the book a driving test section.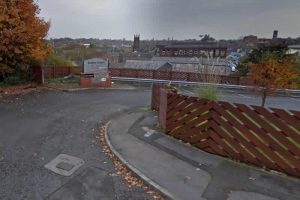 Rescheduling or cancelling the driving test
Driving Tests can be rescheduled or cancelled. Changing your driving test date can be done providing three working days' notice is given. To cancel your test and receive a full refund from DVSA bookings, three working days' notice must also be provided. Saturdays are also classed as a working day.
Macclesfield DRIVING TEST CENTRE PASS RATES
Pass rates vary from each test centre, often due to the difficulty of the test routes. Some test candidates choose a test centre outside of their location due to the type roads that are taken on the test. The driving test pass rates section may show driving test pass rate statistics for your practical test centre.
Macclesfield TEST CENTRE TELEPHONE NUMBER
Your practical driving test centre contact telephone number (including Macclesfield Driving Test Centre) may be located on your test booking email confirmation, or found within the driving test centre contact numbers section. Test centres must not be contacted to book, cancel or amend a driving test however (see above), and only to contact the centre manager if you have any questions or concerns regarding your test, for example if a test is still going ahead due to bad weather (See driving tests in bad weather for further information).
REVIEWS FOR YOUR DRIVING TEST CENTRE
Write a review of Macclesfield Driving Test Centre to let others know how your test went. You can tell people if you passed or failed the driving test, what the test routes were like, were there difficult parts? Tell us what the test centre was like, was there adequate facilities? Was it easy to find? and what was your examiner like on the day? It's quick and simple – no signup necessary and only your nickname will be displayed. To ensure your review meets our guidelines, please read our Terms and Conditions prior to submission.
Average rating:
14 reviews
Jul 12, 2022
I am leaving this review on behalf of my son since he won't do it. I was an observer and he was failed for nothing. Wish we'd taken the reviews seriously. Avoid this centre. Nil point but it won't let you not do a rating
Dec 7, 2021
Just had a test. I failed. Fair enough, i'm not that bothered, didn't do enough observations for my reverse bay park. But the examiner (i believe his name was John) possibly the most condescending, rude, unfriendly little shit i've ever spoken too. Told me off for trying to initiate a conversation, and acted like I had murdered several children for the debrief. Then merrily marched away.
Oct 6, 2021
I have had two exams now at this driving test center and have failed both times with the same examiner. The examiner is rude during the test and explaining afterwards. On the first occasion I failed on something that could not be avoided due to the road I was on. The second occasion I failed for something that would definately be classed as a minor. I also received a minor for doing 25mph in a 30 zone whilst going past a speed camera as apparently this was way too cautious. I believe everyone will know which examiner I had and I believe she should not be working as an examiner anymore. She is a cold lady with no respect for the learner driver. My driving instructor also believes that both times should only have been a minor and definitely not a serious fault. I will be trying a different test center for my third test.
Sep 17, 2021
If you have any history of anxiety or anything do not do your test here. The examiners are very rude ( not sure if they all are ) and do not make you feel comfortable or safe and that causes driving to be a lot worse.. My test was a few days ago and unfortunately i failed, however my examiner couldn't give me a reason why i failed apart from them having to take verbal action which was then telling me to do something that i was already doing. Unfortunately older cars judder when you get your clutch bite so unless your driving a brand new car you are probably likely to fail. Quite sad that some examiners are out for you to fail but i suppose it's more money to them
Sep 17, 2021
Absolutely disgraceful. The examiner failed me because I prepared the car to move out of a junction. isn't that what you are supposed to do???????