Provided are contact details for Stafford Driving Test Centre, test route tips, test booking information and help passing the driving test in Staffordshire.
TEST CENTRE CONTACT DETAILS
Practical Driving Test Centre Address
Unit 7, Greyfriars Business Park
Frank Foley Way
Stafford
Staffordshire
ST16 2RF
Test Centre Details:  Ramp access to Stafford Driving Test Centre for wheelchair users. Male, female and disabled toilets available. Car parking facilities available.
Test Centre Provides Tests For: Car
THE DRIVING TEST IN Stafford
Busy and challenging roads such as the A34 are often taken from Stafford Driving Test Centre. The driving test may involve country and rural roads out into villages. Driving in Stafford itself will involve all major traffic systems such as roundabouts, mini and larger multi-lane, crossroads and various junctions.
Residential streets often pose a challenge for learners due to parked cars and meeting oncoming vehicles (see passing parked cars). These areas can often be used for test manoeuvres where one of the possible four will be requested during the test from Stafford.
The test is likely to involve the emergency stop procedure and from the 30 to 40 minute driving test duration, around 10 minutes for independent driving. Certain driving test centres offer weekend driving tests on Saturdays. Taking a driving test on a Saturdays can be beneficial as there is often less traffic. A general understanding of the Stafford driving test routes will also provide a benefit for passing the test. The test routes are compiled by the examiners who conduct the tests at each specific test centre.
Test routes are compiled to utilise as many varied road types and traffic systems as possible so to ensure the test candidate is proficient in all aspects of driving. Test routes often include difficult parts and by gaining knowledge of the routes offers valuable insight into what to expect on the test. Driving test routes may be available to view or a downloadable app for your mobile device in your area, including Stafford Driving Test Centre.
BOOKING A DRIVING TEST AT Stafford DRIVING TEST CENTRE
When making a test booking, ensure you have at hand your theory test pass certificate and provisional driving licence. You will be asked for details off of these.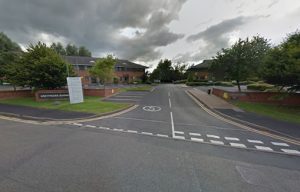 Book a driving test by phone
Practical driving tests can be booked over the telephone via an automated service. To book a test at Stafford Driving Test Centre, see the book a driving test section for booking contact telephone numbers. Although this is an automated service, a Driver and Vehicle Standards Agency (DVSA) assistant can be reached by following the prompts.
Book your driving test online
The majority of test candidates book their driving test over the internet as the available free test slots are made visible to be taken. To make a test booking at Stafford Driving Test Centre, see the book a driving test section.
Rescheduling or cancelling the driving test
Driving Tests can be rescheduled or cancelled. Changing your driving test date can be done providing three working days' notice is given. To cancel your test and receive a full refund from DVSA bookings, three working days' notice must also be provided. Saturdays are also classed as a working day.
Stafford DRIVING TEST CENTRE PASS RATES
Practical driving test pass rates vary from centre to centre. This can often be due to the location, often busier areas having a slightly lower pass rate. Driving tests can be taken at any UK test centre. Choosing an area that you feel more confident in may benefit. The driving test pass rates section may show driving test pass rate statistics for your practical test centre.
Stafford TEST CENTRE TELEPHONE NUMBER
For driving test booking and test amendments such as rescheduling or cancelling, please only contact the DVSA as above. Test centre staff may be contacted directly if you have a question that directly relates to your test – examples may include an issue with your test vehicle (see cars for the driving test), or if a test is still going ahead due to bad weather (see driving tests in bad weather for further information). Your test centre contact telephone details (including Stafford Driving Test Centre) may be located driving test centre contact numbers section.
REVIEWS FOR YOUR DRIVING TEST CENTRE
Tell others about your experience at Stafford Driving Test Centre and let us know how your test went, did you pass or fail, how was the test centre, were there toilets or parking facilities? Where the test routes difficult? How were the test examiners? It's quick and simple – no signup necessary and only your nickname will be displayed. To ensure your review meets our guidelines, please read our Terms and Conditions prior to submission.
Average rating:
7 reviews
Aug 25, 2020
I had my test today which I've passed and the lady examiner was so nice I cant Thank her enough I would definitely recommend Stafford test centre to everyone .
Nov 5, 2019
it seems this test centre has a bad reputation against its test instructors. I have my test coming up soon at this centre and the negative reviews are getting me worried. If you have a issue with or about your test you can go to the dvla website and complain about the individual test instructor and the test centre itself, as leaving reviews here will not get anything done about it.

Here is the link to make a formal complaint against this centre and instructors.
https://www.gov.uk/government/organisations/driver-and-vehicle-standards-agency/about/complaints-procedure#complain-about-your-theory-or-driving-test
Sep 16, 2019
Failed my test twice and of course accepted the result however both times the examiner was extremely rude he even brought me to tears
Jul 2, 2019
Disgrace of an examiner I had, I'll name and shame him, Chris davies, completely rude and disrespectful, didn't allow me to talk after the test apparently I was arguing when I was stating facts about the test, also lying about certain points in the test just to make me fail, I hope this place loses customers and shuts down until they learn respect
Jun 17, 2019
WORST EVER! I have taken my test several times (4 to be exact) at this test centre to be lumbered three time with a terrible examiner. Admittedly, the first and second time nerves took over however, after being give anxiety medication to battle them and taking several lesson (over 50 hrs) I have become a very competent and aware driver. My third and fourth test has been with an instructor who can barley talk due to a medical issue making him difficult to understand. Having had him three time I can say he is extremely rude and does not acknowledge questions, he does not like being asked to repeat and constantly makes things up to ensure you fail. I was failed twice before I had even left the test centre by him and once when I hadn't even turned in the engine. When asked why I was ignored in each occasion and later told I failed for something which would be considered a minor.

My instructor has also questioned his judgment on many occasions only to be met with the reply I am the examiner not you and this is my final decision. I have even failed multiple times by this guy for minor issues which if it was a guy who would probably let slide. In my eyes he is misogynistic and rude refusing to engage in comforting conversation and resulting in being met with cold silence when I have tried to make conversation. I will not be taking my test and this sh*thole again and pray for anyone who is put with this instructor. After changing test centre I was passed automatically and told i was a great driver and they were shocked I failed so many times! Good riddance. Also on another occasion with the same guy I was driving well within the speed limit it was a 60 i was doing 40 only to be told that he personally felt I took the corners too fast. When I retorted as well as my instructor that I was within limit he said it is a limit not a target and the speed you were doing I felt unsafe and failed me again. Absolutely ridiculous.