Provided are contact details for Stevenage Driving Test Centre, test route tips, test booking information and help passing the driving test in Hertfordshire.
TEST CENTRE CONTACT DETAILS
Practical Driving Test Centre Address
3 Drapers Way
Stevenage
Hertfordshire
SG1 3DT
Test Centre Details:  Steep stepped access to first floor of Stevenage Driving Test Centre. Special arrangements to be made for candidates with disability issues. No toilets available. Please note that due to parking restrictions you need to Park and leave your accompanying driver with your car, take the token with you to the test centre. You may only park 5 minutes before the test or a charge will apply to you.
Test Centre Provides Tests For: Car, Taxi
THE DRIVING TEST IN Stevenage
During the driving test from Stevenage Driving Test Centre, many challenging and varied roads will be taken. Often driving outside of Stevenage itself will result in rural country roads (see the country road driving tutorial for further advice), villages and perhaps high speed 'A' roads such as the A602 dual carriageway.
In Stevenage, the examiner will expect a high standard of driving, regard for others and safety at most major traffic systems. Expect all roundabout types, junctions and crossroads.
The driving test from Stevenage Driving Test Centre often takes you on quieter residential areas, often used for test manoeuvres of which one of the possible four will be requested. The areas are also to test your ability for meeting vehicles whilst navigating parked vehicles and passing distances (see passing parked cars). The test routes are compiled by the examiners who conduct the tests at each specific test centre.
Test routes are compiled to utilise as many varied road types and traffic systems as possible so to ensure the test candidate is proficient in all aspects of driving. Test routes often include difficult parts and by gaining knowledge of the routes offers valuable insight into what to expect on the test. Driving test routes may be available to view or a downloadable app for your mobile device in your area, including Stevenage Driving Test Centre.
BOOKING A DRIVING TEST AT Stevenage DRIVING TEST CENTRE
Tests can be booked so they they're scheduled at any time of the day from Monday to Friday. Certain test centres during busy times of the year may offer Saturday bookings. Saturday bookings cost slightly more to book.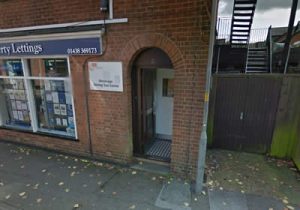 Book a driving test by phone
Practical driving tests can be booked over the telephone via an automated service. To book a test at Stevenage Driving Test Centre, see the book a driving test section for booking contact telephone numbers. Although this is an automated service, a Driver and Vehicle Standards Agency (DVSA) assistant can be reached by following the prompts.
Book your driving test online
The majority of test candidates book their driving test over the internet as the available free test slots are made visible to be taken. To make a test booking at Stevenage Driving Test Centre, see the book a driving test section.
Rescheduling or cancelling the driving test
Driving Tests can be rescheduled or cancelled. Changing your driving test date can be done providing three working days' notice is given. To cancel your test and receive a full refund from DVSA bookings, three working days' notice must also be provided. Saturdays are also classed as a working day.
Stevenage DRIVING TEST CENTRE PASS RATES
Practical driving test pass rates vary from centre to centre. This can often be due to the location, often busier areas having a slightly lower pass rate. Driving tests can be taken at any UK test centre. Choosing an area that you feel more confident in may benefit. The driving test pass rates section may show driving test pass rate statistics for your practical test centre.
Stevenage TEST CENTRE TELEPHONE NUMBER
For driving test booking and test amendments such as rescheduling or cancelling, please only contact the DVSA as above. Test centre staff may be contacted directly if you have a question that directly relates to your test – examples may include an issue with your test vehicle (see cars for the driving test), or if a test is still going ahead due to bad weather (see driving tests in bad weather for further information). Your test centre contact telephone details (including Stevenage Driving Test Centre) may be located driving test centre contact numbers section.
REVIEWS FOR YOUR DRIVING TEST CENTRE
Tell others about your experience at Stevenage Driving Test Centre and let us know how your test went, did you pass or fail, how was the test centre, were there toilets or parking facilities? Were the test routes difficult? How were the test examiners? It's quick and simple – no signup necessary and only your nickname will be displayed. To ensure your review meets our guidelines, please read our Terms and Conditions prior to submission.
Average rating:
8 reviews
Oct 6, 2020
I had my test today the examiner was disgraceful he moaned my instructors car was parked too far away then said he isn't going to take me because the car was too dirty even though my instructor cleaned it spotless the night before! Moaned at me because of my face mask even thought there wasn't a problem
with it and kept shaking his head and tutting when I was trying to drive very off putting waited ages for the test very Disappointed to have it ruined by someone who clearly didn't want to be there he was So Grumpy !!
Nov 8, 2019
I had a very positive experience at this test centre. My examiner was very friendly and personable, which put me at easy. He had a very calm and relaxed manner, just what I needed to calm my extreme test anxiety. I think it was due to his positive attitude that i managed to stay calm in several tricky situations throughout the test and resolve any issues safely. I passed first time and received some useful feedback at the end of the test.
Sep 3, 2019
My daughter took her second driving test today and was failed again for not giving way to the right at a roundabout even though there was nothing coming! If she had hesitated she would have been failed for not taking a clear path to join the roundabout. So no matter what she did it would have been wrong!!! It's not right that a test centre's pass rates depend on the mood of the examiners at the time. It's highly unprofessional and they should be ashamed of themselves!!!! It's well known that certain examiner's make it harder to pass than others at this test centre. It should be a standard across the board, not an individual test examiner's personality that dictates if someone should pass or not!!
Aug 1, 2019
I ran into a horrible examiner named Tony, he is so big and as soon as he got into the instructors vehicle it tilted to the left. And he had a humidity cloud around him he was so tense and miserable, as soon as we got into the car and i started to move off he slammed the break i almost hit my head on the dashboard if not for the seat belt. Avoid TONY he is miserable !
Jun 7, 2018
Here are my thoughts on how the DVLA system is unfair, shady and a joke. The system of calculating the result is completely up to the examiner so they can choose to fail you or to pass you by deciding whether your fault is minor or serious, so at the end of the day, they can achieve the revenue target for the agency, this area is a very grey area and it needs to be clear. There are endless scenarios on the road every day, for example if you can't find a safe gap to pull out at a junction, an impatient driver could use their horn to urge you to go before you think it's safe but the examiner could fail you because you are causing traffic congestion, or you might find your safe gap in a way to avoid causing traffic congestion, but this could be classified as a serious fault because it wasn't safe enough from the examiner's perspective, in both scenarios you can't win. Not to mention the subject of the OSERVATION and how they can play with it.

Think of how many drivers that are on the road that make serious faults everyday and are still driving around without any consequences! Also the nerves and stress element whilst taking the test don't seem to be taken into consideration Some people get stressed out by being watched by others at the best of times let alone under scrutiny by an examiner!! Another thing, why anyone has to wait at least 10 days to retake the test? You will be very lucky if you find a vacant slot after 10 days, unless you keep constantly checking the website and yet it is a matter of luck, this could be because the failing rate is generally too high, at least 40% of people are retaking the test. Examiners are well protected by the agency and the law; you just can't win however well you did in the test, simply because they bring money to the agency, that's why during the test they won't allow any camera recording from inside the car so you don't have any proof of misconduct (check the official web site).