Provided are contact details for Taunton Driving Test Centre, test route tips, test booking information and help passing the driving test in Somerset.
TEST CENTRE CONTACT DETAILS
Practical Driving Test Centre Address
Unit L2, Acres Hill Business Park
Off Venture Way
Taunton
Somerset
TA2 8RX
Test Centre Details:  Male and female toilets available. Test candidate car parking facilities available.
Test Centre Provides Tests For: Car, Taxi, Motorcycle Module 1, Motorcycle Module 2, Car and trailers, Approved driving instructor – part two, Approved driving instructor – part three
THE DRIVING TEST IN Taunton
The driving test from Taunton Driving Test Centre is likely to feature many diverse road types. Based on the edge of Taunton, rural country roads often feature during the test which may lead to villages of the surrounding area. The country road driving tutorial provides a guide on how to best use rural roads during the driving test.
Dual carriageway systems such as the A38 and A358 are also likely. In Taunton itself, test routes will cover roundabouts of all types, crossroads and junctions. Narrow, often difficult to pass oncoming vehicles are the case with certain residential areas that have high levels of parked vehicles (see passing parked cars).
These areas are often used to perform one of the possible four test manoeuvres requested by the examiner and the emergency stop having around a 1-in-3 possibility of taking place. Knowing each and every test route isn't essential, though gaining an understanding of the particularly difficult areas of the test routes often proves beneficial.
Examiners who conduct the tests develop the test routes for their test centres with the intention of taking the test candidate through as many varied road types and traffic systems as possible, within the time given. This is to ensure test candidates can deal with all situations and often involves difficult areas. Driving test routes may be available to view or a downloadable app for your mobile device in your area, including Taunton Driving Test Centre.
BOOKING A DRIVING TEST AT Taunton DRIVING TEST CENTRE
Each test centre has their own opening times, though most operate from Monday to Friday. The available test times and dates will be made clear when booking. Have your theory test pass certificate and provisional driving licence ready as certain information will be required.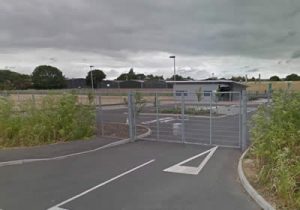 Book a driving test by phone
Practical driving tests can be booked over the telephone via an automated service. To book a test at Taunton Driving Test Centre, see the book a driving test section for booking contact telephone numbers. Although this is an automated service, a Driver and Vehicle Standards Agency (DVSA) assistant can be reached by following the prompts.
Book your driving test online
The majority of test candidates book their driving test over the internet as the available free test slots are made visible to be taken. To make a test booking at Taunton Driving Test Centre, see the book a driving test section.
Rescheduling or cancelling the driving test
Driving Tests can be rescheduled or cancelled. Changing your driving test date can be done providing three working days' notice is given. To cancel your test and receive a full refund from DVSA bookings, three working days' notice must also be provided. Saturdays are also classed as a working day.
Taunton DRIVING TEST CENTRE PASS RATES
Practical driving test pass rates vary from centre to centre. This can often be due to the location, often busier areas having a slightly lower pass rate. Driving tests can be taken at any UK test centre. Choosing an area that you feel more confident in may benefit. The driving test pass rates section may show driving test pass rate statistics for your practical test centre.
Taunton TEST CENTRE TELEPHONE NUMBER
For driving test booking and test amendments such as rescheduling or cancelling, please only contact the DVSA as above. Test centre staff may be contacted directly if you have a question that directly relates to your test – examples may include an issue with your test vehicle (see cars for the driving test), or if a test is still going ahead due to bad weather (see driving tests in bad weather for further information). Your test centre contact telephone details (including Taunton Driving Test Centre) may be located driving test centre contact numbers section.
REVIEWS FOR YOUR DRIVING TEST CENTRE
Tell others about your experience at Taunton Driving Test Centre and let us know how your test went, did you pass or fail, how was the test centre, were there toilets or parking facilities? Were the test routes difficult? How were the test examiners? It's quick and simple – no signup necessary and only your nickname will be displayed. To ensure your review meets our guidelines, please read our Terms and Conditions prior to submission.
Average rating:
4 reviews
Nov 16, 2018
Taunton Test Centre - I recently passed both my MOD1 and MOD2 motorbike tests. The test centre is clean and bright, comfortable waiting area. I had the same examiner for both tests, Adrian. He was extremely polite and explained everything before and during the tests calmly, putting me at ease and calming my nerves. After both tests Adrian gave valuable feedback and advice on any minor faults. I was very nervous prior to both tests, but I did it! Thank You!
Oct 27, 2018
I have just taken my mod 1 and mod 2 motorbike test at the centre and was very impressed with the the examiner who took me for both elements of the test. He was very supportive , considerate, and helpful, I know they have a job to do , but he made me feel at ease especially when your taking your test and you are a bit nervous , the guys name was Adrian I think, so a big thank to this person.
Aug 20, 2018
I find everyone of the examineers really friendly at the end of the day they have a job to do and if your not safe to be on the road its for your own interest
Jan 18, 2017
My partner so many times here ,beginning to wonder about these examiners, makes me mad when partner has failed over not so important things compare to the 100 year olds driving, and the program that was showing on TV the way these old drivers get away with it .Am certainly gonna investigate ,I've been driving for 39 years and drive every day and with no penalties or accident and I consider my partner a safe driver compare to even probably the examiners are. Bet none of them can't beat my record of experiences on safety of the road and my partner is very knowledgeable at driving .Is it only a majority of foreigners that do struggle with all these examiners all is it most all of them do not pass, Interesting on comparison of pupils attending taunton test centre.Dash cam front and rear with in car cam recorded. And a copy of recording's for the pupils.Best idea I should say . No star ratings. Zero.