Provided are contact details for Goodmayes Driving Test Centre, test route tips, test booking information and help passing the driving test in Ilford.
TEST CENTRE CONTACT DETAILS
Practical Driving Test Centre Address
98 Goodmayes Road
Ilford
Greater London
IG3 9UZ
Test Centre Details:  Waiting room is on the 1st floor, there are two flights of stairs. No wheelchair access. Candidates with mobility impairment will be met in the driving test centre car park. Male and female toilets are available on first floor. Test candidate car parking facilities available.
Test Centre Provides Tests For: Car, Taxi, Approved driving instructor – part two, Approved driving instructor – part three
THE DRIVING TEST at Goodmayes
Situated on the busy city roads of London, Goodmayes Driving Test Centre test routes will involve many complicated roundabouts, junctions and crossroads. A high level of practice and knowledge of such roads in and around the test centre is beneficial. Narrow residential roads are often featured as part of the driving test.
These roads involve narrow lanes, sharp bends and oncoming traffic, often with many parked cars. See the passing parked cars tutorial for further advice. Busy 'A' roads such as the A1083 and A118 are highly likely as are dual carriageways such as the A406, A12 and A13 with a slight possibility of more rural roads that are within test centre radius.
---
The driving test examiner will require at least one driving test manoeuvre with a 1-in-3 possibility of incorporating the emergency stop procedure. Goodmayes Driving Test Centre has a small car park that is frequently used for the bay parking manoeuvre. As the car park at Goodmayes is small, try not to arrive for the driving test more than 10 minutes before the test booking time as this may conflict with other learner drivers returning from their test.
The driving test from Goodmayes Driving Test Centre is challenging due to difficult roads and roundabouts. As Goodmayes is located in a busy area, more emphasis is placed on busy urban roads and very little on country roads and driving. A good understanding of the driving test routes from Goodmayes Driving Test Centre will benefit you with knowledge of the types of road you will be taking during the driving test. Driving test routes for sat nav and other navigation devices are available and have been updated for the 2019 driving test.
BOOKING A DRIVING TEST AT Goodmayes DRIVING TEST CENTRE
Goodmayes Test Centres is located in a busy area. Choosing an appropriate time for your test, ideally at its least busiest time for the area should allow for a less stressful practical test. Rush hour is typically early mornings and late afternoons. To book your test, you have two options available.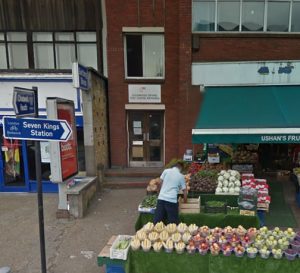 Book a driving test by phone
The book a driving test section contains the DVSA telephone numbers for booking a practical driving test at Goodmayes Driving Test Centre by phone. This telephone number directs you to an automated test booking line, although if you browse the option you can talk to a assistant.
Book your driving test online
Driving test internet bookings are often the preferred option due to the free slot availability being displayed to the test candidates. See the book a driving test section for booking a practical driving test at Goodmayes.
Rescheduling or cancelling the driving test
3 working days notice is required to cancel the driving test at Goodmayes if you require a full refund. The same conditions apply if you wish to reschedule. Cancellations and rescheduling can be done via the contact details above.
Goodmayes DRIVING TEST CENTRE PASS RATES
The pass rates vary depending on which driving test centre that you take your practical test with. Once you have found a test centre closest to you, the driving test pass rates section will provide you with an indication of the statistics for that test centre.
Goodmayes TEST CENTRE TELEPHONE NUMBER
If you wish to book or amend a practical driving test time or date, please follow the instructions above as this cannot be done via test centres directly. You may contact Goodmayes Driving Test Centre, or any driving test centre to inform the manager that you may be late, or to enquire whether a test is still going ahead due to bad weather. See driving tests in bad weather for further information. You may find your test centre telephone contact number in the driving test centre contact numbers section.
PRACTICAL DRIVING TEST CENTRE REVIEWS
Reviews help us to decide on services and products and what best to look out for. Write a review of Goodmayes Driving Test Centre and let others taking their test at this centre what it was like. Tell us what the test routes were like, easy or hard, whether you passed or failed, what the test examiner was like. It's quick and simple – no signup necessary and only your nickname will be displayed. To ensure your review meets our guidelines, please read our Terms and Conditions prior to submission.
Average rating:
120 reviews
Jan 8, 2022
I had an exam this week, my examiner was Aji. He was very polite, he said clearly what to do, I felt quite confident, although I was very worried about my exam . So I passed my exam.
I sincerely want to thank Aji for his kindness and respect for students.
Jan 6, 2022
Hi my name is Anton! Today I passed the test successfully!The examiner was Jo, she was patient, my English is not very good, she explained it to me very clearly. I had moments when she repeated the question to me so that I understood she reacted very positively. Jo If you are reading this text I want to say thank you, you are a positive person!!!
Dec 8, 2021
Rude
not friendly
Intimidating
Imran khan
Oct 8, 2021
i my driving test 2 weeks ago with 4 faults.
my examiner was Aji/Ali and he was very professional and strict. overall i had a very good experience.
May 17, 2021
I passed last week on my first attempt and had B as my examiner.

I can't imagine many people feel the desire to leave reviews about people they meet perhaps just once but I wanted to in B's case.

She was literally the most calming, supportive and lovely examiner you could hope for. She totally put me at ease and explained the process so clearly and nicely. Along the whole drive her tone was supportive and as a result my nerves melted away.

B, thank you again from the bottom of my heart. You are an absolute credit to the centre.