What is a contraflow system?
The word 'contra' means against or opposite. A contraflow system is where a traffic lane flows in the opposite direction than normal.
As an example, this could be a contraflow bus lane traveling in the opposite direction to the rest of the traffic on a one-way street.
There are however other examples of where a contraflow system may be put in place, either temporarily or permanently on UK roads.
This guide explains where contraflow lanes and systems are used, including applicable road signs, beneficial for those studying and taking the theory test.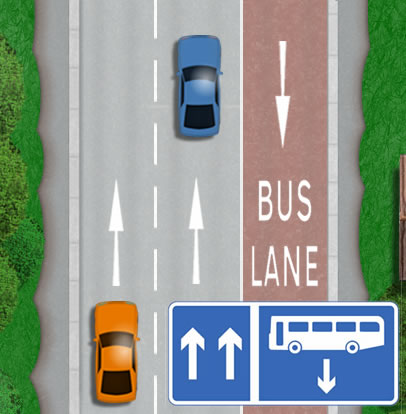 Contraflow bus lanes
Where would you see a contraflow bus lane is a typical question on the driving theory test. You will typically see a contraflow bus lane on a one-way street, where the bus lane flows in the opposite direction to the surrounding lanes. The diagram to the left represents a contraflow bus lane along with the blue sign that provides instruction to road users.
See blue road signs for further information on signs that provide instruction.
Contraflow bus lanes are usually located in busy city areas and are used to allow a bus the most direct route and to aid in avoiding routes that suffer from traffic congestion.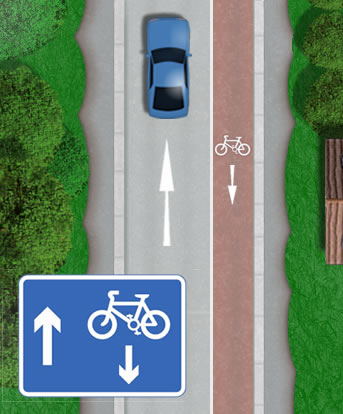 Contraflow cycle lanes
Contraflow cycle lanes may either run independently of bus lanes, or the bus and cycle lane may merge which means it can be used by both buses and pedal cyclists.
Benefits of contraflow cycle lanes
The benefits of contraflow cycle lanes is the safety of cyclists. Contraflow cycle lanes can be incorporated into narrow, one-way back-streets allowing cyclists to travel in either direction, often avoiding busy main roads. Contraflow cycle lanes decrease journey time compared to a car which can only travel in one direction.
This makes cycling a greater alternative to using the car, decreasing the number of vehicles on the road. As contraflow cycle lanes allow the cyclist to travel in both directions, this reduces the amount of cyclists who ride on the pavement.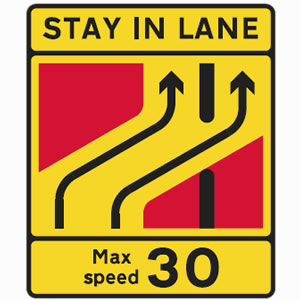 Motorway contraflow systems
Major routes such as motorways and dual carriageways are among the UK's safest roads as they utilize with-flow lanes, or traffic lanes that only flow in the same direction. Occasionally however, carriageways need repairs or maintenance which often results in road works. If one side of the carriageway is restricted or closed for works, traffic may be directed onto the other side of the carriageway resulting in a contraflow.
Where a contraflow is in place, you will be separated by traffic cylinders from oncoming vehicles. There will likely be a mandatory or advisory speed limit reduction. Ensure you choose the appropriate lane in good time and reduce your speed in good time as lanes are often narrower in a contraflow system.
Vehicles, especially large vehicles may often need to reduce speed to navigate the contraflow system. ensure you keep a safe distance from the vehicles in front.
See road works signs for the various types of temporary road works signs and their meanings.
Road signs test quiz
The theory test often involves questions about contraflow bus and cycle lanes and contraflow systems on major routes. Take the theory test road sign test quiz to test your knowledge.
OTHER TYPES OF ROAD SIGNS