As UK roads become more congested with vehicles, greater parking restrictions are being implemented throughout villages, towns and cities.
Thousands of motorists are caught and fined each year due to parking in prohibited areas. Each council manages their own regulation of parking enforcement within their own borough, typically by use of a Penalty Charge Notice which incurs a fine but no penalty points.
Police also issue parking tickets (although far less frequently than they once did) in the form of Fixed Penalty Notices which incur a fine and possible penalty points. This section covers the various parking signs and their meanings, ideal for those studying the theory test.
Take the road signs quiz
Once you have run through the UK road signs guide, take the theory test quiz to test your road signs knowledge.
Parking signs
The blue square containing a white letter 'P' is recognisable to most as free parking with no time constraints. Parking signs may be accompanied with other signs such as those detailed below. Such signs illustrate particular classes of vehicles that are permitted to park.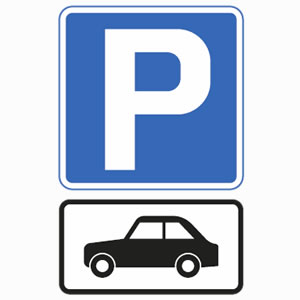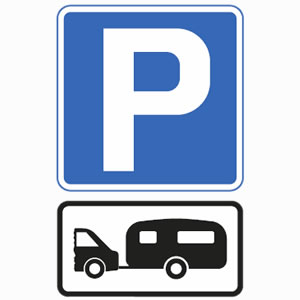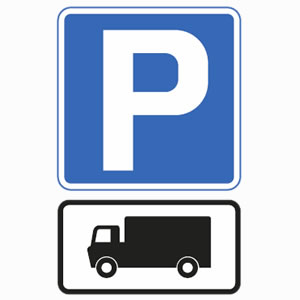 Parking signs with rules
The blue parking sign with the white 'P' is often placed on a white plate that contains parking restrictions and rules as detailed below. Other parking signs may also display restrictions such as permit holders only, resident permit parking only, payment parking and voucher parking.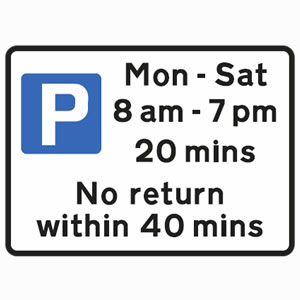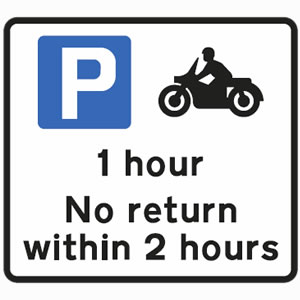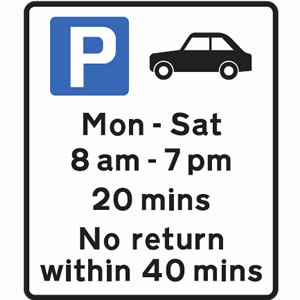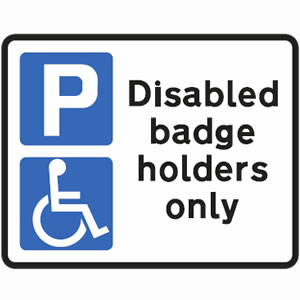 No stopping and no waiting signs
Parking restrictions may be imposed by use of no stopping or no waiting road signs. The regulatory no waiting signs may be accompanied by either single or double yellow lines and possibly a time plate detailing the when the regulations are in action. You are permitted to pick up and set down passengers where a no waiting restriction is in effect.
Where no stopping restrictions are imposed, it is a prohibition to stop your vehicle anywhere on the carriageway during the times of restriction. See no stopping and no waiting signs for their meanings and where they are typically located.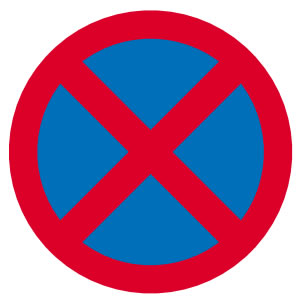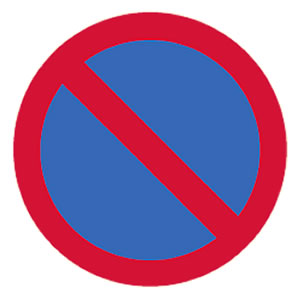 Parking on verges and pavements
Be cautious of parking on verges and pavements as this is a prohibition in certain areas. In London and certain other cities motorists can be fined for parking on pavements. Certain streets do however permit vehicles parking either wholly or partially on verges or pavements. This is typically along narrow streets where parking on the verge or pavement will not obstruct pedestrians.
Special signs such as those to the right may be erected along such streets either permitting vehicles to park partially or wholly on the verge or pavement. Special bay markings may also be placed on the pavement, or pavement and road to indicate where vehicles can park legally. For further information on the legalities and potential fines for parking on pavements, see parking on pavements.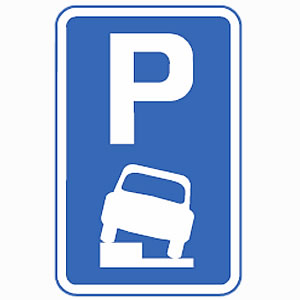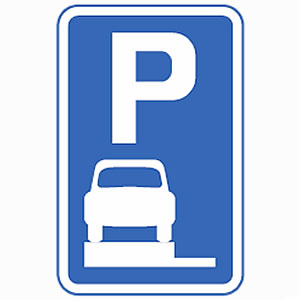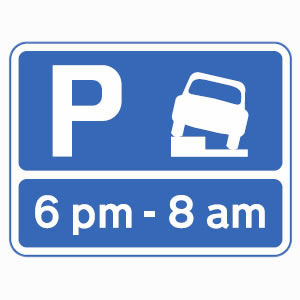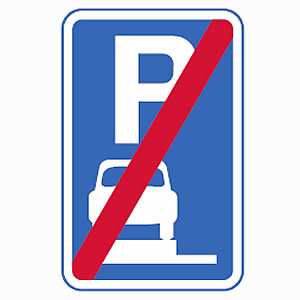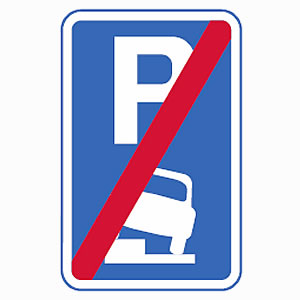 Other types of parking signs and restrictions
There are various forms of parking signs and facilities. With unauthorised parking becoming such a problem across many towns and cities in the UK, it's important to fully understand the legalities of where you intend on parking to avoid any unexpected fines.
Essentially, know your signs. The large white letter 'P' on a blue background lets you know where you can park legally, although look out for other symbols and accompanying text to make sure. Avoid no stopping 'Clearway' routes and no waiting areas unless there is a time plate that that shows the restriction has been lifted. It is almost always illegal to park on double yellow lines and single yellow lines will typically permit parking at certain times only.
Road signs theory test quiz
Once you have familiarised yourself with the many UK road signs and their meanings, take a look at our road sign test quiz and test your knowledge to see if you are ready for this part of the theory test.
OTHER TYPES OF ROAD SIGNS