No stopping (Clearway) and no waiting signs are regulatory order road signs. Due to their regulation similarity, it can be a little confusing in determining exactly what each sign means.
So what is the difference between the no stopping and no waiting road signs? Generally, the no stopping sign means just that – it is a prohibition to stop your vehicle at any time, unless there are times displayed where it is legal to do so.
No waiting signs allow a motorist to stop – to drop off or pick up a passenger for example. Any longer period of time can be defined as waiting and is therefore a prohibition.
Clearway, or no stopping signs do not always have road markings to accompany them such as on a rural road for example. A Clearway sign indicating a 24 hour no stopping restriction may or may not have words accompanying the sign on the same plate or a separate white plate.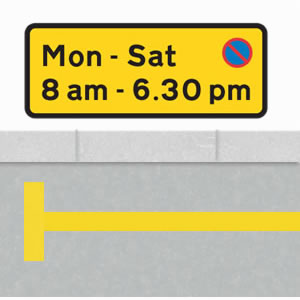 No waiting sign with single yellow line
The regulatory no waiting sign is often used to accompany a single yellow line. You are permitted to wait and park on a single yellow line outside of the hours or times of year specified on the accompanying time plate. See single yellow lines for further information on applicable laws.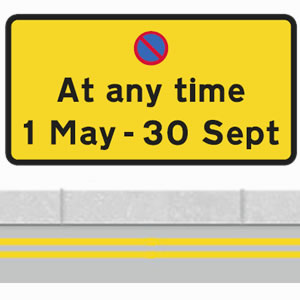 No waiting sign with double yellow line
A double yellow line signifies to motorists no waiting at any time. Where the "at any time" restriction applies for only part of the year, for example at a holiday resort during the summer months and is for at least four consecutive months, double yellow lines are used with plates giving the dates that the restrictions apply. See double yellow lines for further information on applicable laws.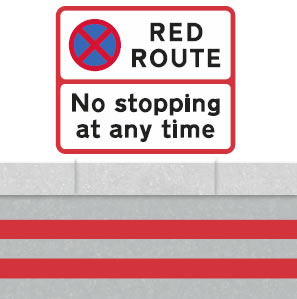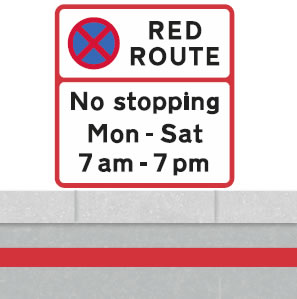 No stopping (Clearway) sign on double and single red lines
The no stopping (Clearway) sign tells drivers that they must not stop, even momentarily to pick up or let out a passenger. It is a prohibition to stop at any time on double red lines and is only permitted on single red lines outside of operational hours displayed on the time plate.
Number plate recognition cameras are often used in such areas with red road lines also known as Red Routes, where a Penalty Charge Notice (PCN) may be issued to motorists stopping in prohibited areas.
Other locations where a Clearway no stopping sign may be found is at special yellow zig zag road markings found outside of schools.
Penalties and fines
Penalties and fines are dependent on the location and the governing body responsible for issuing the penalty or fine. Within towns and cities, local councils are responsible for upholding the law for motorists who stop or park in prohibited areas. Although fines are typically high, no penalty points are issued. Notices issued by the police on the other hand will often involve a fine and three penalty points, and in more severe circumstances, a Notice of Intended Prosecution can be issued.
Road signs test quiz
Once you have familiarised yourself with the many UK road signs and their meanings, take a look at our road sign test quiz and test your knowledge. test quiz
Other road sign revision for the theory test