Section 3 of 14 of the DVSA driving theory test covers the various documents, the purpose of these documents and legal requirements for owning a car. Documents include vehicle registration document, driving licence, vehicle insurance, MOT test certificate and vehicle excise duty (road tax).
Before you can legally drive on a public road, you must ensure that you hold a valid driving licence, you have valid vehicle insurance, that vehicle excise duty (road tax) has been paid and that it has a valid MOT certificate (if applicable).
The questions found in this 'documents' section of the theory test are based on all the documents detailed above. A practice revision quiz can be found towards the bottom of this page. It's not a mock test but more a revision quiz as the correct answer is provided after each question to help you revise.
Links are provided in this section for further reading but are not required for revising this category. Before we take the quiz, we shall cover some of the topics in the 'documents' category that will important revision for the official DVSA theory test.




Vehicle Registration Document
The vehicle registration document also known as V5C contains details of:
Your vehicle including the make and model, engine size, chassis number, colour and year of registration
Current owner, previous owner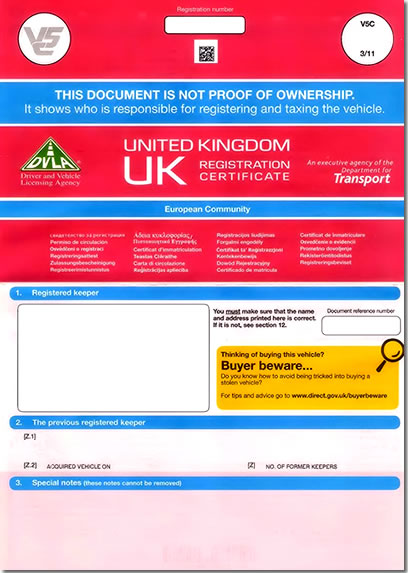 Document V5C should be kept by the current registered keeper of the vehicle. It is the registered keepers responsibility to inform the DVLA (Driver and Vehicle Licensing Agency) of any changes to:
Vehicle ownership
Changes to the vehicle
Your name
Your address
Road Tax
Vehicle excise duty, otherwise known as road tax must be purchased for your vehicle unless it is declared with a current Statutory Off-Road Notice (SORN). This notice is a declaration to the DVLA that the vehicle will be kept off the road until you give further notice and you will not have to pay for road tax. SORN will automatically expire if the vehicle is sold, scrapped or the owner purchases road tax. The registered keeper is responsible for taxing the vehicle or declaring it SORN.
Driving without valid tax may result in a fine. See driving without tax for further information. You can purchase tax for your vehicle either online, by phone or via a Post Office. To tax your vehicle, you'll need to have valid insurance, a valid MOT certificate if your vehicle is three years of age or older and the V5C registration document if using a Post Office to tax your vehicle. The cost of road tax varies considerably depending on various factors such as:
Engine size
Type of vehicle (e.g. goods vehicle, car or motorcycle)
Exhaust emissions (the amount of CO2 produced by the vehicle)
Fuel type (e.g. petrol, diesel, gas, electric)
Age of vehicle
Vehicle Insurance
You must have at least third-party car insurance to legally drive on public roads. Third-party car insurance covers injury to another person, or a persons property, but does not cover your own property or injury to yourself. Certain types of insurances such as 'comprehensive' cover yourself for medical, legal and property loss.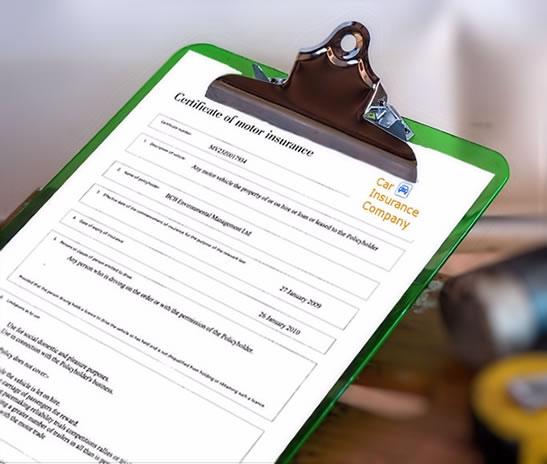 It is a criminal offence to drive without insurance and if caught will result in penalty points being applied to your licence, possibly having your licence revoked and an unlimited fine. See driving without insurance for further information. If your vehicle is being kept off the road is not in use and does not require insurance cover, you will need a SORN declaration.
Car insurance policies vary. Some allow you to drive another vehicle, whilst some policies do not offer cover for this. If you intend on driving another persons vehicle, make sure either yours or their insurance policy covers you to drive it.
You will need to produce proof of insurance when taxing your vehicle. Your insurance provider may offer you a temporary cover note prior to receiving your full certificate and documents. You can use the cover note to tax your vehicle.
If you are stopped by the police, you may be asked to produce your insurance documents. If you do not have them with you, you will be asked to show them at a police station within 7 days.
There are various types of car insurance, particularly aimed at young and new drivers. It's worth getting quotes on all types to find the lowest price. See car insurance help for details on the various types of car insurance. If you are over 25 years of age, the cost of insurance is generally lower. Increasing your policy excess is another method of reducing premiums. A higher excess of say £250 will lower your premium but means you'll have to pay out the first £250 if you make a claim.
Each year that you are insured and that you do not make a claim, your no claims bonus will increase. This is a valuable asset into reducing the cost of insurance. Advanced driving courses such as the Pass Plus scheme may also help to reduce insurance costs. There are various methods for obtaining cheaper car insurance. For advice, see:
MOT Test
An MOT (Ministry of Transport) certificate is a document that shows your vehicle has been checked and passed a test to ensure it meets road safety and environmental standards. Cars must undertake an MOT test when they become three years or older (four years in Northern Ireland).
An MOT test is required annually and repairs may need to be made to your vehicle before it can pass the test. It is illegal to drive on a road without a valid MOT certificate, unless your vehicle is exempt, or when you are driving to or from an appointment at an MOT testing centre to have MOT repairs done.
You may need to produce your MOT certificate if stopped by the police. You don't need to keep it in your car, but if you don't have it you'll be asked to produce it at a police station within 7 days. You'll need a valid MOT certificate to tax your vehicle. Driving without a valid MOT certificate may see you prosecuted by the police and potentially invalidate your insurance.
Driving Licence
Before you can drive on public roads, you'll need to apply and be in possession of a valid provisional driving licence. As a learner driver, you can practice on public roads provided you are accompanied by an individual who's at least 21 years of age and has held (and currently holds) a full driving licence for the category of vehicle that you are driving and for a minimum of three years. As a learner driver, you must display L plates (D plates in Wales) on the front and rear of the vehicle.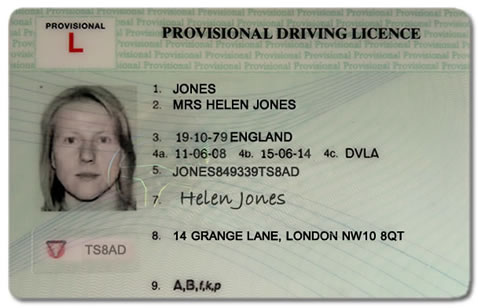 You will initially need to pass your theory test before booking your practical test. Once you have passed the theory test you'll have two years in which to pass your practical test. If you haven't passed within two years, you'll need to take your theory test again.
When you pass the practical driving test, you will be sent a full driving licence which means you can drive unsupervised. However, statistically young and new drivers have more accidents, so for the first two years starting from when you passed the practical test, there will be a probation period.
If you receive 6 or more penalty points on your licence within this period, your licence will be revoked and you'll need to pass the theory and practical test again. Penalty points are likely to increase your car insurance premium and any points gained on a provisional licence will be transferred to your full licence when you pass the practical test. For further information, see:
THEORY TEST Documents REVISION QUIZ
Take the theory test quiz for the category of 'Documents', which is number 3 of the 14 categories. The quiz provides 16 questions with the answers being provided immediately after you have answered.
Take the theory Test Documents Section Practice Revision Quiz
Certain questions may require more than one answer.
---
THEORY TEST CATEGORIES