Learning to drive, passing the theory and the practical driving test are for many an expensive, time consuming and stressful part of life.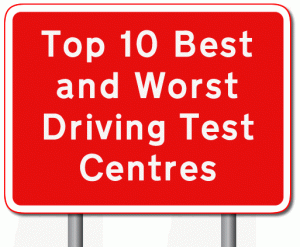 In terms of the theory test, it makes no difference which test centre you attend, for the practical driving test however, pass rates vary drastically depending on which test centre you attend.
We all want the best chances of passing the test first time. A failure means you'll still be confined to the role of a learner driver, plus expenses will continue to grow due to further driving lessons and another test booking.
A practical driving test centre with a higher than average pass rate will in part, help you onto the road to gaining a full driving licence. With that in mind, let's take a look at the top 10 best and worst driving test centres, based on DVSA 2018 / 2019 pass rate statistics. We'll also be looking at which factors determine the pass rates of test centres.
Let's first take a look at the top 10 worst driving test centres with the lowest pass rates. Statistics are based from official DVSA data from between April 2018 to March 2019. As can be seen, test centres located in busy areas with complex traffic systems and high traffic density tend to offer the least chance of passing the driving test.
Top 10 Worst Driving Test Centres
| # | Test Centre | Tests Conducted | Tests Passed | Pass Rate (%) |
| --- | --- | --- | --- | --- |
| 10 | Wolverhampton (Staffordshire) | 10,173 | 3,526 | 34.7 |
| 9 | Bury (Manchester) | 6,078 | 2,104 | 34.6 |
| 8 | Barking (Tanner Street) | 6,607 | 2,277 | 34.5 |
| 7 | Rochdale (Manchester) | 7,183 | 2,459 | 34.2 |
| 6 | Enfield (Brancroft Way) | 76 | 26 | 34.2 |
| 5 | Belvedere (London) | 5,577 | 1,853 | 33.2 |
| 4 | Erith (London) | 6,232 | 2,058 | 33.0 |
| 3 | Birmingham South Yardley (West Midlands) | 9,030 | 2,959 | 32.8 |
| 2 | Speke (Liverpool) | 6,763 | 2,196 | 32.5 |
| 1 | Birmingham (The Pavilion) | 3,156 | 903 | 28.6 |
Now we'll take a look at the top 10 best driving test centres with the highest pass rates. Statistics also based from official DVSA data from between April 2018 to March 2019.
TOP 10 Best DRIVING TEST CENTRES
Factors that Determine a Good Driving Test Centre
If by 'good' we mean the highest pass rate, then we can clearly see that those with high pass rates are located rural locations. From Gairloch, a small village in Scotland offering an almost guaranteed pass of 86.5%, we travel down the country to the West Midlands into almost certain test failure to Birmingham (The Pavilion), offering a paltry 28.6% chance of passing.
Test centres offering the poorest chance of passing are located in or close to major cities such as Birmingham, Liverpool, London and Manchester. These areas with high traffic density and impatient drivers, complex junctions and multi-lane roundabouts give a learner driver little time to think and a small margin for error.
Conversely, a rural based test centre will have significantly less traffic and far less complicated road systems. If you really are finding the driving test an impossible task, perhaps head out to your nearest test centre located in a rural location. Check out its pass rate as it might just be worth it.
Other Factors
Anything else really comes down to you. Learning the driving test routes will certainly help. Examiners have predefined routes that they use and at busy test centres, there are many test routes available. All the routes have challenging parts that are intentionally used to test candidates to their limit. To help you practice, you can also use test routes that guide you just as a sat-nav does. See driving test routes for sat-nav for further information.